Every product is carefully selected by our editors. If you buy from a link, we may earn a commission.
The Best Rooftop Tents You Can Buy
If you've always enjoyed the top bunk, you should invest in a rooftop tent.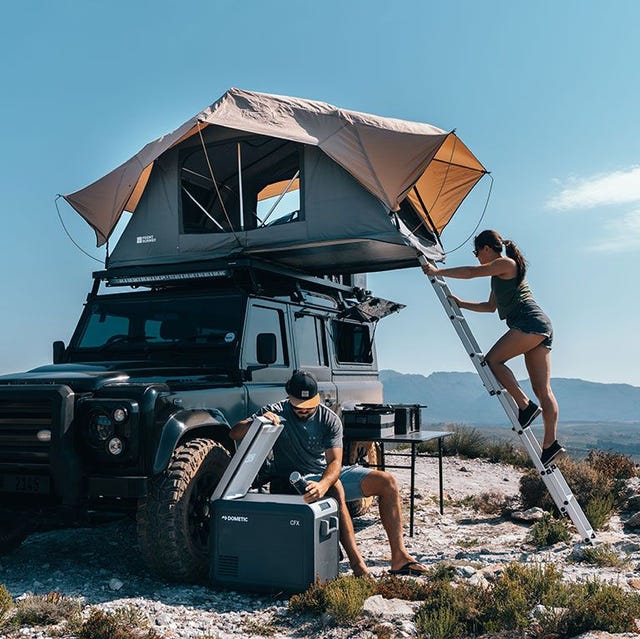 Camping. American culture romanticized it long before it looked macho in John Wayne westerns. But bedding down on the ground and sleeping on a thin pad isn't everyone's cup of bucolic brew; it can be uncomfortable, and setup and breakdown is nearly always more time-consuming than expected.
Therefore, rooftop tents — boxes that live above the car and readily deploy to create a dwelling you clamber up into via a fold-out ladder — provide a more convenient solution for a lot of would-be, kinda-sorta semi-into-nature types (a.k.a. your significant other who's not as into pine-scented goodness as you are).
Think of the best rooftop tents as relatively expensive gateway drugs to the outdoors. Sure, they'll set you back four figures — but once purchased, you've got an instant AirBnB with you at all times. And it's cheaper and more convenient than buying a custom camper van or cool off-road trailer.
What to Watch Out for When Buying a Rooftop Tent
Make sure your tent fits your vehicle. Shorter-roofed compact cars cannot spread the weight of a heavy, 100-plus pound shelter the way that a longer SUV can.
How easy the tent is to install. Tool-free is better than tool-intensive. You may need a friend or partner to help with the initial mounting.
How easy the tent is to deploy and pack up. The point of a rooftop tent is to make camping quicker and easier.
How aerodynamic the tent is. Fuel isn't cheap right now. Lower profile tents have less of an impact on fuel economy.
Whether it might make sense to level up. Softshell tents tend to be lighter and more affordable. But they also require a cover when packed — and, frequently, a rainfly for foul weather.
The Best Rooftop Tents You Can Buy
This content is created and maintained by a third party, and imported onto this page to help users provide their email addresses. You may be able to find more information about this and similar content at piano.io