Every product is carefully selected by our editors. If you buy from a link, we may earn a commission.
The 11 Best Workout Shirts of 2022
What you wear for a workout shouldn't be an afterthought.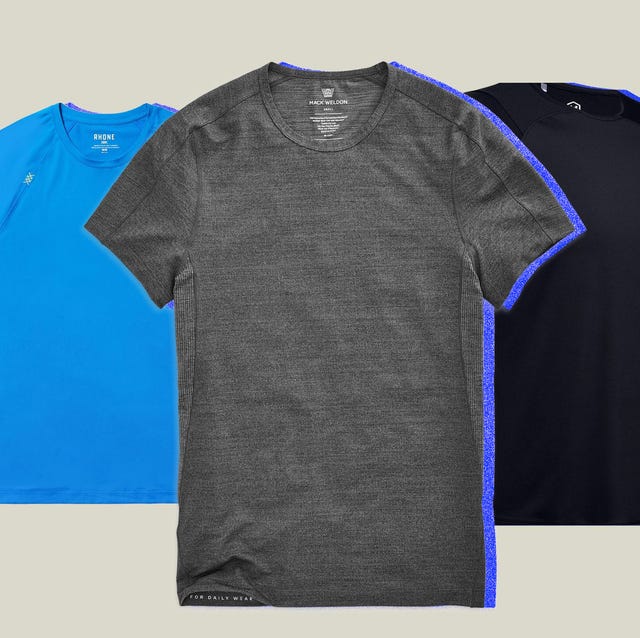 Just as a strong core is the foundation of any exercise, a solid workout shirt is the foundation of any fitness getup. Sure, an old cotton tee from your alma mater will suit a workout just fine, but it won't enhance it. It won't fight odor, control sweat build-up or do anything to prevent chafing.
A quality workout shirt — tee, tank or long sleeve — will do all that and more; it'll be something you look forward to throwing on, which can sometimes be all the motivation you need to get up and get moving.
The most common fabric in workout shirts is polyester, with nylon, jersey and tercel following behind. You'll often see spandex and elastane for stretch, providing a little more movement and flex. Some shirts will contain recycled materials, some won't, so purchase based on what matters to you. Most workout shirts will feature odor protection, ventilation and four-way stretch. Less common but highly prized features include UPF protection and temperature regulation (depending on the climate you're working out in).
Through rigorous research, testing and staff input, we've hit upon the following 11 performance-enhancing all-stars. Amongst the wide variety of superlative options below, you're sure to find the perfect workout shirt(s) for you.
This content is created and maintained by a third party, and imported onto this page to help users provide their email addresses. You may be able to find more information about this and similar content at piano.io