Every product is carefully selected by our editors. If you buy from a link, we may earn a commission.
The 13 Best Hiking Backpacks of 2022
A definitive guide to the best trail packs available based on testing and features like weight, pocket layout, features and more.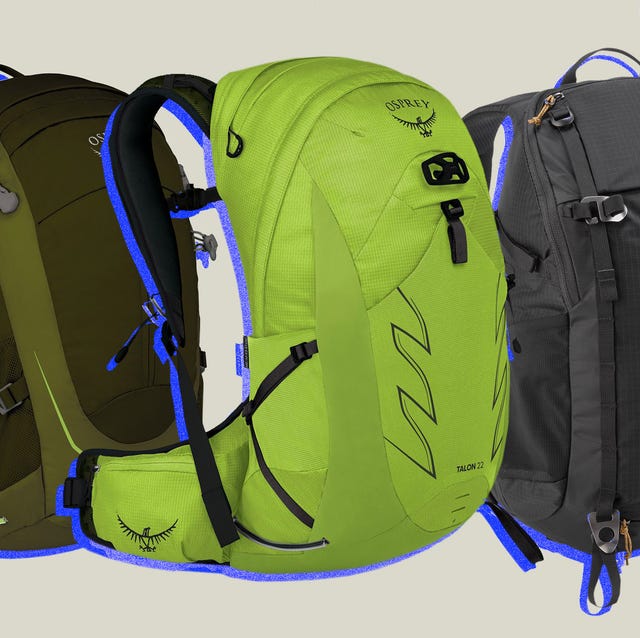 Day hikes don't call for a lot of gear. The shortest jaunts require a water bottle and a sturdy pair of shoes — in some cases, even everyday sneakers will do. More ambitious endeavors should be tackled with a more considered packing list: hiking boots, technical apparel, snacks, sunscreen, extra layers for the summit, a headlamp just in case. You'll also want a backpack for lugging most of that gear.
As such, daypacks exist on a spectrum. Some everyday backpacks, like the ones you may have brought to school or carry to work, will do the trick, but there is a full range of very technical options explicitly designed for out-and-back hiking.
What should you look for in a daypack?
Picking the perfect daypack means you'll need to consider a few variables: fit, function, features. Most daypacks with their salt will have a fit meant to prevent jostling and movement, so you're not constantly adjusting your pack on the trail. When you're shopping, consider how padded you want your straps, if you require a hip belt or if you're looking for something ultra light.
The pack you pick will also depend largely on what you'll be using it for — if you expect to be gone all day on rougher trails, look for a pack that has lumbar support, room for ample water and snacks and possibly a rain cover, if you live in wet climates. If you're going for an overnighter, go with an option that prioritizes organization; having a designated place for everything will cut down on searching and potential stress. If you're only going to be out for a few hours, a simple (but underrated) hip pack will do the job nicely. Daypacks come in all shapes and sizes, so pick with function at the top of mind.
These daypacks aren't as size-able as the 60-liter-plus bags used for long-distance trekking, but they come with many of the same features that make walking in the wilderness with essential gear a more enjoyable experience. Here are our favorites.
This content is created and maintained by a third party, and imported onto this page to help users provide their email addresses. You may be able to find more information about this and similar content at piano.io