Every product is carefully selected by our editors. If you buy from a link, we may earn a commission.
The Best Sleeping Bags for Side Sleepers
A new breed of sleeping bag that comes in unusual shapes is making snoozing in a tent more comfortable for those who sleep on their sides.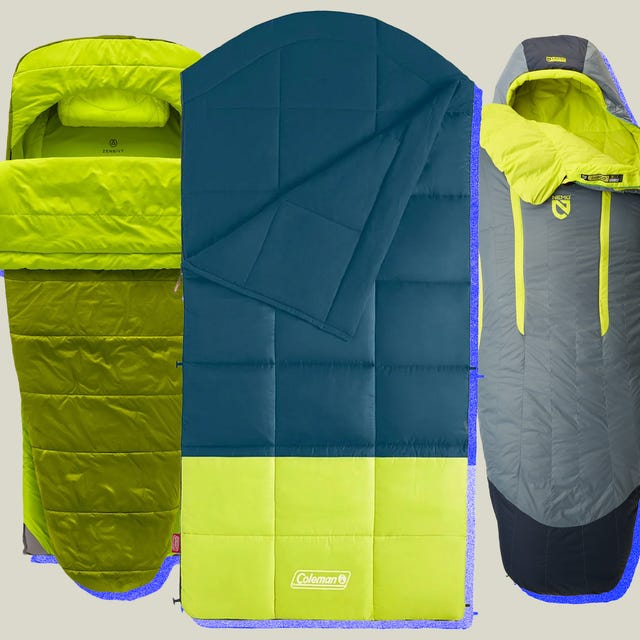 A first-time visit to the sleeping bag rack at any outdoor gear store can be enough to induce claustrophobia. The widespread norm in outdoor bedding is the mummy bag — a hooded sleeping bag that tapers from the shoulders to the feet and indeed resembles a sarcophagus. Such a design keeps the weight of a sleeping bag down, makes it easier to pack and more efficient at maintaining warmth but does little to bolster comfort, particularly for side sleepers.
How Many of Us Are Side Sleepers?
According to a 2017 study on sleeping positions, that's most of us. And while camping and backpacking are often exercises in forgoing the comforts of home, our nocturnal movements are often out of our control. Getting tangled inside a sleeping bag or camping blanket and waking up tent mates with constant shuffling are real concerns, not to mention having to hike miles the next day on a poor night's sleep.
How Can Side Sleepers Get Comfortable Outdoors?
Luckily these issues are also avoidable, thanks to a handful of gear makers that have revisited the notion of what a sleeping bag should look like. Side sleepers and night shifters now have a growing selection of sleeping bags to choose from. With unusual shapes and zipper-free designs, this new breed of sleeping bag allows comfort-first campers to relegate mummy bags — and nights spent tossing and turning in a tent — to the ancient past.
What to Look For in a Sleeping Bag
Sizes
Most sleeping bags come in two size options: standard, which fit most people up to six feet tall, and long, which fit folks from six feet to 6'6".
Fill/ Insulation
As discussed in our guide to the best sleeping bags on the market, there are two types of insulation commonly used in sleeping bags: down or synthetic. Which insulation type you choose depends on preference and intended activity. Down insulation provides more warmth from a smaller amount of volume of material, but does not play well with damp environments. Synthetic insulation is slightly less warm compared to down, and is slightly bulkier and heavier — but works well in wet weather and is more durable.
Structure
Sleeping bags built specifically for side sleepers have a slightly different structure than your typical bag. Often, they're built with more room in the elbow and knee area to accommodate lying on your side (or stomach). There are two classic shapes when it comes to sleeping bags: mummy, and rectangular. The debate over which is better for side sleepers ultimately comes down to personal preference; however, by their nature and shape, mummy bags are inherently more restrictive. If you move around or shift positions throughout the night, you may want to consider a rectangular bag with a little extra wiggle room. In this guide, we offer options for both mummy and rectangular bags.