Every product is carefully selected by our editors. If you buy from a link, we may earn a commission.
The Best Women's Hiking Boots of 2022
Consider this your sign to lace up and hit the trails.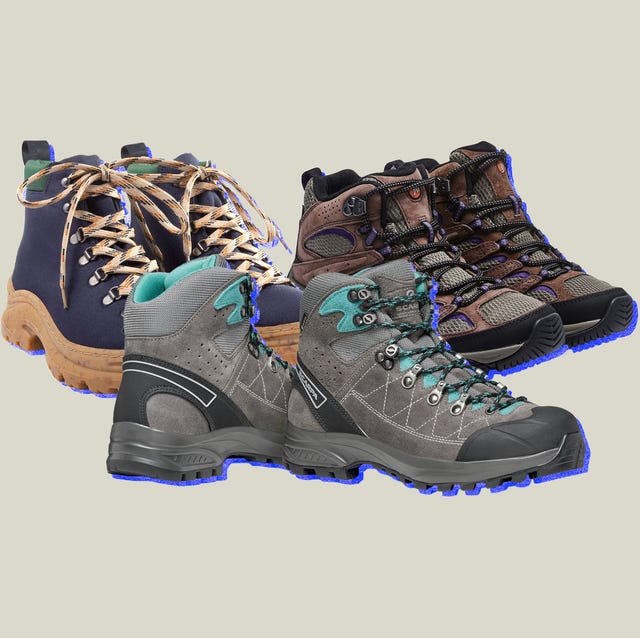 Few things are more rewarding than traversing a mountain or exploring a remote trail on your own two feet. Hiking seems underrated in its simplicity, but to get the most out of it, there's a crucial component: hiking boots. They're the cornerstone of an experience being good or bad and should be the foundation which flashier items like down jackets, backpacks or trail running kits are built upon.
There are myriad features that determine which type of boot is best for a specific type of terrain, and a specific type of hiker. Do you live in a rainy climate? You'll want to look for an option that comes with a Gore-Tex lining or membrane. Do you typically hike in rockier terrain? Go for a boot with maximum ankle support and minimal flexibility. Live in a desert climate? Lace up a pair of boots with a breathable mesh liner and upper to maximize airflow.
Below, I've outlined the top options for anyone who likes to lace up and get out there: technical alpine trekkers, city-to-mountain kickers and best-all-around hikers.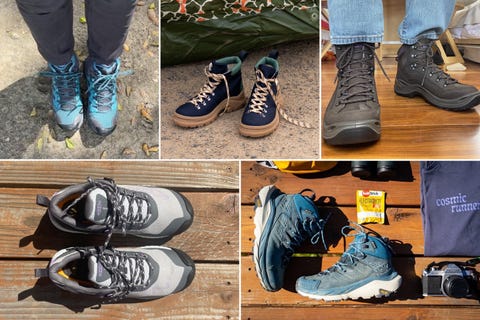 I tested these boots in a variety of climates and conditions: on the picturesque trails of the Pacific Northwest; by the seaside at Point Reyes National Seashore; on snowy trails in Telluride; in random downpours in San Diego. I considered four factors while testing: fit, grip, price and out-of-the-box comfort. Cumulatively, the boots on this list have walked over 250 miles. They've each been put to the test, and have come out on top.
Best Overall Hiking Boots
Vasque Breeze LT NTX
Comfort right out of the box
Not for someone with colorful style
The one boot to rule them all. If you're in the market for a capable and cushioned hiker, Vasque's beloved Breeze line checks all the right boxes.

The features included in the Breeze LT NTX will appeal whether you're a casual hiker or preparing for your next multi-week backpacking trip. The Vibram outsole with Megragrip compound grips a variety of surfaces with ease, while the 50-percent recycled Nature-Tex (NTX) waterproofing tech brings a more sustainable approach to all-weather footwear. The new mesh upper is more breathable and comfortable than ever before and makes use of 70-percent recycled materials.

I like the boot for its ability to take on trails and a day in town, thanks to its lightweight, neutral colorways and unobtrusive silhouette.

Materials: Recycled mesh, suede

Weight: 1 pound, 8 ounces

Waterproof? Yes
Best Upgrade Hiking Boots
Lowa Renegade GTX Mid WS
Supple and superior materials define this hiker. It was love at first sight when I opened up the box my pair came in. What struck me right off the bat was the outer material: the nubuck leather has a premium feel that only gets better with use.

Looks aren't everything though — how does the Renegade hold up when it comes to performance? The fit, feel and support of the boot helped it become one of my fast favorites, and details like the Durapu Monowrap frame construction, Vibram Evo outsole and Gore-Tex lining put it over the top.

On the first wear, I did a three-hour hike in these babies and didn't feel a hot spot or discomfort anywhere in the boot. The saying goes that if something seems too good to be true, it is; I'd say the one drawback to this boot is the high price tag, but if you're willing to spend a little more upfront, you're going to be walking home with one of the best boots on this list.

Materials: Nubuck leather; Gore-Tex lining, Vibram outsole

Weight: .97 pounds per shoe

Waterproof? Yes
Best Affordable Hiking Boots
Moab 3 Mid
If you're looking for an affordable boot that's packed with premium features, check out Merrell. The brand was founded in 1981, and for decades has been one of the most popular boot brands on the market.

I like the Moab 3 Mid for its value, but the slightly lower cost does have a drawback — I don't find this boot to be nearly as comfortable as some of its pricier counterparts. It does come with plenty of features, though: a Vibram outsole, breathable mesh lining and Merrell Air Cushion in the heel all contribute to the shoe's performance. For less than $150, there's no way you're going to beat the number of features Merrell fits into this casual hiker.

Materials: Pig suede leather and breathable mesh upper; recycled laces and webbing

Weight: 1 pound, 12.2 ounces

Waterproof? No
Best for Technical Trails
Scarpa Kailash Trek GTX
There aren't any other boots on the market that feel like Scarpa. Although they may not have the high-cushion comfort that earns the praise of "no break-in required," they do have supportive stiffness, a nimble feel and just enough flexibility for long hikes.

Made with a suede leather upper protected by Gore-Tex, the Kailash is a multi-season trail boot that also happens to be one of Scarpa's best sellers. Other protective features include the TPU toe cap, as well as a lightweight PU midsole that offers durability and comfort on longer hikes.

Constructed in Italy, the Kailash also features a Gore-Tex performance lining that keeps your feet cool, minimizing the risk of blisters. Scarpa's boot isn't the most lifestyle appropriate and looks more at home on the trail than running errands, but that's the point: this boot was made for hiking, and that's just what it'll do.

Materials: Suede and nylon fabric upper; Gore-Tex lining

Weight: 1 pound, 2.9 ounces

Waterproof? Yes
Best Backpacking Boot
Salomon Quest Element Gore-Tex
Bold and geometric design
Not for the intermittent hiker
Backpacking can really take it out of you — especially if you're not used to the sensation of carrying an additional 50 or so pounds on your back for miles upon miles. The extra strain on your body requires footwear that can stand up to the challenge, and Salomon's Quest Element with Gore-Tex is my go-to boot for the occasion.
The exaggerated height of the ankle cuff provides maximum foot protection on the trail, while the neutral foot support and standard width help the Quest to shine on mixed terrain. The technical aspects of the Quest read like a feature-rich laundry list: it's got a Contagrip outsole, Energycell EVA foam, an Advanced Chassis molded midsole, protective mudguard and more. Built to withstand the rigors of both the trail and potential weather, the Quest is a multi-season hiker built to last.
If you're the type that likes to make friends on the trail, the geometric design of the Quest will surely start a few conversations. Get ready to hear asking you, "Where'd you get your boots??"
Materials: Nubuck leather, textile lining, rubber outsole
Weight: 1.11 pounds
Waterproof? Yes
Best Style:Capability Ratio
Arc'teryx Aerios AR Mid GTX Boot
In my mind, Arc'teryx and the products it develops are really the perfect marriage of form and function. Although it's not a household name like Patagonia or The North Face, Arc'teryx well-known in the outdoor community for its unparalleled mix of performance and style.
The Aerios AR Mid GTX Boot continues this tradition, combining freedom, comfort and support into one good-looking boot. The Aerios caught my attention first and foremost thanks to its neutral colorways; too often in women's outdoor gear, the axiom of "shrink it and pink it" applies, but thankfully the Aerios is one of the few women's specific boots on the market that comes in a refreshing black or tan (Arc'teryx refers to it as "fossil").
The Aerios is made with a 3D-molded Ultralon collar that moves with your ankle while maintaining protection and integrates with the tongue to minimize movement in the boot. Thanks to the Gore-Tex liner, the Aerios is waterproof, wind-proof and breathable, and the Vibram outsole is built to simultaneously shed mud and maintain grip.
Materials: PFC-free woven polyester, Gore-tex membrane
Weight: 1.05 pounds
Waterproof? Yes
Best Classic Style
Danner Mountain Light
Longest break-in period on the list
The classics never go out of style. A leather jacket, straight leg jeans and the perfect white tee will always be fresh, no matter the decade. The same principle can be applied to hiking boots, as well, and no one does the classics better than Danner.

Take one look at the Mountain Light, and you'll see what I'm talking about. The full-grain leather upper only looks better with the patina that age and use bring, and the red laces and black rubber outsole add to the classic vibe of the trekker. Don't let the nostalgic design convince you this boot is trapped in the past, though; it's got thoroughly modern features like Vibram Kletterlift outsoles and waterproof Gore-Tex liners.

The two major drawbacks to these boots are their weight and stiffness: at three pounds, they're twice as heavy as most of their competitors, and the leather upper absolutely requires a break-in period.

Materials: Full-grain leather upper, fiberglass shank, Gore-Tex liners

Weight: 3 pounds

Waterproof? Yes
Best New Brand
Thesus The Weekend Boot
Best-looking boots on the list
Some of us want an ultra-rugged, aggressive hiking boot that will take us to the tallest peaks and back down to ground in comfort, while others of us are looking to add some campy vibes into our day-to-day adventures.
New brand on the block Thesus has a selection of boots that hearken back to the beginnings of hiking culture when style was high, silhouettes were a little chunkier and colors skewed towards neutrals and primaries. I'm kind of obsessed with the Weekend Boot — not only are these boots the cutest ones we put on but the footbed is so squishy.
Like many other top-tier boots, the Weekend Boot is made with over 95-percent natural and recycled materials, and is handmade in a family-run factory in Portugal. It's water-resistant and has an anti-slip lug sole and a temperature-control lining. It's on the heavy side, but for a brunch with friends or a short hike, I hardly noticed.
Materials: 95-percent recycled and natural materials
Weight: 3 pounds per pair
Waterproof? No
This content is created and maintained by a third party, and imported onto this page to help users provide their email addresses. You may be able to find more information about this and similar content at piano.io