Every product is carefully selected by our editors. If you buy from a link, we may earn a commission.
The 10 Best Dopp Kits for Towing Toiletries
Bags for one-night getaways and long-distance trips alike.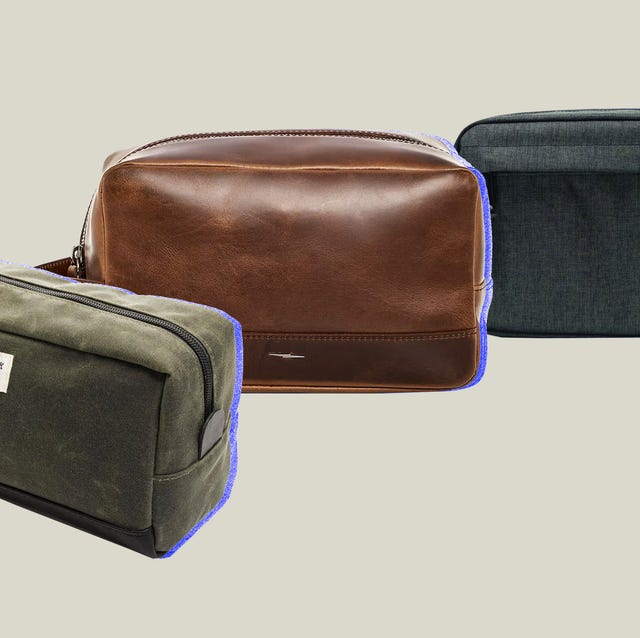 A Dopp kit is both a statement of personal style and an immensely practical item. It contains the tools one uses to transform from a shuffling, scruffy zombie to a man that's both well-groomed and bright-eyed. But not all are made equal. There are leather iterations with long-lasting finishings, waterproof ones with polyester liners, and everything in-between, it seems.
How to Pick the Right Dopp Kit
Whether you're wriggling your kit into a backpack or playing a game of packing Tetris, configuring it inside your carry-on, the right sized option proves vital. Plus, it must look good, too. It'll go through a lot — and carry quite a bit — so get one capable of not only carrying the essentials you need to clean, shave, and care for your skin and hair but one that's able to do so without worry — that it'll bottom out, its contents will seep through or it isn't big enough for your travel-sized moisturizers, toothpastes and pomades.
It's also important to consider whether your dopp kit can withstand a little wetness. Whether you're placing it down on a damp counter or a bottle explodes inside it, there's a high probability it'll get wet at some point. As such, you need one that's at least water resistant.
The Best Dopp Kits for Your Next Trip
This content is created and maintained by a third party, and imported onto this page to help users provide their email addresses. You may be able to find more information about this and similar content at piano.io