Every product is carefully selected by our editors. If you buy from a link, we may earn a commission.
The Best Basic Long-Sleeve T-Shirts to Buy Now
For when short-sleeves, well, fall short.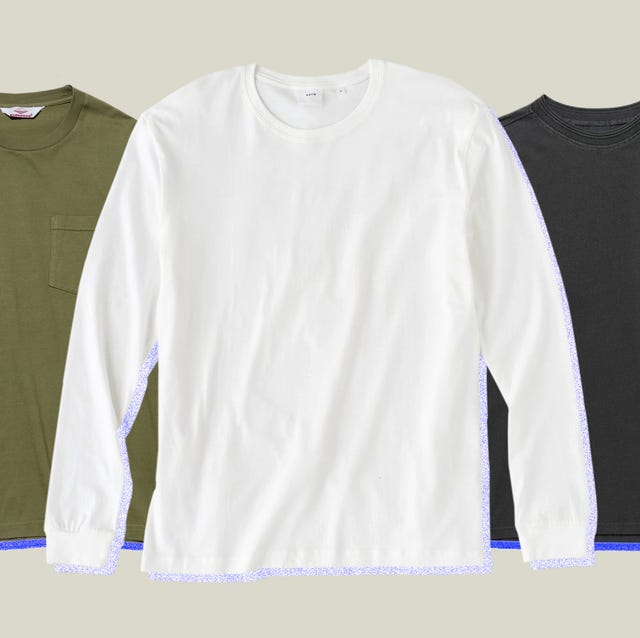 Don't consider this story a wholehearted repudiation of the trusty T-shirt. I own a ton of them, and short sleeve ones are perfect paired with jeans, worn with something like a shirt jacket, or used as a base layer beneath a hoodie or a sweatshirt. T-shirts are the titular king of the closet.
But what about the short-sleeve T-shirt's sibling, the long-sleeve? It's everything the T-shirt is except longer. Does that make it better? Well, you can be the judge of that, but the benefits of a T-shirt with elongated sleeves abound. They line scratchy jackets and sweaters; keep you warmer when the weather shifts (which it is); and offer coverage for people in cooler places with harsh sun and those who wish to cover their arms (for any number of reasons).
In keeping with the theme, which is wardrobe staples, these are all blank — save for one which has a tiny box logo. But that doesn't mean they're basic. Some come in hues only achievable through pigment dying, others are cut to fit a certain way, and a couple of them have pockets. (A plus!) Shop a few of our favorite long-sleeve T-shirts below.
This content is created and maintained by a third party, and imported onto this page to help users provide their email addresses. You may be able to find more information about this and similar content at piano.io