Every product is carefully selected by our editors. If you buy from a link, we may earn a commission.
From Jock to Journeyman: Behind the Varsity Jacket's Resurgence
Find yours, clean it up, sell it, and buy someone else's — or one by these brands.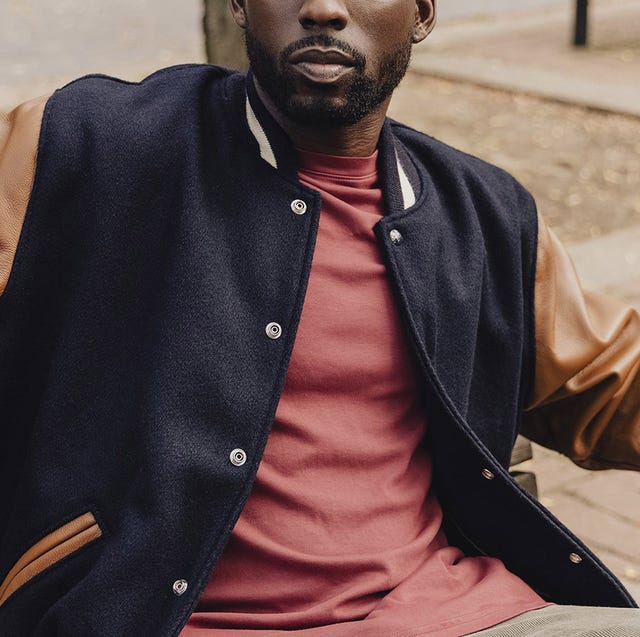 This story starts all the way back in 1865, when Harvard baseball players started sewing big crimson Hs onto the centers of their sweaters. The demarkation meant they were a star player, and, as such, few had one. Cue the classic jock vs. nerd dynamic.
All joking aside, varsity jackets — aka "letterman" jackets — became standard issue at the Cambridge-based school a decade later. As cardigans came into the fashion, the big logos moved from the center of the chest to the left, where letters remain to this day. (Though some schools put them on the arms.) The bomber-like iteration we all know now didn't arrive until the 1930s, in synchronicity with the rise of high-school sports. No longer were they reserved for the well-off that went to college; anyone could play football, for example, and letter. Hence the surplus of vintage varsity jackets decades later.
But they haven't always been this popular. It wasn't until the '80s and '90s that the style found its way into the fashion world. Prior, it served as a wearable trophy, a status symbol: you were a student athlete poised to go pro (or at least collegiate) or someone who knew one. The jacket's private-school-to-public-school-to-pro-sports-to-pop-culture-to-high-fasion transition didn't happen fast, though.
The varsity's roots are in prep and ivy culture — remember the Harvard baseball team? By the time hip-hop got ahold of them in the '80s, Run DMC was borrowing the look from jocks, but they were original to the elites. (Are they one in the same? That's another debate.) However, we'd be remiss to overlook the Black men that adapted prep staples to their own personal styles decades earlier. Fashion savant Jason Jules has a book, Black Ivy: A Revolt In Style, all about this due out later this year.
"Black men across the country adopted the clothing of a privileged elite and made it their own," the book's synopsis reads. "It shows how a generation of men took the classic Ivy look and made it cool, edgy and unpredictable in ways that continue to influence today's modern menswear."
And have their sartorial preferences proved influential... I'd argue the style's initial success with the ivy crowd and its introduction to everyone else are the driving forces behind its staying power — the first a sensible throttle and the second a jolt of turbo. Nowadays, the same wave that's flooded the market with rugby shirts and loafers (by a Black designer no less) is pushing varsity jackets back onto the scene.
While there are new ones out from Noah, Daily Paper, Golden Bear, Awake NY, and even Off-White, and exceptional iterations from a few seasons ago by Saint Laurent and Gucci to explore, vintage-lovers are obsessing over old, consumer-made ones — the kind designers rely on as reference points. These shoppers, disenchanted by dime-a-dozen luxury reproductions, now prioritize uniqueness over hype. The rarer — whether through paint splatters, distressing, or obscure embroidered names or messages — the better, because by no means could someone find an identical copy of yours if it was one-of-one for someone in the class of '61. (Just an example. You get the gist.)
How times change — and fast. A few years ago, many of these same buyers were lining up for Supreme logo tees. Prep's given to streetwear, streetwear's given to prep, and the varsity jacket's somewhere in the middle of this transaction. Those intrigued by trends — first vintage T-shirts, then Americana and western wear — are making their way toward the Atlantic, at least aesthetically. Further, value nowadays lies in faded veneers of perfection; stains from when crushes wore them during games; and chain-stitched nicknames like "Sunshine" or "Junior."
Athletes may not get better with age — except LeBron James, although I can't explain him — but their jackets certainly do. (Cold but kind of very true.) Look for ones from a few decades ago — ones with the traditional woolen body and heavyweight leather sleeves. They have a nostalgic quality about them that kills the kitschiness.
But wait. Here's a parting tip: please, for everyone's sake, save your own varsity jacket for future family — someone who will cherish it because it was yours. Or, if you're pressed for cash or eager to part ways with it, clean it, snap some photos of it, and sell it to someone else who'd wear it for the look (and ignore the pins that mark the times you placed second). Then do the inverse with someone else's. Sure, your name may not be Charlie, and no, you didn't win States in swimming in 1973 — you weren't even born yet — but there are no rules. Rock the jacket.
Shop New School Varsity Jackets
This content is created and maintained by a third party, and imported onto this page to help users provide their email addresses. You may be able to find more information about this and similar content at piano.io