Every product is carefully selected by our editors. If you buy from a link, we may earn a commission.
6 Pairs of No-Show Socks That Actually Stay Up
Socks capable of hiding inside your shoes typically come with a myriad of issues: They don't stay up on your heel, bunch up or peak through. But not these.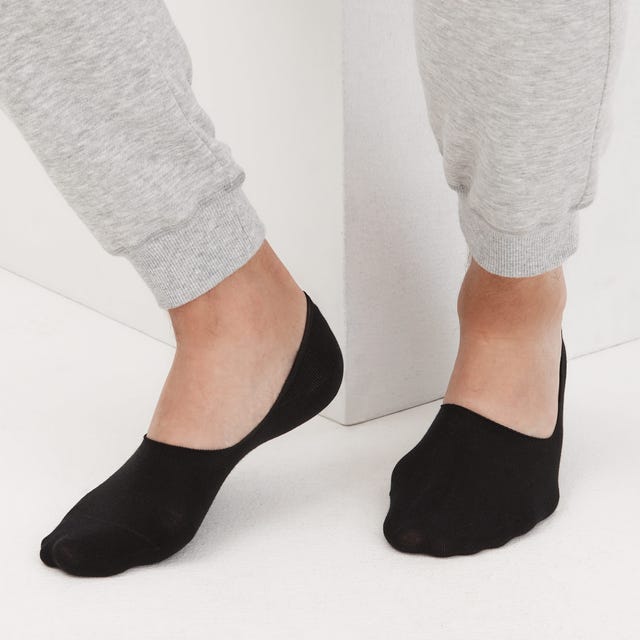 What you classify as "no-show" depends on the types of shoes you wear. If you're a boots year-round type of person — wow, kudos — then crew socks, the kind that rise above the ankle, are technically no-show. If you're a sneakerhead, ankle socks probably won't go much higher than the shoe's collar. But if you wear loafers or boat shoes, you need a sock shaped like a ballet flat: curved at the back, swooping through the middle and curved again at the front. Here's why.
Why wear no-show socks?
No-show socks, as the name implies, become invisible when you put your shoes on. They offer your toes and heel protection from stiff or unsavory liners, plus moisture absorption and odor control. Do you need them? Well, no, but loafers, or any low-cut shoe for that matter, with high socks is a divisive look — one that's split from person to person rather than style camp to style camp (i.e. menswear traditionalists vs new-age streetwear fans).
No-show socks offer an alternative. Whether you're tired of digging for matching pairs, unhappy with the crew socks you currently own or fear getting a sock tan (it can happen), these invisible, inner accessories come in handy. But they aren't all made equal.
What to look for:
If you own any high socks without elastic arches or shafts — the parts that wrap around your foot and ride up your leg — you'll know how annoying it is to own a pair of socks that constantly fall down. Maybe they pool at your ankle or bunch up inside your shoe. Annoying, right? No-show socks are even more likely to do this because there's just less fabric — and that means less room for elastic elements or even grippy adornments. But there's hope for those of us that enjoy the freedom of no-show socks: these pairs. They stay put, but be sure to pick the pair most appropriate for your preferred footwear.
The Best No-Show Socks