Every product is carefully selected by our editors. If you buy from a link, we may earn a commission.
You Can't Knock a Classic: Reviewing New Balance's 574 Sneaker
There are better New Balance sneakers. But at what cost? (Over $100 more, to be exact.)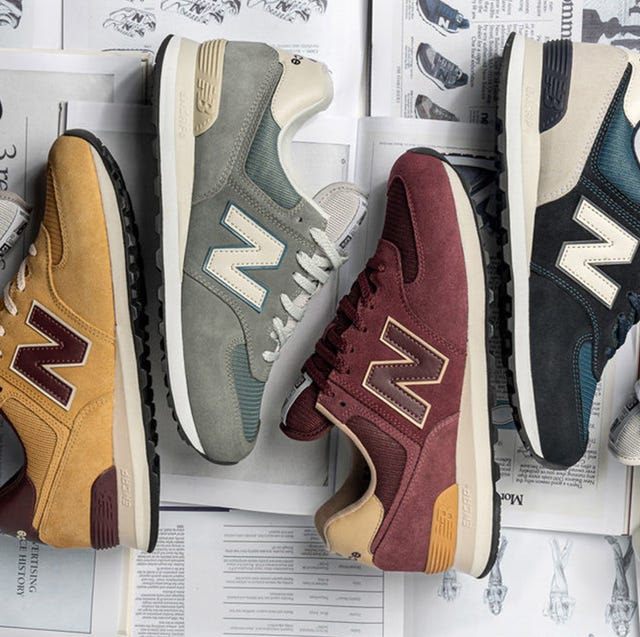 New Balance's classics-oriented catalog isn't a facade. Founded by William J. Riley, an arch support specialist, in 1906, the company sold shoe inserts until 1960, when then-owners Paul and Eleanor Kidd introduced NB's first-ever sneaker, the Trackster. The first of its kind to feature a ripple sole and come in different widths, cross-country and track teams across the country, at both the collegiate and high-school levels, quickly transitioned to this new shoe.
Eight models — the 320, 420, 576, 620, 670, 990, and 1300 — came between the Trackster and 1988's 574, a lifestyle shoe originally introduced as an economy runner. For its value, it boasted impressive tech. 574s were comfortable, could be worn for a light workout, but proved best for more pedestrian situations. For New Balance sneakers, generally speaking, the higher the model number, the more tech. The lower that number is, the more "lifestyle" the shoe leans.
With the 574, New Balance broadened its reach. A lower point of entry made their shoes more accessible, and a big "N" logo and suede side panels helped the company move past their original color palette (grays and neutrals). Doing so attracted those set on expressing themselves through footwear. Namely, musicians — from Biz Markie and Raekwon to KRS One and Phife.
As years passed, New Balance's technical credibility was never questioned. Running shoe after running shoe earned best-in-classic honors. But, what sneaker shoppers considered "cool" changed with the seasons. New Balances became "dad sneakers," scorned for their sensibility. Their affordability — a strength to those with common sense — was ammo for arguments against them. There were better pairs of shoes out there, even from the same brand. But the 574 has endured, and, with the sudden hype surrounding casual, comfortable, stylish sneakers, will probably prosper again. Don't pity them, though. They remain New Balance's best-selling model.
The Good
The price: For just $79.99, or as low as $44.99 from other retailers, these are an incredible value. You might be able to snag nicer pairs of shoes for similar prices during end-of-season clearance sales, but doing so involves holding out until they hit rock bottom. New Balance 574s will always be there for you in an assortment of colors and materials, courtesy of a consistent refresh calendar and an ever-growing list of collaborators.
The foam: Like Birkenstocks, New Balance 574s mold to your feet with wear, courtesy of lightweight EVA foam cushioning in the arch and heel. That's where the ENCAP, marked by a little text logo, is, too. That's more EVA foam with a polyurethane rim for added durability. Sure, these don't have high-arch support, but that's OK. For those born with high arches, these will slowly shape to your foot. They will, however, stop short of relieving pain in extreme situations. TLDR: they're more comfortable than Vans yet far removed from orthopedic sneakers. Having three different widths to choose from helps, too.
The look: The 574 is a classic silhouette. It's heritage, hard-wearing design that's core to the company's history. That being said, wear them with that in mind. 574s pair particularly well with jeans, sweatshirts, T-shirts, and sweats; anything kind of casual.
The Bad
The material: While some iterations of the 574 feature premium leather and suede or sustainable TENCEL lyocell, the baseline version's construction could be better — and heftier. Again, I wouldn't recommend wear these for high intensity interval training (HIIT), and I'd argue even daily walks would cause significant wear and tear. The suede scuffs easily and the mesh toe loosens over time. Of course it's unfair to compare these to other models that are made in the U.S., but these are arguably too light.
The logo: The big "N" logo on the sides of the 574 let New Balance play with its own image a bit. Lots of mesh and suede helped, too. The brand could pair mismatch colors and materials, follow themes, or pass the square footage off to other parties. Nowadays, though, it seems big, even as sneakers designs become increasingly crazy.
The meme: Does this meme sound familiar? There's an image of two people, places or things and "You vs. the guy she tells you not to worry about" typed out above them. The 574's eternally trapped inside one of these. Sure, it's a great shoe, but look at its siblings, the 990, 992 and 993. Hell, even the 57/40, a chunky riff on the classic you're reading about right now. I can't forget about the 650R.
The Verdict
The AM55 is New Balance's cheapest sneaker — by about $20 dollars. But, you could do worse things with the extra bucks than upgrade to the 574. If you're an early adopter, someone who's owned and worn New Balances through better or worse, get the 574; surely you've tried it on and found it well-suited for your day's activities. If you're new to, well, New Balance, the 574 is a super solid option, but I'd urge you check out one of the more expensive models. (Although some can run you as much as $250.) My argument is that you'll ultimately be happier with the quality and thus more likely to check out other pairs — like the classic 574.
Shop the style, and its variants, below.
---
This content is created and maintained by a third party, and imported onto this page to help users provide their email addresses. You may be able to find more information about this and similar content at piano.io