The New Land Rover Defender Is Exactly the SUV It Needs to Be
It might not be exactly what you wanted, but the new Defender is what Land Rover needs right now.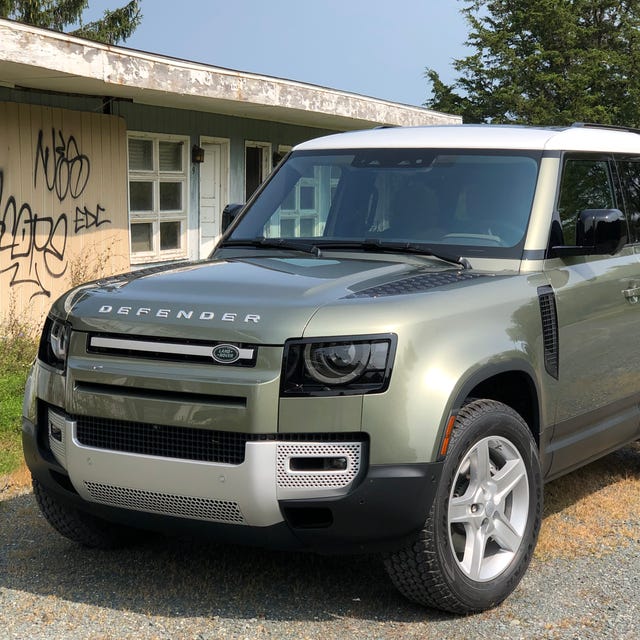 From the very start, the all-new Land Rover Defender was given an impossible mission. Enthusiasts needed a vehicle that could conquer off-road trails as well as any Jeep or Land Cruiser; purists demanded an SUV that had the boxy design and simple construction that made the original Defender so iconic; suburbanites craved a vehicle that was easy to drive around town and on the open road; the well-heeled wanted something nearly as luxurious inside as the Range Rovers they hold so dear, if not quite so ostentatious.
Given all those forces pulling the project in different directions, it was inevitable that some groups would be disappointed. And considering that the rabid off-road fanbois who wanted a slavish recreation of a car that was past its sell-by date 25 years ago were likely the smallest potential audience out of all of them, the carmaker chose the path that would appeal least to them: to create a Defender with a modern design and modern comfort and convenience features that could still conquer terrain like its predecessor, even if you'd never confuse the two at a stoplight.
To give us our first taste of the new Defender, Land Rover offered us a chance to drive in a wide variety of terrain: the 85-plus-mph Albanybahn of the New York Thruway, the winding two-lane back roads of upstate New York, and not one but two off-road excursions: the Land Rover Experience off-road driving course in Manchester, Vermont, and a gnarly off-road trail up and down the slopes of nearby Mount Equinox. After two days in the saddle...we had some thoughts.
The new Land Rover Defender's design takes some getting used to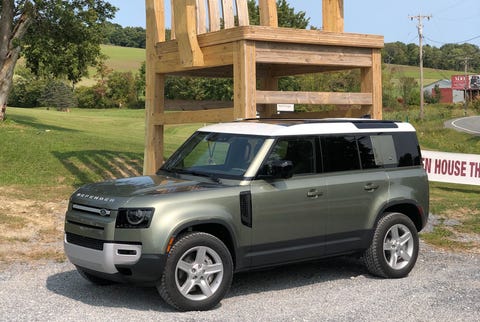 Land Rover design boss Gerry McGovern made no secret of the fact that he had no interest in doing a retro-styled Defender when we spoke with him at last year's L.A. Auto Show. Still, for those of us who find boxy old off-roaders appealing to the eye, it's hard not to feel a little like an opportunity was missed with this new Landie. (Especially now that the new Bronco and Bronco Sport have joined the Mercedes-Benz G-Class and the Jeep Wrangler in showing how classic SUV designs can be updated for modern audiences while maintaining clearer visual ties to their heritage.)

Ever car has something of a face — thanks, pareidolia — the squared-off tops of the headlight enclosures, wide low-mounted airflow aperture and different colors of the front give the Defender an almost cartoonish look, as though it were a cheerful Thomas the Tank Engine character brought to life. The rear angle also prompts the occasional double take, possessed as it is of twin vertical stripes that connect the blacked-out D-pillars and darkened rear glass with the black elements of the bumper; while it (and the stacked tail lamps) makes the rear look more narrow than it is, it often causes the eye to stare at it longer than usual in order to make sense of the design. Bold, yes; simple, hardly.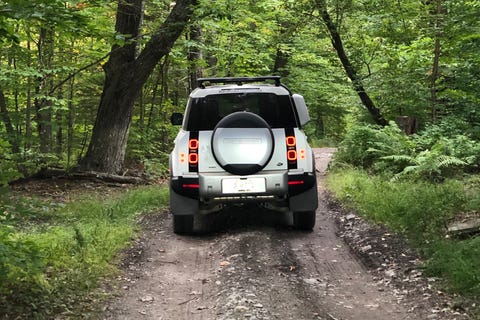 But the side and three-quarter views are much more pleasing to the eye, however — evocative of Land Rovers past and present in form and detail. And even the direct front and rear angles grow familiar, if not inherently appealing, with time, as is the case with most controversial designs. It's a long way from the clean, straightforward design of the previous Defender.
This Defender is still very much a Land Rover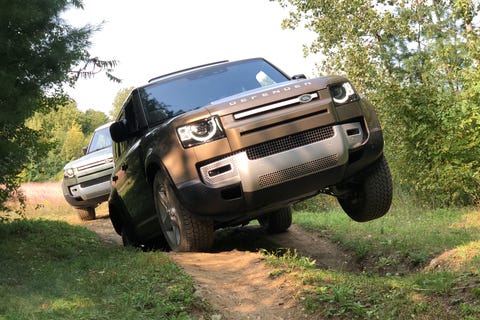 No, the Defender doesn't roll around on a body-on-frame chassis anymore. If that's truly a dealbreaker to you, feel free to mosey on over to a Jeep showroom and buy a Wrangler Rubicon. That said, don't be surprised if you see that new Defender face in your rearview mirror while winding your way up a mountain. Land Rover doesn't both sticking "Trail Rated" badges on some of its vehicles, because they're all trail-rated.
To prove this, the carmaker made sure we had plenty of time driving the Defender off the beaten path during our time with it. While most media launches for SUVs feature maybe a 15-20 minute off-road loop, we spent nearly as much time off-road in our Land Rovers as we did on pavement — both on the tricky, technical paths of the Land Rover Experience center and on a longer trail through the mountains nearby. In both cases, we wound up staring down knee-knockingly steep descents, looking up at quad-burning inclines and quizzically peering at rock-strewn paths that would have required care to hike up, let alone drive along.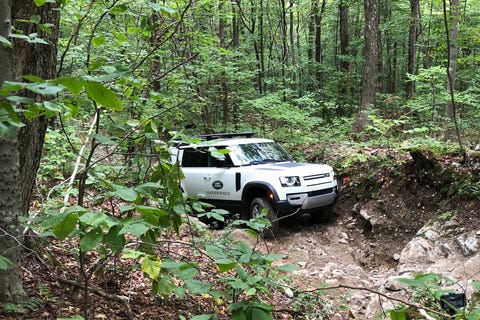 And while past Land Rover driving experiences have proven that the entire lineup is capable of conquering terrain that would make most SUVs go pale, the Defender certainly lived up to its promise. The off-road cameras proved perhaps the biggest game-changer, enabling the driver to see what nasty obstacles lurk just ahead of the front wheels without climbing out to check. (The "transparent hood" tech that uses camera feeds to make the front end see-through on the central infotainment screen is less helpful, as it doesn't provide a real-time view.) All Terrain Progress Control — a.k.a. off-road cruise control — takes the guesswork out of how much throttle to use during careful off-road climbs and descents; just set the speed and concentrate on steering. And while the Terrain Response 2 system has specific settings for all different types of off-road terrain — snow, mud, rocks, and so forth — you'll never outsmart the Auto setting.

Bottom line: if you were worried about the Defender not being able to take on trails, you shouldn't have. Even if it weren't a Defender, it'd still be a Land Rover.
The new Land Rover Defender works pretty damn well as a regular car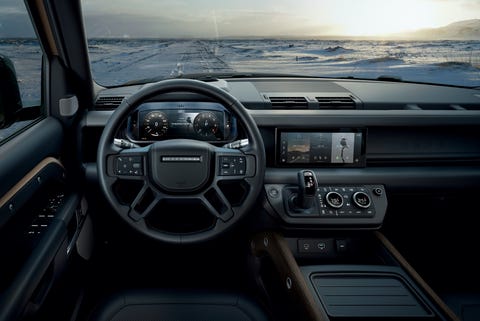 It's no secret that the old Land Rovers of decades past were, well, hardly ideal on-road companions. Push past 40 miles per hour or so, and their charmingly agricultural traits (There's a reason you still see them often in places like the Hamptons and Nantucket: there aren't highways there to drive on.) Unlike those Defenders of yore, however, this new one is actually a pleasant on-road companion.
The steering is typically Land Rover light — a boon for slow-going when off-road, but a bit less than ideal on faster highways. Still, once you're dialed in, it's a nice cruiser, even at the fastest highway speeds you're likely to hit in America. The tall glass makes for solid outward visibility, and combined with the moonroof, also makes for plenty of natural light inside. And while the suspension is pliant to the point of luxury car softness, the Defender hustles through turns surprisingly well once you're accustomed to the body roll. The turbocharged mild-hybrid inline-six of my tester proved more than suitable to hauling this Landie around, aided by the always-delightful ZF-sourced eight-speed automatic. (I'd steer clear of the base engine, a turbocharged inline-four; unless you're really aiming for the cheapest Defender possible; not only is it less powerful, it actually gets worse fuel economy, to boot.)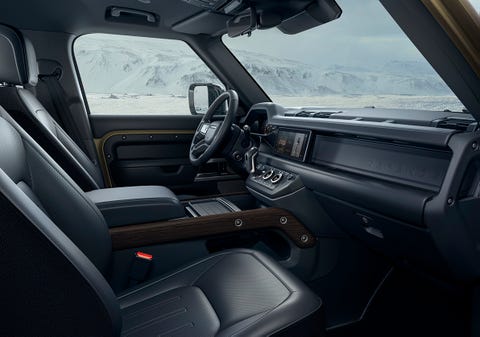 The interior is a delight of usability, with ample storage space for phones, snacks and the like. Leaving the dashboard's structural cross-member exposed frees up a ton of added room, as well as giving the interior a rugged feel — one complemented by the burly grab handles and other well-considered elements. And the new Pivi Pro infotainment system is a definite upgrade over previous Jaguar Land Rover setups, if still not quite as intuitive or quick as the best out there. (Pro tip, though: use Apple CarPlay or Android Auto instead of the built-in navigation system; it proved hopelessly buggy during my drive.)
You'll definitely want the Defender's Accessory Packs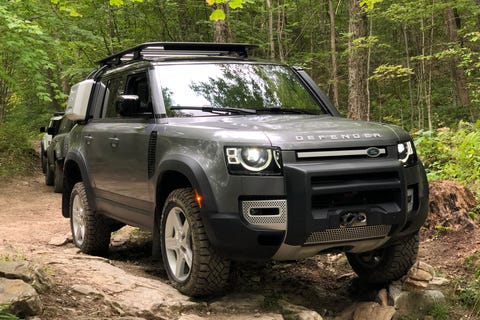 As you might recall, the new Defender offers a quartet of "Accessory Packs" that you can slap onto your new SUV: the Explorer Pack seen here, whose highlights include mudflaps, a roof rack, a side-mounted gear carrier and an integral snorkel; the Adventure Pack, which includes the Explorer's mudflaps and gear carrier but adds things like an air compressor and "rinse system" (hose); the Country Pack, which has the mudflaps and hose but adds a cargo partition and a shiny rear scuff plate; and the Urban Pack, which also has the shiny scuff plate in back but adds a spare wheel cover and shiny petals, as well.

While they may seem like an easy way to run up your Defender's MSRP, many of these add-ons do pack real-world benefits. The gear box mounted on the side not only adds a place for wet or muddy items, but it makes the vehicle look wider and more planted. The air compressor is ideal for airing up tires after off-roading. And the

Oh, and pro tip: go for the integral winch option seen here, too. You'll never be mad you bought the winch.
2020 Land Rover Defender 110
Base Price: $49,900
Horsepower: 395
Torque: 406
EPA Fuel Economy: 17 mpg city, 22 mpg highway
Seats: five, six or seven, depending on configuration