Every product is carefully selected by our editors. If you buy from a link, we may earn a commission.
The Best Tire Chains for Your Car, Truck or SUV
Sometimes even snow tires aren't enough. When that happens, it's time to consider tire chains.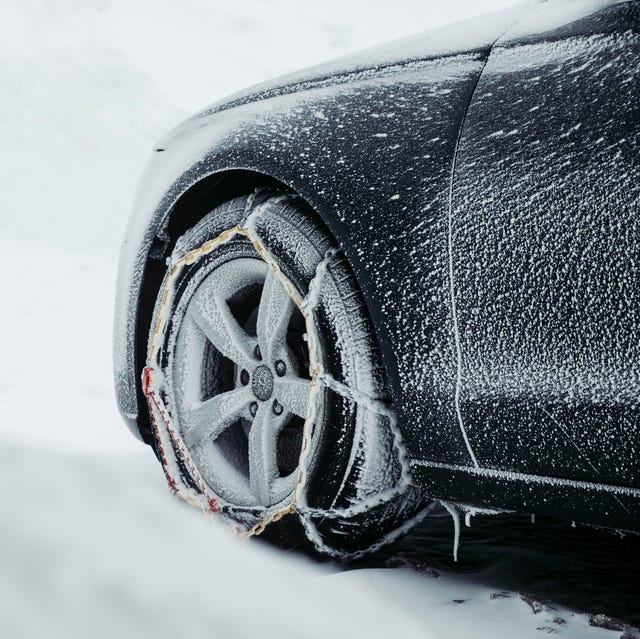 Every year, many Americans experience a phenomenon in which frozen water in crystalline form precipitates sporadically for several of the coldest months of the year, often accumulating in depth upon the ground. This, in case you're unfamiliar, is known as "snow." And it can play havoc with traction, whether on foot or in a car.
If you live somewhere that receives the occasional dusting-to-an-inch of snow at a time, shelling out for all-wheel-drive or snow tires is the prudent thing to do. Other Americans, however, live in areas where snowfall can come quickly, often — and by the foot. Snow plows may not be there right away to get it. That is where tire chains come in.
Tire chains, a.k.a. snow chains, can be literal chains, or one of several other different styles. But whatever the material or pattern, their function is the same: they wrap around tires and offer extra traction and maneuverability over snow and ice. You store them in your trunk, and deploy them when needed.
Which tire chains should you buy? There are a few factors to consider. How big your tires are and how much clearance you have around them are the main factors. You don't have to have a truck or an SUV to use tire chains, but if you're planning on using them on a passenger car, make sure they bear the SAE Class S rating, as these are designed for vehicles with restricted wheel well clearance.
There's also the question of how much you're willing to pay. Keep in mind that tire chains tend to be sold in pairs, and you have four wheels. You can get a full set for less than $100, but as with tires, leveling up to more expensive ones will get you better performance, durability, and ride comfort. They'll probably be easier to put on, and they'll also be less likely to scratch up those fancy alloy wheels.
Here are some great options.