The New Rolls-Royce Ghost Is Less Flash, But It's Still 2.8 Tons of Substance
The new Ghost dials down the ostentatiousness...at least, a little bit. But it's still very much a Rolls-Royce.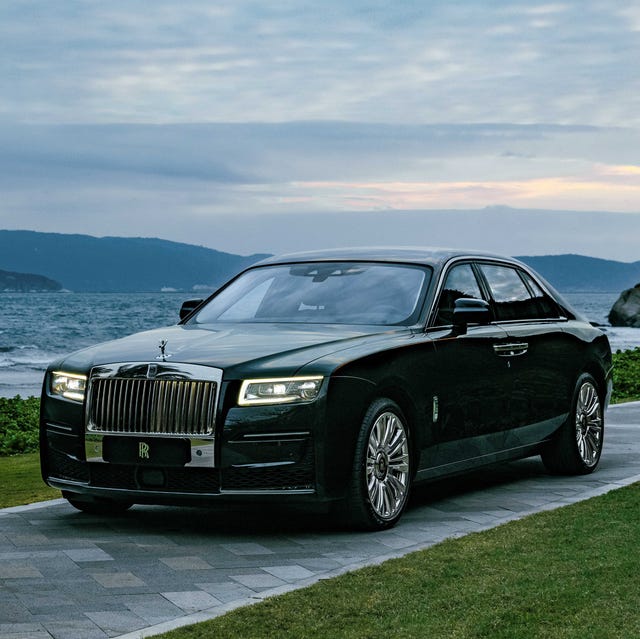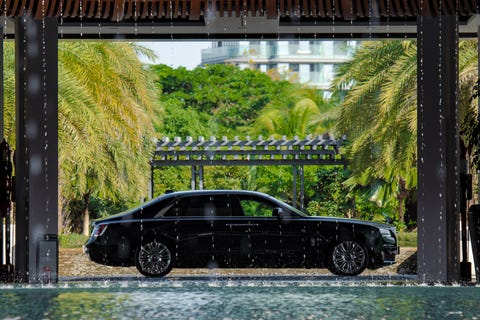 Stem to stern. In fact, the only holdovers from the past model are the Spirit of Ecstasy hood ornament and the umbrellas tucked into the doors. While the old Ghost of 2010-2020 was based on the same platform as the F01 BMW 7 Series, the new one is based on the same platform as the Cullinan and new Phantom — a skeleton Rolls-Royce calls "the Architecture of Luxury."
For this Ghost, though, Rolls-Royce took a new tact. Ghost buyers, the company says, are generally younger and more likely to drive their own cars than, say, Phantom owners; in fact, Rolls says lots of customers use the Ghost as a daily driver.
These days, the brand says, those younger buyers are looking for less-ostentatious products that whisper about their value, rather than shout about it — a trend Rolls-Royce refers to as "post-opulence," which was one of the guiding principles of the new Ghost. Rolls went with a cleaner-looking shape than before, prioritizing simple, elegant design — removing unnecessary lines and so forth for a more minimalist look.
Of course, that's all relative; even this "post-opulent" Ghost is still an impressive, imposing sight. Still, among the likes of the aforementioned Cullinan and Phantom — or even the outgoing Wraith and Dawn — it does seem a bit more subtle.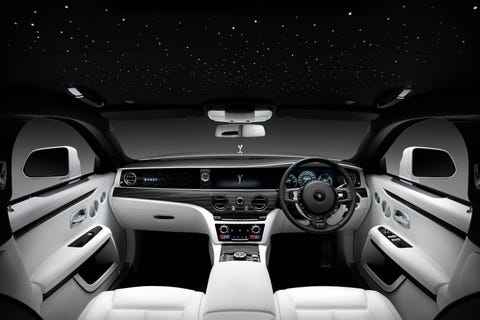 Uh, it's a Rolls-Royce. Pretty much every piece of it is special. It's apparent from the moment you catch a glance at that noble front end. (Fun fact: the grille is illuminated from behind, but Rolls had to make the back of the grille less reflective in order to reduce the intensity of the effect and make it less ostentatious.)
Fit and finish is impeccable, the attention to detail flawless. If you've ever wondered what really separates the upper echelon of luxury cars from lesser ones, spend a few minutes poking around the new Ghost and it becomes apparent. It's not so much in adding features for features' sake; rather, it's in finding ways to make the overall experience as comfortable, stress-free and relaxing as possible, easing the burdens large and small. Like, say, having to open the doors using brute strength; here, you can have them power themselves open simply by pulling the handle twice from the inside.
A Rolls-Royce needs to ride smoothly and serenely, so the suspension has been upgraded for the new model; as the brand puts it, even "the dampers have dampers." And while neck-snapping acceleration isn't a requirement for a Roller, it does need to be able to accelerate promptly and smoothly at any speed, so having plenty of power in reserve — no joke, there's a "power reserve" gauge instead of a tachometer — is crucial. As such, like other modern Spirits of Ecstacy, there's a twin-turbo V12 lying under the hood, connected to an eight-speed automatic with shifts softer than whipped cream frosting. In a first for a Rolls-Royce sedan, though, that power goes to all four wheels, rather than just the rear two.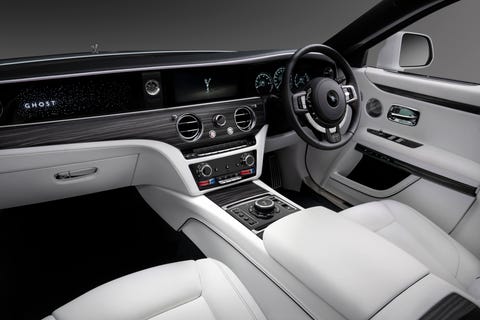 It's very pleasant, if not quite as magical as all that talk would have you suspect. Even the tony neighborhoods of Greenwich, Connecticut and New York's Westchester Country have their fair share of rough roads, and while the suspension components do a remarkable job absorbing the blows from below, there's only so much they can do when the low-profile tires lack the capacity to soak up much force.
Massive wheels wrapped in skinny rubber is hardly a problem unique to Rolls-Royce, but the effects are more noticeable here in part because, well, a Rolls-Royce is supposed to glide along like a magic carpet. On smooth pavement, it's delightful, but the potholes show up, they come through with turbulent impacts.
On the flipside, the Ghost takes turns with a briskness you wouldn't expect of a car which bears that ecstatic lady on its hood. Nobody's likely to confuse it with a BMW M5, but push it into turns, and it cuts through them with a verve that belies its mass.
Likewise, all that weight means even the V12 has its work cut out for it, but it's certainly up for the job. Press the accelerator down (one does not mash the gas in a Rolls-Royce), and the speed rises briskly — a fact belied by the quiet of the interior. Be careful; it's not hard to wind up traveling far enough past the speed limit to warrant the loss of a license (and good luck pleading for pity from a cop when you're driving a Rolls).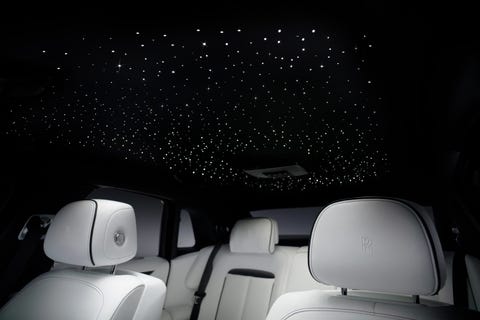 The new Ghost may be, ahem, post-opulent, but as a Rolls-Royce PR person told me, "we are anything but post-luxury." Close the bank vault door and settle into the well-padded seat, adjust the thin-rimmed steering wheel so that you can keep your fingertips on it while maintaining contact between your elbows and the armrests clad in super-soft leather, set the climate to a comfortable level (using traditional fan speed and warm-vs-cool dials rather than crass temperature buttons, as in all Rollers), and you'd be hard-pressed to come up with a better place to watch the world go by from.
It is, however, perhaps not as expansive inside as the name and exterior would lead you to believe. It's not constrained inside, but neither is it limo-like the way a Maybach is; my six-foot-four frame was able to fit behind the driver's seat set even with it set for my long legs, but my kneecaps were close to the seatback. Were I looking for a car to be chauffeured in, odds are good I'd look elsewhere. Then again, this is the everyday Rolls-Royce; presumably, those who want to ride in back buy a Phantom instead. (Or in addition to.)

Also, pro tip: definitely opt for the Starlight headliner that decorates the roof with pinpricks of light like the night sky. You can have them arranged in any constellations you like: the view from over your childhood home, your lover's face, your daughter's birthday, however you like.
Rolls-Royce doesn't like to speak of such things; to discuss money is uncouth. However, your accountant will likely be interested to know that the base price of a new Ghost is around $320,000 — although if, like many a Rolls buyer, you choose to take advantage of the wealth of options and opportunities for personalization, you'll spend a good bit more.
The 2021 Rolls-Royce Ghost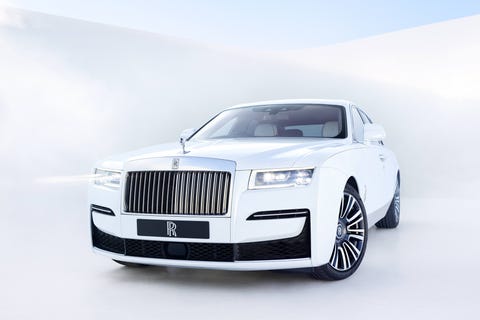 Base Price: ~$320,000
Powertrain: 6.8-liter twin-turbocharged V12; eight-speed automatic; all-wheel-drive
Horsepower: 563
Torque: 627 lb-ft
EPA Fuel Economy: Like you care about such things
Seats: Four, in extreme comfort
The Best Travel Mugs Money Can Buy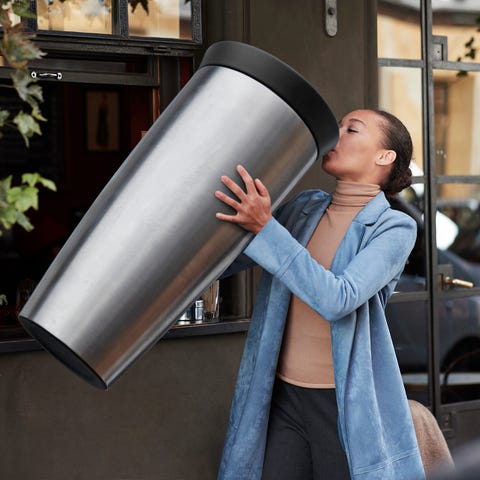 Klaus Vedfelt
Getty Images
They're a bit more convenient than this one.