Every product is carefully selected by our editors. If you buy from a link, we may earn a commission.
If You Don't Own a Bench Scraper, You're Not Doing Food Prep Right
Bakers are onto something — bench scrapers make everyday prep work so much easier.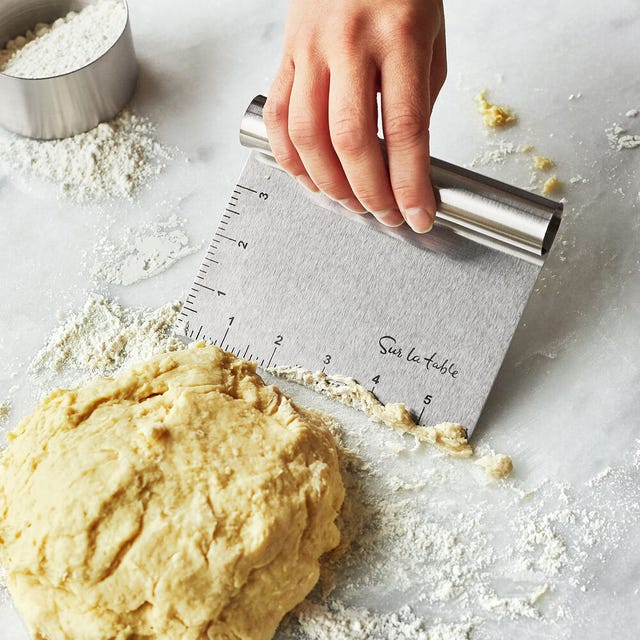 When it comes to kitchen equipment, we say stick to the basics. That usually means a chef's knife, paring knife, a spatula or two. Well now we want you to know that the "basics" should also include a bench scraper.
Bakers are notorious for their love of bench scrapers, otherwise known as dough scrapers. You've probably seen them before, too — they're typically squared-off or semi-circular blades attached to a horizontal handle. Despite their connection to baking, bench scrapers are exceptional everyday tools to have on hand. Sure, they'll help scrape up all of the sticky dough you have in a bowl and portion it out evenly, but they also help with protecting the longevity of your knife. I use a bench scraper to help me scoop up bits from my cutting board — like chopped up vegetables or loose scraps — to more easily transport it to a pan (or the trash). They have a wider surface area than a knife blade to gather things up, and you don't have to worry about slicing your finger when trying to push things onto the bench scraper's blade. Also, dragging a knife blade across any surface is detrimental to the super-sharp knife edge you worked so hard to get. From what you should look for in a bench scraper to the best ones to buy, here is everything you should know about your future favorite kitchen essential.
What to Look for in a Dish Rack
Tip #1: Why Weight?
Bench scrapers are by no means heavy. However, they do range in weight, which can affect how nimble you are when using it. If it's too heavy, you might not be able to make as many swift moves as you'd like, but if it's too light, you'll find yourself struggling to cut through certain items.
Tip #2: To Bake or Not to Bake
Bakers love bench scrapers for their versatility when working with dough. And one feature of bench scrapers that can be super important for bakers is a built-in ruler. Having this on a bench scraper won't usually affect the price, but if you do find yourself working with dough often, finding etched-in measurements in your bench scraper is a massive win.
Tip #3: Handle With Care
A bench scraper essentially has two parts: a blade and a handle (though some don't have a handle presumably to cut costs). Like a knife, the handle can be made of any material and shaped for ergonomics. If you can, test out a bench scraper before you use it. Make sure they feel good in the hand and that it's securely attached to the blade. And material only really matters if you're considering between wood or something else — wood is a bit more fickle to take care of (don't soak a wooden-handled bench scraper in the sink) and requires care to ensure longevity.
The Best Bench Scrapers of 2022
This content is created and maintained by a third party, and imported onto this page to help users provide their email addresses. You may be able to find more information about this and similar content at piano.io