Every product is carefully selected by our editors. If you buy from a link, we may earn a commission.
The Best Over-the-Range Microwaves You Can Buy
Whether you're looking for an upgrade on an out-of-date microwave or clearing up countertop space, these are the best over-the-range microwaves you can buy.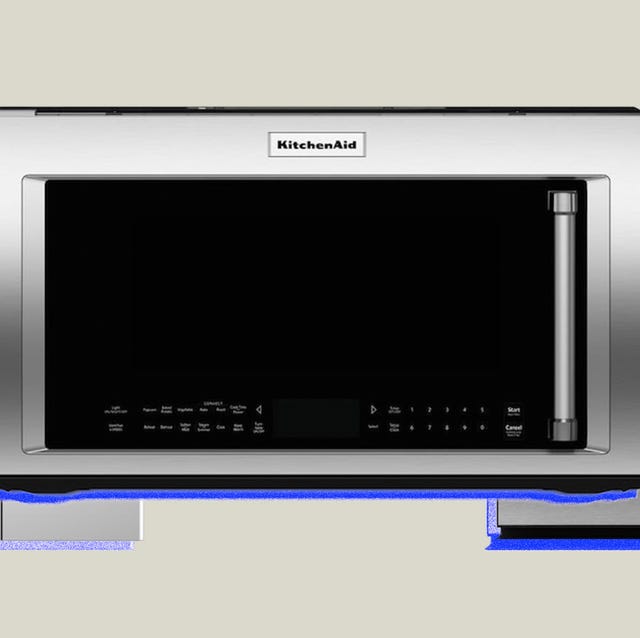 One of the better upgrades you can make to your kitchen is swapping out your old countertop microwave for an over-the-range model. The reason is simple: countertop space. This square footage is primo real estate, and unless you do serious, smoky searing on your cooktop and require a restaurant-grade range hood, an over-the-range microwave is your space savior; distinct from countertop versions, these slightly pricier models can pull double duty as microwaves and cooktop exhaust systems.
(Note: One small but significant drawback of an over-the-range model is that, for shorter chefs out there, access can be a bit more frustrating compared to a countertop model.)
Looking to upgrade your current over-the-range microwave? Now is a fantastic time; microwave capital C cooking — not just reheating — is having a bit of a moment. Look no further than at David Chang, the Momofuku-owning, highly influential chef who's been busting microwave myths and championing the relatively new idea of cooking ambitious meals from start to finish in his home Hestan. Microwave-exclusive recipes and lines of microwave-specific cooking dishes are now part of the cooking zeitgeist. The time to invest in a capable microwave is here.
What's the Difference Between Them?
Below are a handful of models — from budget to behemoth and convection-capable to exhaust-fan focused — that will satisfy all kitchen needs. But for the average home cook, differentiating between models is difficult.

The vast majority of over-the-range models fit into a standard 30-inches-wide slot over your kitchen range (below, we included one notable exception for smaller kitchens) and capacity differences typically won't make a huge impact on most reheat jobs. The other core functions - power and exhaust - also won't vary widely from model to model. Unless you need a convection-cooking, Chang-inspired workhorse, typical microwave jobs can be handled by any of these models perfectly well. (After all, any differences in heating "uniformity" can be solved if you love yourself enough to give those mashed potatoes a quick stir.)

So how to decide? Our advice may seem counterintuitive: decide based on the small factors. Do you want stainless steel or glossy platinum glass? Handle or no handle? Warm night light? Mute function? Turntable with an on/off switch? In the sea of comparable and capable microwaves, let these be your guide.

All of the picks on this list are under $1000. We've found that after this price point, you'll be better off brand matching with your other higher-end kitchen appliances. So if you're a semi-professional home cook that needs to match your Viking gas cooktop with a Viking 5 Series microwave, you don't need our help.
The Best Over-the-Range Microwaves of 2022