Every product is carefully selected by our editors. If you buy from a link, we may earn a commission.
15 of the Best Patio Heaters to Stay Warm Outdoors
Not even Mr. Freeze can stand a chance against these patio heaters.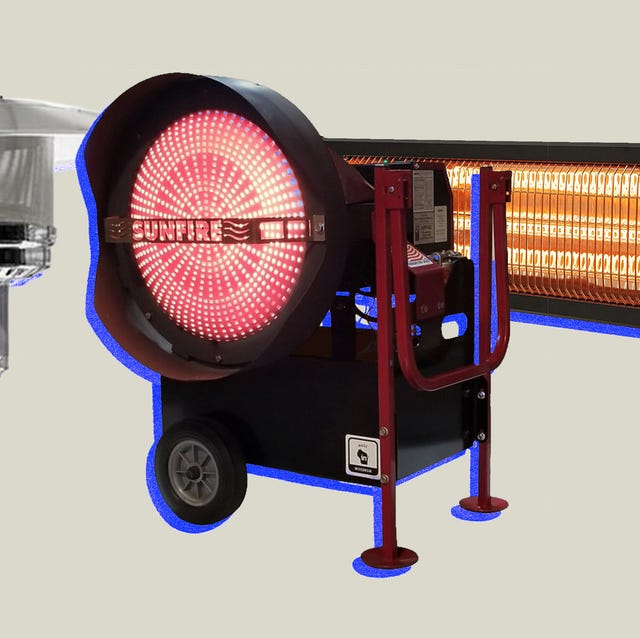 Looking for more outdoor product recommendations? Check out our guides to the best outdoor furniture, camping tents, camping blankets and sleeping bags.
While air conditioners are a summer thing, patio heaters are good for practically the whole year. Yes, while patio heaters will probably get the most use in the winter, nighttime in the spring and summer bring lower temperatures and chilly breezes. The market for patio heaters is large and unwieldy, so we reached out to Joseph Boodanian, director of HVAC training at UEI College, a leader in churning out top-flight HVAC techs for over four decades, to help us demystify the world of patio heaters. From the different types of patio heaters to the best ones to buy, here's everything you should know about patio heaters.
How to Choose a Patio Heater
Everything matters when considering your outdoor space: Do you have a concrete or wood deck patio? Is there an awning or some kind of top? Is it enclosed or is it open air? What do you do with the space when it's not cold? You have to determine what fuel works best for you, as well. These are the most popular fuel sources for patio heaters, as well as the pros and cons for each.
Liquid propane patio heater: This is almost always the cheapest option for patio heaters, and you can find the fuel source practically anywhere. It helps patio heaters to be both powerful and mobile, but lugging around a 20-pound tank can get old really fast, not to mention the hassle of attaching and detaching the tank. Also, make sure you have proper ventilation.
Natural gas patio heater: Patio heaters fueled by natural gas bring some of the steadiest heat, but it is more expensive than liquid propane. It's important to get a professional to install a natural gas patio heater for safety reasons, and once it's set up, it's pretty much stuck there for life.
Electric patio heater: An electric patio heater is great for small spaces, and can be found in almost any size. These types of patio heaters are the easiest to use at the cost of taking a while to heat up. Plus, you have to be close to an electrical outlet to operate.
Wood pellet patio heater: Wood pellets have the lowest environmental impact compared to other fuel sources, and patio heaters powered by wood pellets are super efficient. Heaters using wood pellet fuel are very durable, built to withstand the harshest climates. However, sourcing wood pellets is a pain, and owning and maintaining a wood pellet heater can be a lot of work.
How We Tested
We compiled a list of over 50 patio heaters, which the market had considered the best of the best. From the list, we called in a number of patio heaters we deemed worthy of being tested, and for the rest, we sourced product manuals for each unit, running them through rigorous analysis. After much trial and error, those 50-plus patio heaters were narrowed down to the 15 best.
The Best Patio Heaters of 2022
This content is created and maintained by a third party, and imported onto this page to help users provide their email addresses. You may be able to find more information about this and similar content at piano.io