Every product is carefully selected by our editors. If you buy from a link, we may earn a commission.
The 7 Best Self-Propelled Lawn Mowers of 2022
The grass is greener when you have a self-propelled lawn mower.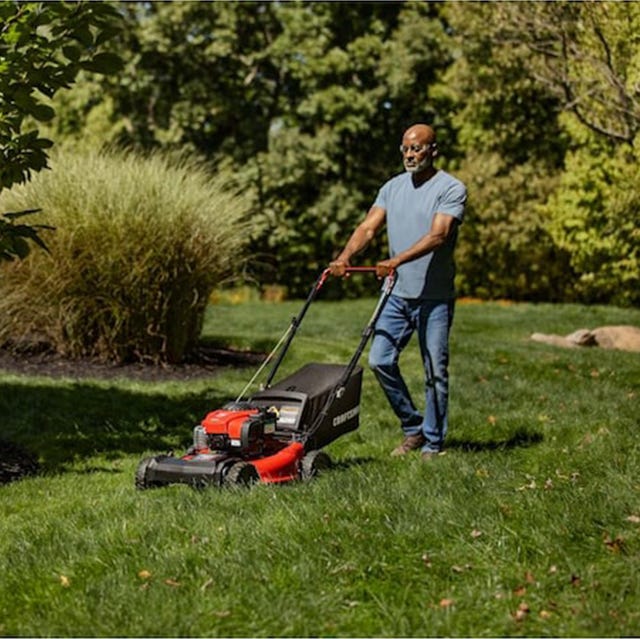 If you dropped your keys in the grass and you're having trouble locating them, it's probably time to give the lawn a trim. Whether you're new to lawn maintenance or you're looking to get a new lawn mower, a self-propelled lawn mower could be the right pick for you. Rather than the lawn mowers you sit on — aptly called a riding lawn mower — self-propelled lawn mowers push themselves, and you just guide the mower to wherever you want it to go.
Self-propelled lawn mowers are easier to use than push mower, which are powered by your own movement, and they're apt for most residential lawns. They're good for going over bumpy and hilly areas, but you'll probably pass out if you try to use it on your multi-acre property, as they do require a decent amount of effort to use. We found a self-propelled lawn mower for every kind of person at every budget — these are the seven best self-propelled lawn mowers of 2022.
Self-Propelled Lawn Mowers 101
Gas Mowers vs. Electric Mowers
Gas mowers tend to trend lower in price than their electric counterparts though they do require you to get a little messy considering you have to refill the gas and change the oil. They also run longer and don't require long charge times in between trimmings. Gas mowers tend to be louder (think motorcycle revving), but they do work exceptionally well when going through overgrowth.
Electric mowers used to be tethered by cables, but the advent of rechargeable batteries have really pushed electric mowers to popularity. They generally don't last very long, so they're more suited to smaller yards. Electric mowers require less maintenance than gas options, and they tend to be lighter in weight and smaller, making them easier to store.
Two Function vs. Three Function
Mowers will either be two function, which bag or mulch, or three function, which allow you to bag, mulch or discharge (either from the side or the rear). More expensive models will offer three functions, though some cheaper models may have the three-in-one function. Not everyone will need the choice for mulching and discharging, so don't think a three-function mower is always better — it depends on whether or not you need those functions.
Consider Lawn Size
Your lawn size is going to dictate a lot of what you look for in a lawn. Smaller lawns won't require you to find a mower with super-long runtimes, and you also won't need mowers with a wide deck. Larger yards may mean you want to look for a gas-powered mower, which typically lasts longer than an electric-powered one. You can also get a wide-cut mower, which means you cut more grass at once, requiring you to make fewer passes across your lawn.
The Drive
Not all lawns are completely flat, and that's when it's time to consider drives: front-wheel drive, rear-wheel drive and all-wheel drive.
Front-wheel drive mowers are ideal for flat terrain, and they're also a little cheaper than other mowers. They're easier to maneuver and steer like a charm.
Rear-wheel drive mowers put the power into the back wheels, which makes it easier to go over hills.
All-wheel drive mowers give you some of the best control over bumpy terrain but you will have to shell out a bit more money.
The Best Self-Propelled Lawn Mowers of 2022
This content is created and maintained by a third party, and imported onto this page to help users provide their email addresses. You may be able to find more information about this and similar content at piano.io