Every product is carefully selected by our editors. If you buy from a link, we may earn a commission.
Keep Your EDC in Order With the 11 Best Key Organizers
Do away with the jingle-jangle of traditional keyrings and organize your most important EDC gear with these accessories.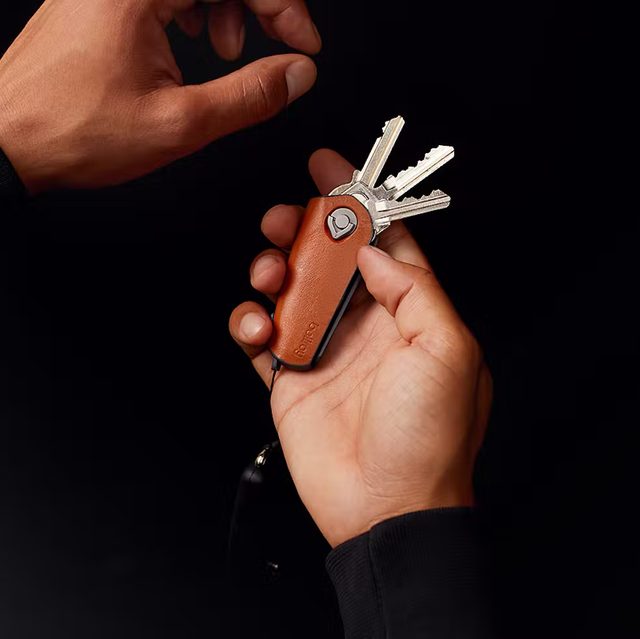 Whether you buy into the concept or not, the fact remains: just about all of us participate in EDC (short for everyday carry) in some form or another. Even if you don't carry around a knife, multi-tool and/or some other more esoteric and purpose-driven gizmos and gadgets many people associate with EDC, you're still probably participating. That's because the concept also includes much more ubiquitous gear, like wallets, mobile phones and (of course) keys. And today it's the latter we're concerned with.
Your keys might be your most underrated and underappreciated pieces of EDC gear (whether you claim to partake or not). They're usually an afterthought and even sometimes forgotten — the latter being such a common event it's become a trope in popular media. However, it's your keys you need to get into your home (and secure it once you're ready to leave again), unlock and start your car, enter your office, open your mailbox, etc. And while a traditional keyring or keychain might help you keep them handy most of the time, we're here to tell you there's a better way. Give your keys the respect they deserve — and perhaps even make your life a bit easier and more convenient — by stashing them instead in one of the best key organizers you can buy in 2023.
What Is A Key Organizer (and Why Do You Need One)?
Most of us are probably familiar with keyrings and more traditional keychains — often little more than a split metal ring onto which you can spool a collection of keys and keychain accessories. Key organizers, however, are a different beast — an evolution, if you will. Where traditional keyrings and chains offer little more than security (and a whole lot of jingle-jangle), key organizers offer security, as well as the ability to keep your keys in order much better — both while you're using them and when the time comes to put them away.
While there are varying types, there are a few commonalities. Usually, they have some kind of body into which your keys can be hidden — kind of like a pocket knife handle. This keeps them from creating an unsightly lump in your pocket or making you look too much like a high school janitor when you're trying to thumb through them. It also makes it simpler to retrieve the keys you use most often, sometimes offering one-hand operation or even quick access.
Furthermore, many key organizers also offer additional features — some come with built-in or detachable bottle openers, some come with a loop to which you can attach a key fob (if you have a car that requires one, for instance) and others still might come with a knife blade or other useful tools. There are even some that can be customized to suit your particular tastes and EDC requirements or ones with built-in Bluetooth trackers (for those of us who are sometimes a bit absentminded).
All told and apart from the investment, there's really very little about a key organizer that might be considered inferior to traditional keyrings or keychains. Sure, they're not for everyone, but we bet anyone with even a passing curiosity will find them to be useful, helpful and highly preferable to the alternative.
What to Look for in a Key Organizer
Capacity: The number of keys you can fit into your key organizer is undoubtedly the most important thing to pay attention to when shopping for one. After all, if you have eight keys and your organizer of choice can only hold six, you're going to be out of luck and have to either get a different one or somehow reduce the number of keys you carry to suit. It's worth noting that some can be expanded/shrunk to suit, but this is hardly a given. Make sure you know how much room you need (or don't need) before you ever pull out your wallet.
Size/Shape: Your pockets represent valuable (and limited) real estate when it comes to everyday carry. Nobody wants to be forced to stuff theirs to the brim if it can be helped, as it looks bad and increases the risk that you might lose something or even damage your apparel and other EDC gear. As such, discerning how much room you have is important in picking out your EDC key organizer. While most of them are fairly space-saving, there is still a range of sizes, shapes and weights to consider. And some might not actually fit all your keys (make sure you check what sizes are compatible ahead of time) if they're odd shapes or sizes.
Material: The material of your key organizer can determine a number of different things about it, including its appearance, texture, durability, weight and even price. For instance, a rubber key organizer might be lighter than, say, a steel one, but it probably won't last as long. Similarly, one that's made from titanium or carbon fiber is probably going to be a lot more expensive than one made from aluminum. There are upsides and downsides to all of them — just make sure you consider this ahead of time.
Style: Don't let anyone tell you otherwise — the styling of your key organizer is exactly as important as you want it to be. Like all your EDC, your organizer is a piece that can (if you want it to) say a lot about you. And while the above factors often play a part in defining its style, they're not the only factors to consider.
The Best EDC Key Organizers of 2023