Every product is carefully selected by our editors. If you buy from a link, we may earn a commission.
Pick Up One of These Lightweight Vests for the Extra Pockets Alone
The best vests reference utility, fisherman, and streetwear styles, making them something uniquely their own.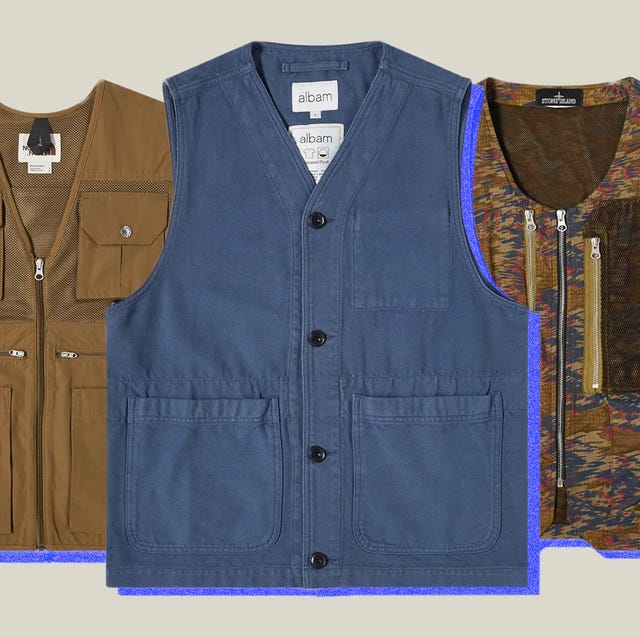 The vests below are by no means tactical vests. Aesthetics are the primary focus for each selection — although some have handy pockets that I'd happily put my phone, keys and wallet in over my cramped pant leg. Instead of wearing one of when you're out fishing or hunting, opt for one of these lightweight vests to add layers to otherwise flat outfits. I'm not saying a T-shirt and chinos is a boring look, but the two topped off with a utility vest has a certain je ne sais quoi unfounded in other late summer/early fall outfits.
Yes, you read that right, I'm recommending you add another layer to your outfit (even in warmer climates). But all of these are unlined, and constructed from organic cotton or cotton canvas, breathable wool, or lightweight nylon, meaning you can wear them without melting. The vests on this list are also rather practical, albeit not quite as functional as a fisherman's vest with fishing-focused compartments or hooks. Stuffing your pockets with EDC and whatever other extras is not only uncomfortable but it interferes with your outfit's defining lines. Sure, an outfit comprising of a plain T-shirt and simple shorts doesn't have a sultry silhouette like that of a well-tailored suit, but every curve counts. I'm not big on prescribing clothing to particular body shapes or heights, but the vest, especially in thin cotton, is a flattering top layer for all types of men.
Plus, there are lots out there to choose from. Some in eclectic patterns and colors, others with pockets in places you never knew you needed them, and even more with water-resistant finishes capable of keeping (most of) you dry. Shop our favorite lightweight utility vests below.
This content is created and maintained by a third party, and imported onto this page to help users provide their email addresses. You may be able to find more information about this and similar content at piano.io