Every product is carefully selected by our editors. If you buy from a link, we may earn a commission.
Fleece Jackets: Which to Buy and What to Know First
This is our guide to the super soft (and slightly controversial) outerwear.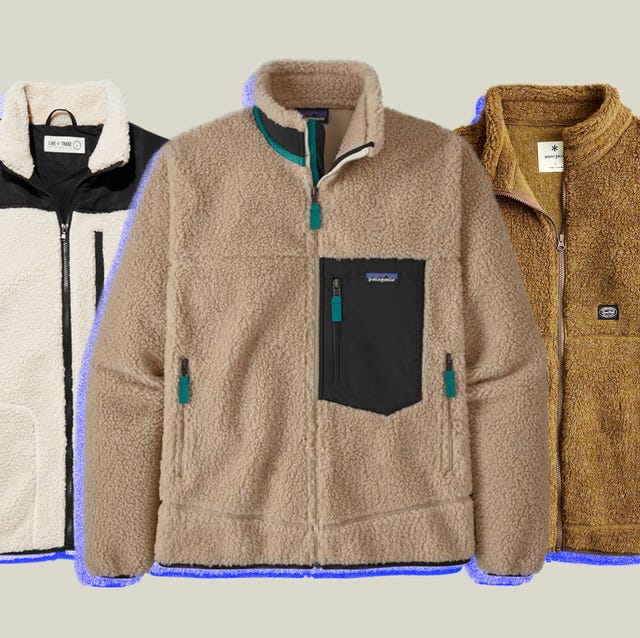 You won't find a jacket much cozier than a fleece one. First championed by outdoor clothing brand Patagonia at the end of the 1970s through to the mid 1980s, faux sherpa fabric has revolutionized clothing. The man-made fabric was developed at an innovative textile factory called Malden Mills, which would eventually become Polartec. It used polyester to simulate the curly woolen coat shorn from sheep. It was a hit with the apparel industry and turned millions of people into fluffy lamb-people.
The curly fibers work by trapping warm air in thousands of pockets. Those pockets also cut down on fabric density, making it more lightweight than a traditional heavy wool coat. Today, you can hardly walk down the street in the fall without seeing someone wearing a fleece jacket. They're everywhere, and for good reason. Fleeces are one of the foremost garments spearheading the current gorpcore trend — aka fashion influenced by outdoor brands (i.e. The North Face, Patagonia, Arc'teryx, etc).But fleece jackets do come at a cost to the environment, research suggests.
Why Synthetic Fleeces Are a Problem for the Environment
Most fleece jackets are made from polyester. And polyester (aka polyethylene terephthalate) is plastic, which derives from a chemical reaction between air, petroleum, and water. But wait, I know. I can hear you now. People use plastic for everything. Why are fleece jackets the problem?

Due to their size, the microplastics fleece jackets shed are harder to corral. If you see a water bottle floating along the shoreline, you pick it up. Or, if there is a herd of them floating a few miles offshore, a conservation crew can scoop them with one swift sift. Microplastics usually measure out to no more than a few millimeters (five at max). For context, a pea is roughly 10 mm across. The tip of a pencil is roughly 1 mm across. They're hard to see and even harder to address. But, microplastics are everywhere.
What You Can Do About It
There's hope, though, for those of us who retreat to high-pile jackets whenever winter appears from around the bend. Studies have found that some jackets shed a whole lot the first time you wash it but then do so less abundantly with each subsequent wash. Sure, flushing a wad of microplastics away with the first wash isn't worth celebrating, but this leaves room for pre-treatments that could eliminate that initial shed. You could also bag your fleece during its first wash. There are mesh laundry bags that can trap the microplastics these kind of garments emit. If you're opposed to this extra step, buying a wool jacket is one way of avoiding it. Woolen jackets won't be washed the same way, and the material they do shed is natural.
The Best Fleece Jackets for Men
---