Every product is carefully selected by our editors. If you buy from a link, we may earn a commission.
Body Scrubs Made From Coffee Beans? Face Oils Made From Pinot Noir Grapes? What Gives?
Skincare products made or derived from food ingredients aren't new, but there are more of them than ever.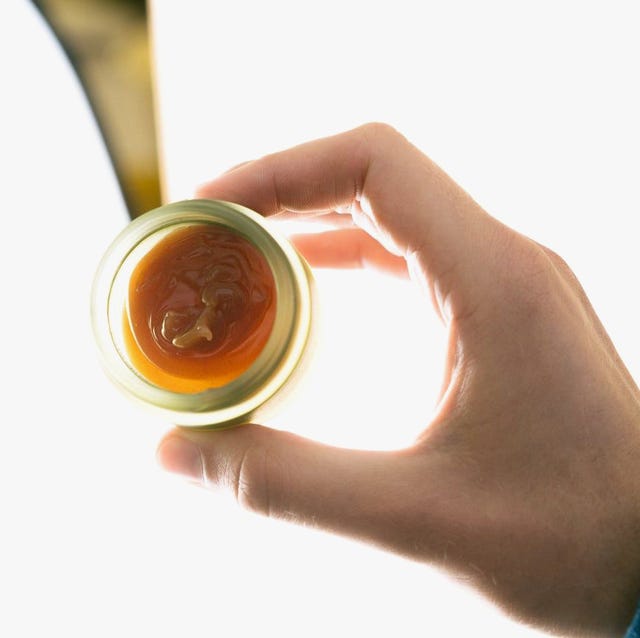 It's no secret that the things you eat impact not only how you feel but how you look, too. Sure, people stress over whether or not excess sweets around the holidays will manifest on their waistline, or whether the dish they just ordered might secretly carry something they're allergic to, but foods you've recently eaten appear on your face, too. Literally? No. But your diet does play a role in your skincare routine.
"Nutrient-rich whole foods like fruits and vegetables, whole grains, and healthy fats are good for your whole body, and that includes your skin," board-certified dermatologist, Dr. Rajani Katta, told the American Academy of Dermatology (aka the AAD). It is the same with these nutrients as it is with water: it's relatively easy to tell if you haven't had enough by the appearance of your skin. But what if a balanced diet isn't enough, or maintaining one isn't easy or even possible for you? Well, there are skincare products that pull foods rich in nutrients and antioxidants into their formulas. Hell, some even emphasize the ingredient's natural form, creating exfoliants make from olive and lotus kernels or hair oils infused with honey that feel like the real thing.
I'm not saying you should be lathering yourself in lychee juice or massaging cacao powder into your scalp, however good these things may be for you. But I do condone bringing a skincare product either blended or infused with an ingredient oft-saved for culinary purposes exclusively. You'll reap the benefits of nutrient- and antioxidant-rich foods without having to force them down (if you're health-food adverse).