Every product is carefully selected by our editors. If you buy from a link, we may earn a commission.
Boots From Down Under: Get to Know Blundstone
A (brief) history lesson that spans from 1870 through to today.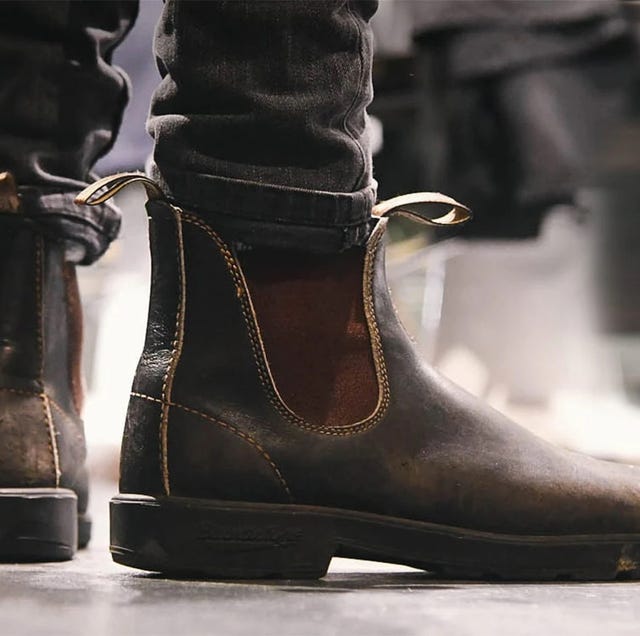 Blundstone's been representing Australian bush boot lineage for nearly two centuries (well, close enough). Nearly everyone can wear and pull off their most popular boots, rubberized Chelseas, which explains why they remain so popular. They're plenty durable, stylish in their own unique way, and beloved by everyone from workers and farmers to students and fledgling artists. Learn more about the brand's history... here.

The Blundstone origin story begins in the 1850s with the Blundstone family, a group of Brits that moved to Hobart, Australia by way of a 93-day boat ride. (For context: in a few years, you'll be able to get from London to Sydney in four hours.) Mr. John Blundstone founded John Blundstone and Son in 1870, a little over a dozen years after the family arrived. With inventory that was initially imported from factories back in England, Blundstone began selling boots.
Covering styles for men, women, and children, the brand quickly ascended the ranks, certifying J. Blundstone & Son, which was the company's name as of 1892, as a real footwear force to be reckoned with. But then it was sold to the Cane family in 1901. Not much changed between then and 1914, but when WW1 began Blundstone was one of only 20 Australian manufacturers to be enlisted as official suppliers for the country's army. They offered lace-up, service-style boots with cleated soles. See, it isn't only American fashion that's influenced by military-issued garments.
In the 1930s, though, Blundstone's sales declined due to the Great Depression and faced a fate plenty of American boot brands — like Frye, L.L. Bean and White's — avoided. The brand was sold again, and acquired by a wealthy family from Tasmania, an island off Australia. The Cuthbertsons, competitors within the footwear field, were the new owners. However, the Blundstone name remained... and the Cuthbertson family owns the brand to this day. OK, end of story.
Not quite. Blundstone continued its supplier partnership with the Australian army — again, on commission for the same cleated boots — all the way through to the end of WW2. But business didn't stop there. These army-issue designs translated well to workplaces — minus the cleats. Blundstone became synonymous with work, farming, and safety boots, with specializations in steel toe, heavy-tread, and heat-resistant styles. R.M. Williams, another Australian boot brand, secured the upper-class clientele, making Chelseas with Cuban heels from luxurious leathers.
A few decades later, Blundstone started dabbling in alternative materials. Transitioning away from stitchdown and cemented soles, the company explored and then eventually executed boots with soles made from vulcanized rubber. By 1968, the iconic 500 arrived, the brand's best-known and -selling boot. It combined the comfortability of a Chelsea with the durability of an Australian bush boot, a laceless style that deters snags on spiky bushes (hence the name) and doesn't slip on rocky terrain.
Blundstone's popularity soared in the wake of Dr. Martens' ascension. The chunky boots paved the way, at least in the U.S., for interesting, foreign boot designs. In the same way the bulbous British boots appealed to young Americans, Blundstones did, too. At first, it was the original: the chunky, quirky, unlined #500 boot from the brand's Originals Series. Blundstone upset many proud Australian's when production was exported to India and Thailand. Their Gumboots are still made in Tasmania, but they're rarely sold for wear outside of work settings.
Nowadays, it's boots from the brand's Classics Series, aka #550 and up, that sell most steadily. These are all "evolutions of our the #500 boot," the brand states. International audiences have adjusted to the boot's unique look, and they've become beloved, pillar parts of millions of wardrobes. '"More bells and whistles offer the ultimate in comfort and durability." These bells and whistles include variations both aesthetic and comfort-enhancing. The assigned numbers represent two things: whether they're Originals (#500s) or Classics (#550s) and the color combination.

Shop a few of our favorites styles from the brand's expansive catalog below.