Every product is carefully selected by our editors. If you buy from a link, we may earn a commission.
Don't Like What You See in Stores? Order Your Own Custom Sneakers
Turn your footwear fantasy into a reality.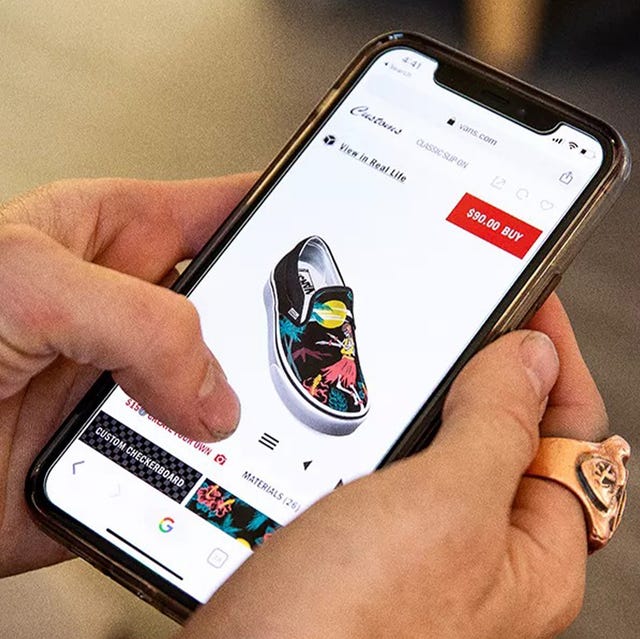 Whether you're an aspiring footwear designer or simply unhappy with what you're finding online, there are a number ways to order your own custom sneakers. Big brands like Nike, for example, have programs for customer customization. You can pick your base model and its color scheme and even add a logo or your initials. It's a hell of a deal considering Nike only adds on around $25-$40 fee.
There are, however, a number of ways to DIY your shoes, too. You could paint them, dip them in coffee, or try your hand at "aging" them. If that all seems like too much work, you can toy with one of the aforementioned programs, which are actually very easy to use. Ever customize your character on a video game or edited your avatar on a social media site? If so, you can make your own sneakers.
What You Need to Know
Sneaker Construction
You should brush up on your sneaker terminology — like vamp, quarter, mid, outsole, etc. — but most of these services offer visual clues as to which part of the sneaker it is you're editing. Nike, for example, illuminates the chosen area with a light halo. It helps you keep track of the color or material you're changing when looking at the sneaker from different angles. (Most of these services offer real-time 3D renderings of your designs.)
Wait Time
If you want custom sneakers, you're going to have to wait, especially if you're ordering from an independent artist, not a giant brand. If you order from Nike, for example, they'll have your custom shoes shipped to your door in three weeks or less. Meanwhile, The Shoe Surgeon — a famous sneaker designer — might need months to complete your commission.
Limitations
It's hard to get a sneaker truly custom-made. You're usually only able to edit existing designs. Why? Well, one-off designs are expensive. Even mid-sized brands — like John Geiger — must set prices super high to compete with the fees he pays for ordering smaller quantities. Just know this going in, and remember it's really all about color coordinating.