The Ram 1500 TRX, Driven: King of the Tyrant Pickups
Ram's Ford F-150-Raptor-battling pickup truck proves even more impressive than its spec sheet suggests.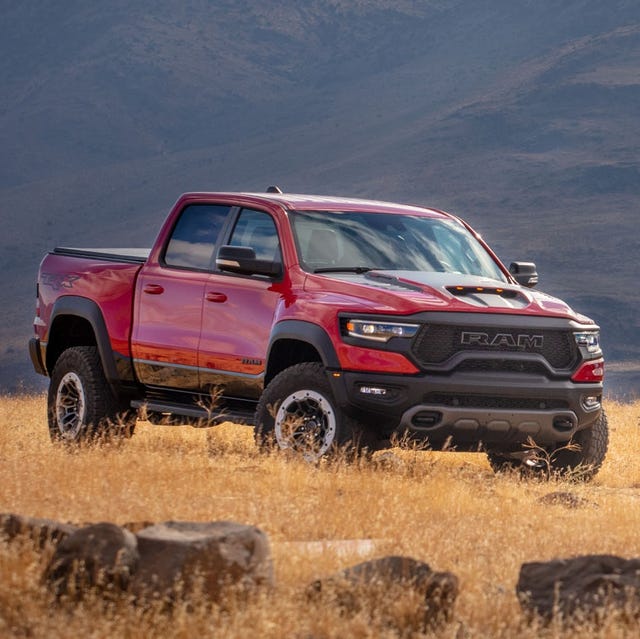 In the last days of the Jurassic, roughly some 150 million years ago, a group of meat-eating dinosaurs boasting sickle-shaped claws on their feet and wing-like wrists spun off from the branch of the evolutionary tree that would also go on to give us birds. Scientists call them the Dromaeosauridae, but thanks to a certain Steven Spielberg movie based on a Michael Crichton book, we know them by another name: "raptors." This family of feathered dinosaurs quickly found great success across much of the planet, with forms large and small alike taking on roles at or near the top of the food chain from China to New Jersey.
But while the raptors were proliferating, there was another group of saurian predators that was growing in power: the Tyrannosauridae. Bigger and stronger than the dromaeosaurs, they quickly came to dominate many of the ecosystems that the raptors had once had primacy over. The last of them, the biggest and strongest of all, now goes by the honor of being the only dinosaur the general public knows by its full scientific name: Tyrannosaurus rex. Or, as its friends called it, T. rex.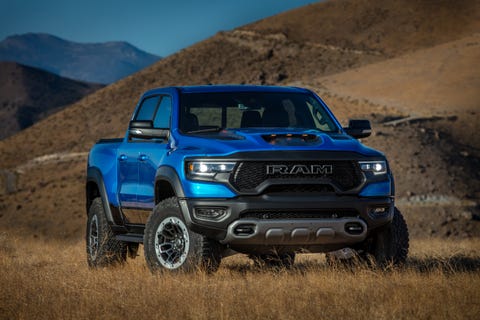 Granted, it seems very doubtful that the product planners at Fiat Chrysler Automobiles were aware of all that when they decided to name their Ford F-150 Raptor-fighting pickup truck the Ram 1500 TRX. (The development team swears, in fact, that it was an old name the Ram folks had kept in their back pocket for a while, but the Easter eggs of a T. rex clutching a dead raptor in its mouth under the hood and the size chart depicting the truck, a T. rex and a human standing next to a turkey-sized Velociraptor in the Ram's center console prove the team was well aware of the name's significance.)
Yet the paleontological comparison does prove an apt analogy: after creating and then dominating the off-road performance truck market for a decade, the Raptor faces its first true rival in the TRX — a beast that's both bigger and more powerful than the defending champ.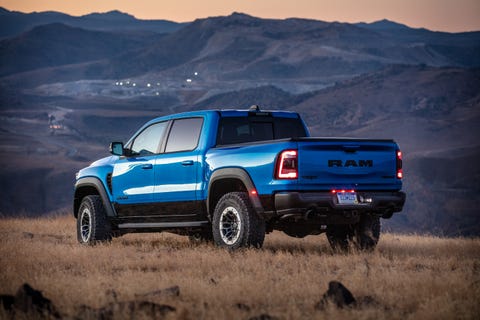 Attempting to find out what such a beast is like in the tight confines of New York City seemed about as bad an idea as Act Three of The Lost World. So instead, we masked up and made our way west to Lake Tahoe, where Ram had arranged a day of driving on- and off-road so we could learn what the TRX is really capable of.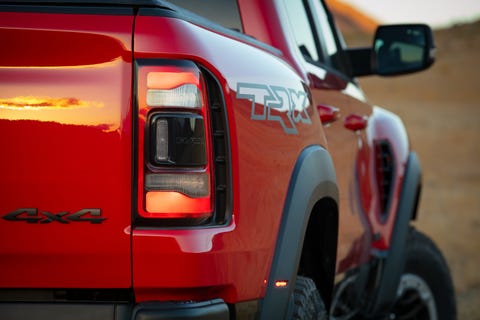 Let's take this the way you would in the real world: starting from the moment you set eyes on this truck. At first glance, it doesn't seem as big as you might have imagined. Sure, it's eight inches wider than a regular Ram 1500, but those proportions put it right in line with the heavy duty pickups that are practically ubiquitous on many an American road. And while those trucks are as slab-sided as an aircraft carrier is flat, the TRX is only that wide at the corners, where its mighty flared fenders protrude in the exaggerated manner of a glass Coke bottle.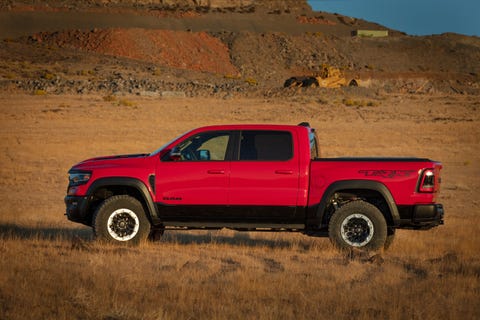 Stock Super Dutys and HDs pack a different sort of visual panache, too. While they're all about making a splash through raw size, the TRX is more aggressive, with a predatory face that looks ready to devour traffic and bulging, muscular sheetmetal on the front and sides that makes it look steroidal next to most pickups. Add in the mighty air intake in the hood that provides half of the airflow to the supercharged V8 and the very functional skidplates that protrude from under the front, and you have a truck that looks as badass as a SEMA concept straight from the showroom.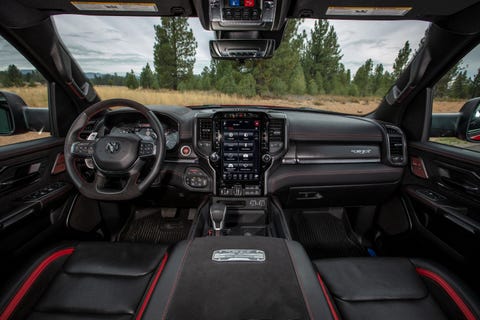 If you've been in any higher-end versions of the current Ram, you'll recognize most of the features in the interior, such as the standard 12-inch infotainment screen. The TRX's interior is based on the Rebel's, but if you climb up to the Level 1 or Level 2 equipment groups, you'll pick up goodies from the likes of the Laramie and Limited, like heated and ventilated leather seats and soft-touch trim.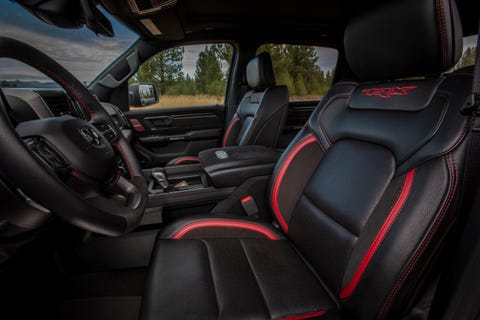 Still, there are some changes, the most obvious being the cartoon of a shift lever jutting up from the center console. Adding it, according to Ram, was meant as a way to give drivers a chance to slam through the automatic's gears in faux-manual fashion the way we became accustomed to doing in Porsche's old Tiptronic cars — but it seems likely most drivers will use the metal paddle shifters instead, much the way the paddles made the manual shift gate redundant in Porsche's automatics. Transitioning away from the rotary shift knob found in other Rams does free up space for a new drive mode selector area with hard buttons, although you can also switch between modes by diving into the touchscreen.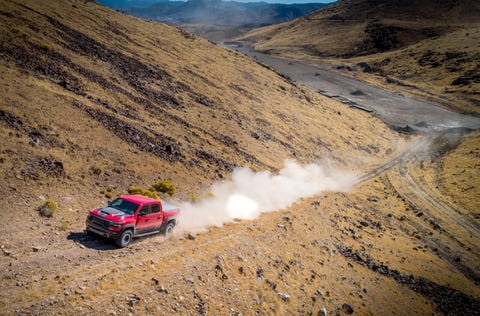 Fire up the don't-call-it-a-Hellcat engine and drive off, and at first, the Ram feels as docile as any of the current breed of pickup trucks, with their tightly-spaced gears, potent engines and fingertip-light steering. The body feels planted in the turns, although the sheer width of the truck and the size of the tires mean placing it accurately takes a bit of acclimation.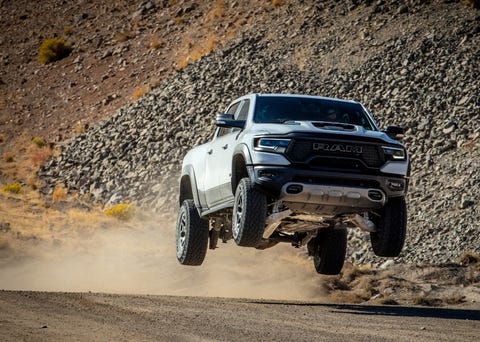 Find a straight stretch of road and plant the right pedal against the firewall, though, and you'll feel something unlike just about any other vehicle. Sitting up so high, full-bore acceleration feels like riding a quarter horse out of the starting gate — only one keeps going past Kentucky Derby speeds to 118 miles per hour. Car and Driver found that the 0-60-mph sprint took 3.7 seconds; even if you don't give it the full launch control treatment but simply mash the gas from an idle roll, you'll hit 60 in less than five seconds.
On a more practical note, that means the TRX has the power to do basically anything you could ever ask of it, both on the street — merging into traffic, passing other cars, beating Camaros in the stoplight grand prix — and beyond it. On a fast dirt course replete with whoops, bumps, turns and jumps, the Ram seems superhuman, hitting jumps at 55 mph and landing a few truck lengths later with ease, the suspension compressing smoothly and painlessly. Moguls disappear beneath its tires at highway speed. It feels like the same type of awe-inspiring performance that modern supercars deliver on track, just in a very different format.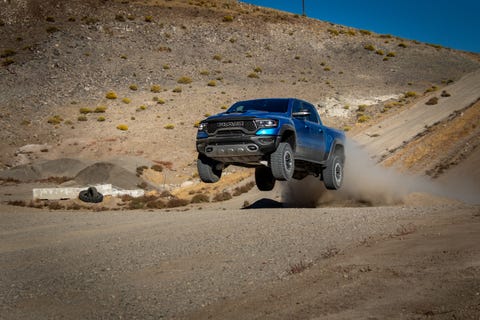 It proved solid on a more traditional two-track, as well, tearing along at velocities that made it feel like I was watching a first-person off-roading video at 2X speed. (Ram even had a rock-crawling course that journalists could take a stab at; I watched it during lunch to see if it could do it, but when the time came to try it...I opted for more high-speed off-roading instead.)
One thing you won't be able to do with the TRX, however? Burnouts. This Ram's four-wheel-drive system doesn't offer a RWD mode. Considering how easily the engine could fricassee those specially-designed 35-inch Goodyear Territory All-Terrain tires, that's probably for the best.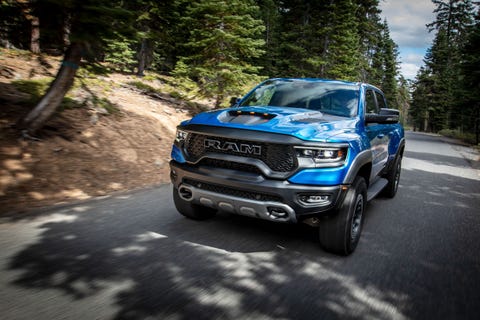 Well, the gas mileage isn't great. Not that anyone would expect much from a three-ton-plus truck with a supercharged V8 wearing giant off-road tires, but even by those standards, the TRX consumes dinosaur juice about as quickly as its namesake did their pre-fossilized versions. The EPA rates it at 10 mpg city and 14 mpg highway, but their high-speed testing only dips above 70 miles per hour for a bit more than a minute; drive at the sustained 80-plus-mph speeds you find on western highways, and you'll be closer to the combined rating of 12 mpg, if not worse.
Many of the other issues you'd expect would arise when driving any ginormous bro-truck in the real world come up, as well. Our first drive route took place in northern California and Nevada, where the roads are wide and fairly bereft of traffic, but anyone venturing into urban settings best be wary of just how far out the truck's body sticks in every direction. And climbing in and out is a process for anyone shorter than an NBA player; I'm six-foot-four, and while I didn't need to use a side step to climb in, I still needed to haul myself up and into the seat.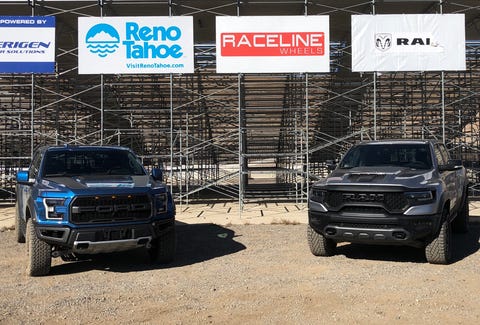 Rarely is this field so easy to fill in: the Ford F-150 Raptor is the only other option. You could make a case for the GMC Sierra 1500 AT4 or Jeep Gladiator Mojave, but neither is quite a proper foe for the likes of the saurian pickups; the former isn't made for high-speed off-roading the way the dino-trucks are, while the latter is a size too small and way too underpowered to keep up across Baja, much as its suspension is up to the task.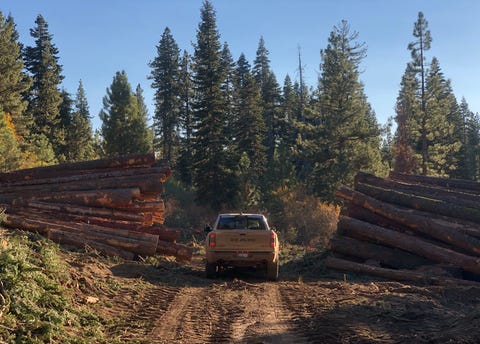 Unlike the evolutionary drama between the tyrannosaurs and the dromaeosaurs, the rivalry between TRX and F-150 Raptor isn't likely to end in an apocalyptic asteroid strike. (At least, I hope not.) While it might have once seemed like the eventual rise of electric vehicles would spell extinction for giant, high-performance trucks, recent years have shown that's unlikely to be the case; Rivian, GM, Ford and Tesla, among others, have all announced plans for EV pickups — and boasting that they'll be able to equal or better today's finest gas-powered rigs in many ways.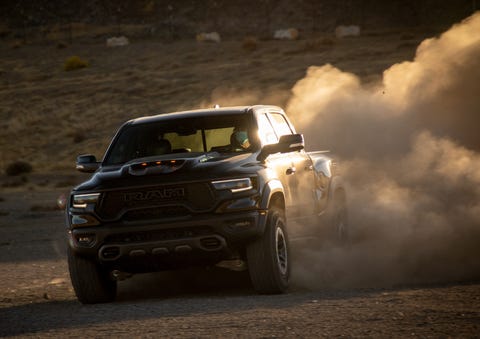 But if you can't wait for the inevitable E-Raptor or Mecha-TRX and want the most all-around capable off-road pickup truck plaything money can buy, the Ram 1500 TRX is the best choice. It's quicker, more capable, more comfortable, and better-looking (at least, to this reviewer's eyes) than the Raptor, and while it costs a touch more, the added features and abilities more than justify the expense. If you live somewhere with ample space and don't mind planting trees every month to offset your carbon footprint, it just might be the most capable single vehicle you can buy in America today.
At least, all that's true until Ford delivers a new version of the Raptor based on the updated 2021 F-150, which may well feature its own 700-plus-horsepower supercharged V8. At which point, we'll have to do this all over again.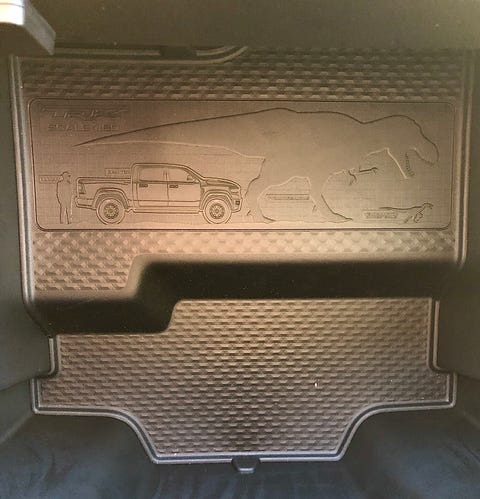 Powertrain: 6.2-liter supercharged V8, eight-speed automatic, four-wheel-drive
Horsepower: 702
Torque: 650 lb-ft
EPA Fuel Economy: 10 city, 14 highway
Base Price: $70,095