The 2021 Kia Sorento Is Not a Telluride. That's What Makes It Great
The new Kia Sorento can be sportier or more efficient than the Telluride...and it could be an even greater leap forward.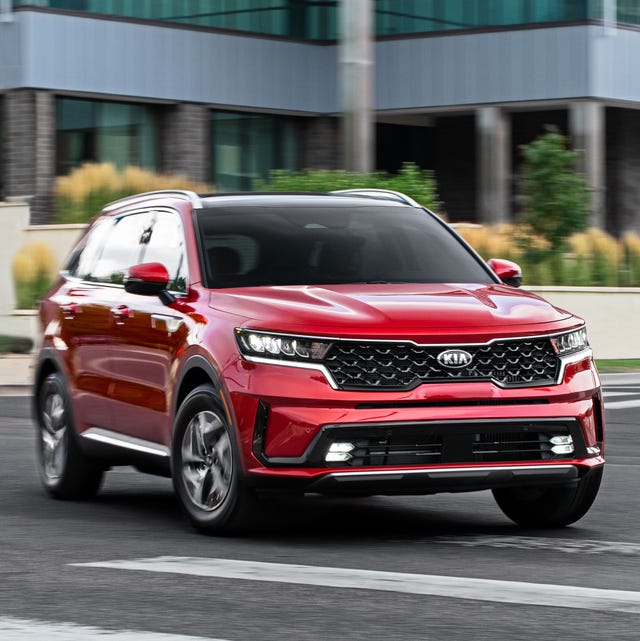 Few cars in recent years have flourished more than the Kia Telluride. The three-row SUV found critical success, winning last year's World Car of the Year Award; it's also resonated with buyers, earning the internal nickname the "Sell-u-ride."
The Telluride proved a simple point: customers want good-looking, practical cars that feel more expensive than they paid for. Not surprisingly, Kia has tried to recreate that formula up and down the lineup. (The Seltos, for example, is basically a sub-compact Telluride.)
But Kia's all-new Sorento required a different approach. After all, it couldn't be a mini-Telluride; while smaller, As a three-row mid-size SUV, it's more or less in the same segment as the Telluride. It overlaps with the Telluride on price, too.
So Kia did the next best thing: make the Sorento anything and everything but a Telluride.
If the Telluride does not meet your three-row SUV needs, the Sorento probably covers whatever was missing. While we can't say how the award juror groupthink will pan out, all signs point to the Sorento working out well for Kia. After taking it for a test drive, here's what we discovered.
The Sorento looks sportier than the Telluride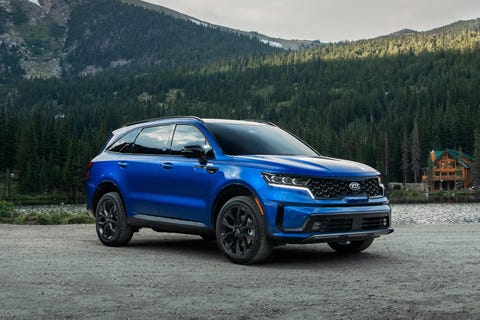 The Telluride aims for a grandiloquent, traditional SUV look. There's nothing wrong with that, but Rolls-Royce Cullinan-lite is not for everyone.
The Sorento still shoots for premium, but it's more muscular and edgier than the Telluride, as though the dumpy third-generation Sorento cut the carbs and started doing CrossFit. It's smaller than the Telluride, which is what some buyers want. And hey, if you still want an adventurous look, there's an X-line trim with a roof rack.
The Sorento offers a super-efficient hybrid version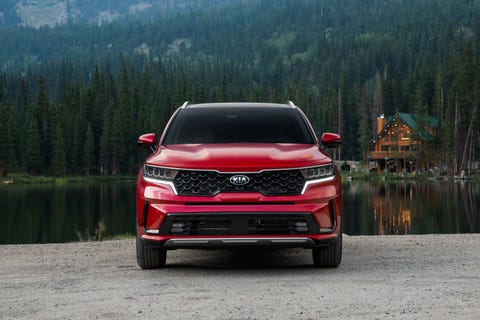 The Telluride uses a naturally aspirated 3.8-liter V6. In all-wheel-drive spec, the EPA rates it at 21 mpg combined. That's not terrible mileage for a three-row family hauler, but it may preclude more eco-conscious buyers from considering it.
Said buyers should instead check out the Sorento Hybrid, which I drove. It puts out a substantial 227 hp and 258 lb-ft of torque, but it also gets 39 mpg city and 37 mpg combined — better than Toyota's Highlander Hybrid.
Driving the Sorento Hybrid is not unduly memorable. While it does have almost the exact output of the Mk7 VW GTI, it's around 1,000 pounds heavier, and nowhere near as precise. But it's smooth, thanks in part to a six-speed automatic, and delivers a lot of torque for quickness off the line — even if that perkiness peters out at higher speeds. It roodes over bumps well, thanks in part to oddly small-seeming 17-inch wheels. And I averaged 36.4 mpg over two days.
The Sorento offers a sportier variant than the Telluride, too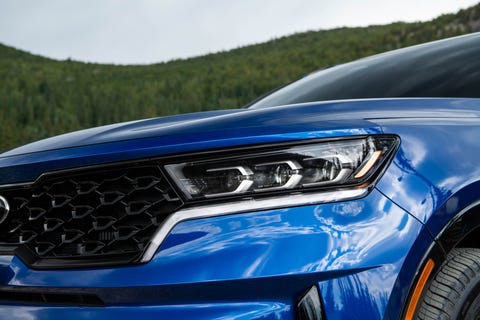 The Telluride is many things, but it's built for cruising and comfort, not pushing the limits. The Sorento can offer a zestier driving option when you upgrade to the turbocharged 2.5-liter inline-four engine. That powerplant puts out 281 horsepower and 311 lb-ft of torque — 49 lb-ft more than the Telluride. It also gets Kia's new eight-speed dual-clutch transmission, for more responsive shifting.
Like the Telluride, the Sorento is an impressive value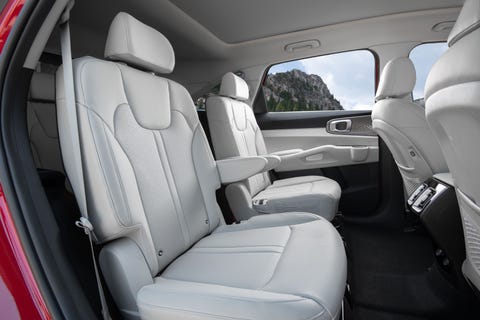 The Sorento starts at $29,390. You'll end up paying more than that, probably — but still, this is a legitimate three-row SUV (sorry, VW Tiguan) that starts under $30,000, about $3,000 less than a Subaru Ascent. The closest competitor for the Sorento Hybrid is the aforementioned Highlander Hybrid, which starts at nearly $5,000 more.
An even better Sorento is coming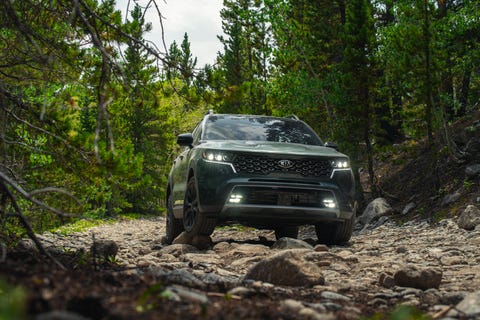 I did have some quibbles with the Sorento Hybrid. Namely, it currently tops out at the EX trim, which is the second-highest in the Kia pricing tree. While my tester did have some fancy-features like second-row captain's chairs, it didn't feel Telluride-level nice. The passenger seat is adjusted manually; the seats are upholstered in Syntex, not leather; and the interior's open-pore wood is actually just an open-pore wood graphic. The standard hybrid is also FWD only, which could be a dealbreaker.
The SX and SX Prestige trims are coming later this year, though — with a plug-in hybrid powertrain. That car will see a bump to 261 hp, and offer 30 miles of EV-only range. You're potentially looking at a better value than the Highlander Hybrid — and, with some interior upgrades, a poor man's Volvo XC90 Recharge.
The 11 Pieces of Gear You Absolutely Need for Car Camping
Car camping makes getting away easy as pie. These items will make it even tastier.