Audi's E-Tron GT Is the Sexy Electric Sport Sedan We Hoped It Would Be
Audi's take on the Porsche Taycan looks almost exactly like the concept — and that's a good thing.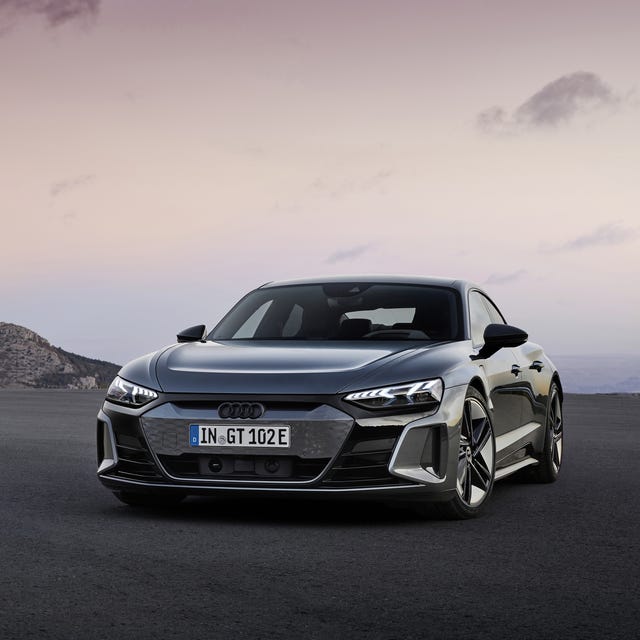 The Audi E-Tron GT comes in two (familiar) flavors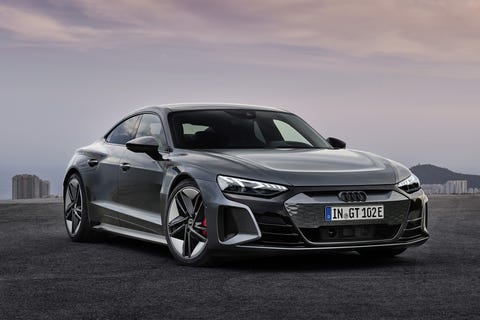 When it launches in the United States this summer, the E-Tron GT will come in two versions: the high-performance RS E-Tron GT (seen above), and the regular-strength E-Tron GT (seen below), which, like many an Audi, offers a choice Premium Plus and Prestige trim levels.
Both versions come packing a 93.4 kWh lithium-ion battery pack and an electric motor for each axle, with the one in back equipped with a two-speed gearbox for better acceleration and efficiency. Opt for the E-Tron GT, and you'll get a maximum output of 469 horsepower and 464 lb-ft of torque, with 522 hp and 472 lb-ft available on "overboost" for 2.5 seconds to help it dash from 0 to 60 mph in a claimed 3.9 seconds. Stay on the right pedal long enough and you'll hit 152 mph.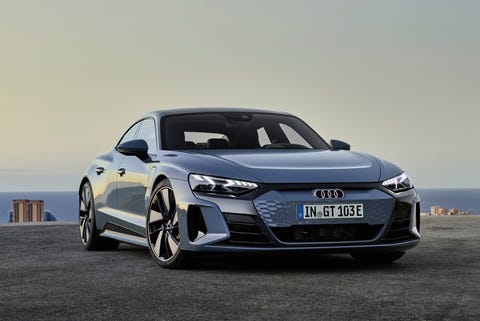 The RS version, in turn, makes a sustained max of 590 horsepower and 617 lb-ft of torque, although the pony figure can briefly jump to 637 when you engage the virtual NOS. It zips from 0 to 60 in a claimed 3.1 seconds, and tops out at 155 mph.
If those power outputs sound fairly familiar, they should: they're pretty close to the ones in the Porsche Taycan that the E-Tron shares its platform with. The standard Taycan 4S makes the same max-attack 522 hp / 472 lb-ft as the regular-strength Audi; the Taycan Turbo makes a dash more power (616 hp constant / 670 hp on overboost), but it's within the same ballpark.
Audi set out to give the E-Tron GT a more comfortable ride than the Taycan; the press release makes clear that it's meant to be a gran turismo, not a four-door sports car like Porsche's inaugural EV. Still, it should hustle damn well, thanks to standard features like a three-chamber air suspension and limited-slip diff in back, with a more capable one standard in the RS and optional in regular versions. Rear-axle steering also comes standard in the sportier version, but is available in the "lesser" one.
It's not just a Porsche with an Audi badge, though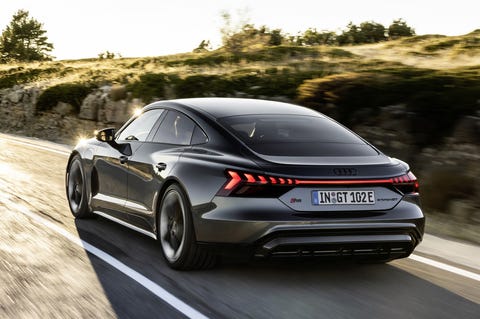 Don't think the E-Tron GT means you can bring your Taycan to an Audi dealership to save a little on repairs when you ding it on a curb (or drive it off a ledge). Design-obsessed Audi made sure to execute their own take on a high-performance electric sedan; as Car and Driver points out, the only shared design elements of the two are the windshield and a chunk of the B-pillar.
The design is almost identical to the E-Tron GT concept car; the only significant differences are a different hood, more usable mirrors and actual door handles. Otherwise, it's more or less the same car we swooned over in 2018.
Like the Taycan, the E-Tron GT charges fast (and has better claimed range)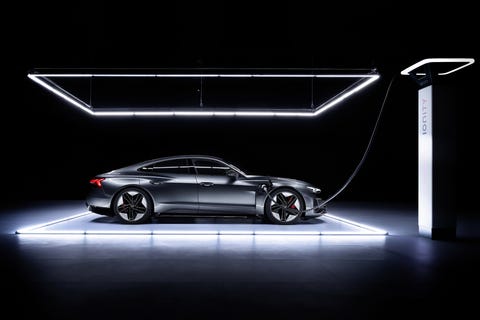 The 93.4-kWh battery pack that forms the literal base for the E-Tron GT gives regular models a range of 238 miles on a charge, according to Audi, with RS E-Tron GT versions offering the ability to go 232 miles on the proverbial tank. How those claims hold up in the real world remain to be seen, but considering independent testing has shown the Taycan can beat its EPA-estimated range with ease, we're betting these Audis can comfortable do 250 miles at a time.
And like the Taycan, the 800-volt electrical architecture of the E-Tron GT enables it to slurp up juice at impressive rates — up to 270 kW, according to Audi. Find a powerful enough fast charger, and the battery can jump from 5 percent to 80 percent in 22 minutes, 30 seconds. In other words, you're only one episode of It's Always Sunny In Philadelphia away from about 200 miles of range.
Inside, it's surprisingly normal for a new Audi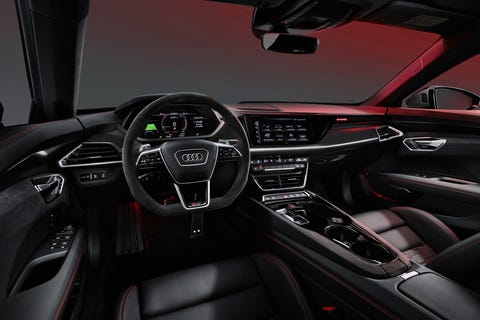 If anything, the E-Tron GT's interior seems a delightful step back for Audi, away from the all-touchscreen-everything controls that have dominated in recent models and back towards physical buttons.
Still, there's no shortage of screens in this new Audi. While the climate control and other features may now use hard buttons again, the MMI infotainment system still boasts a 10.1-inch touchscreen for many of the important features. And like many a VW Group product these days, the instrument panel is a screen — in this case, a 12.-3-inch one.
In a blow for sustainability, the E-tron GT comes standard with a leather-free interior that makes broader use of recycled materials. Of course, if you really do love cowskin, you can also get it with the seats and other parts wrapped in Nappa leather.
The E-Tron GT: coming this summer to an Audi showroom near you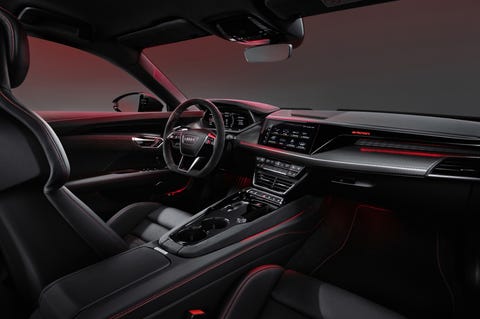 The E-Tron GT Premium Plus will start at $99,900 before the destination fee, which usually runs around $1,000 on Audi models. Opt for the E-Tron Prestige and its added features, and you'll see a starting price of $107,100; level up to the RS E-Tron GT, and the MSRP kicks off at $139,900.
Those prices mean the E-Tron GT isn't quite the bargain compared with the Taycan that many people were hoping for; the Taycan 4S starts at $103,800, though you'll need to add $5,570 to that for the larger battery that equals the Audi's capacity, while the Taycan Turbo starts at $150,900.
Still, considering the Audi and Porsche offer very different designs and will likely offer different levels of features and content, we're guessing the overlap is more academic than practical — and that the E-Tron GT will stand on its own as its own machine. Of course, we won't know for sure until we drive it...which we hope happens really soon.
The 16 Best Cars to Buy in 2021
Kelley Blue Book has released their best cars to buy awards for 2021. The results may surprise you.