The 2021 Mercedes-AMG GLE 63 S Coupe Review: Weird-Looking, but Impressive
It may be an ugly duckling, but it still breathes fire.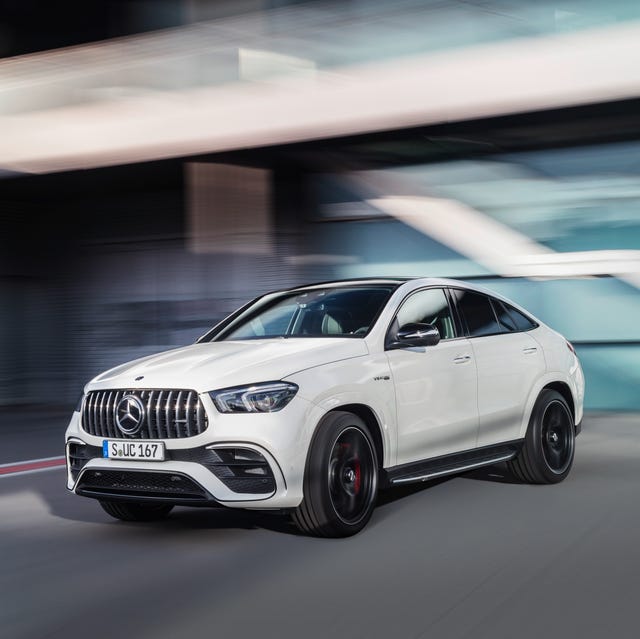 A little context, to begin, because we know these things can get confusing. The GLE-Class is Mercedes-Benz's midsize SUV, a direct descendent of what used to be called the M-Class. The AMG 63 S is the fire-breathing, top-of-the-line version with a twin-turbo 4.0-liter V8 cranking out 603 hp and 627 lb-ft of torque. As for the "Coupe" at the end of its name...well, car manufacturers have been broadening the definition of "coupe" to encompass anything with a swoopy body shape for a while now, and crossovers and sport-utes are no exception.
So, here is your hulking 5,390-pound SUV "coupe."

Is the Mercedes-AMG GLE 63 S Coupe new?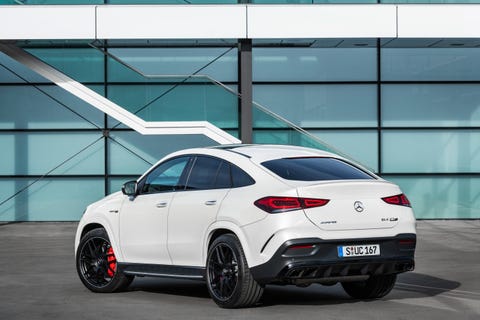 Yes. Mercedes debuted the new GLE generation back in 2019, working from the base models up. The AMG GLE 63 S arrived in 2020; Mercedes-AMG launched the coupe version for 2021.
Why is the GLE 63 S Coupe special?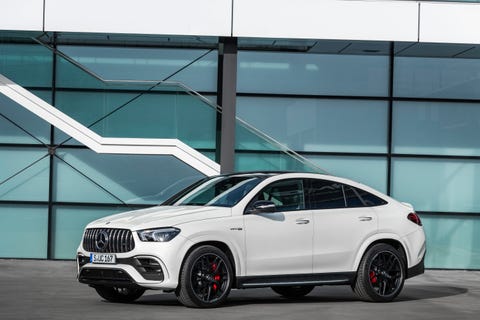 It's one of the most impressive cars Mercedes offers — and also one of the weirdest. The standard AMG GLE 63 S makes sense; it's 2021, after all, and we can finally concede that people like SUVs. If you can only buy one vehicle, there's no shame in having your full suite of AMG Performance tricks in a body shape that's practical and comfortable for everyday family life. And, yes, if you're of a certain age, an SUV is easier to get in and out of than a sedan.
With the Coupe, the roof shape eats into the cargo space, leaving a not overly practical vehicle that's harder to see out of and doesn't have a rear wiper. So if you're buying this, you get a car that is seriously odd-looking. The back end looks clipped and small, making the front end look disproportionately large. This SUV isn't for everyone...but it should be for enough buyers for Mercedes to make money on it.
How does the Mercedes-AMG GLE 63 S Coupe drive?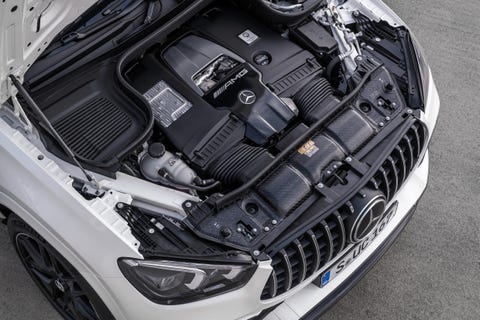 Coupe or not, the AMG GLE 63 S is the result of some supremely impressive engineering. This SUV weighs more than a full-size pickup. Yet, it accelerates from 0-60 mph in about 3.7 seconds officially (the standard SUV did it in 3.4 seconds in Car and Driver testing), the same speed as the Cadillac CT5-V Blackwing.
And raw speed is only one of its tricks. The AMG GLE 63 S Coupe corners deftly with an almost unnatural flatness. The nine-speed transmission is smooth; the mild-hybrid EQ Boost system annihilates turbo lag and provides even more low-end grunt. And unlike that CT5-V Blackwing, you can take it off-road via Trail and Sand modes. It can do basically everything...except hit 20 mpg in EPA testing.
Just as impressive: how well the AMG GLE 63 S Coupe drives when it's not on the limit. The ride quality is excellent in ratcheted down driving modes, especially considering that my car was riding on 22-inch wheels. It's super quiet — my tester had the acoustic side window glass. A lot of people will buy the AMG GLE 63 S simply because it's the top of the line. And it can be the un-intimidating luxury SUV they are looking for.
It's smart that it's a lovely car when you're not on the limit, because it's really hard to push this car's limits. You can be hoofing it at nearly 90 on the interstate and have the cylinder deactivation light pop on repeatedly.
What's the GLE 63 S like inside?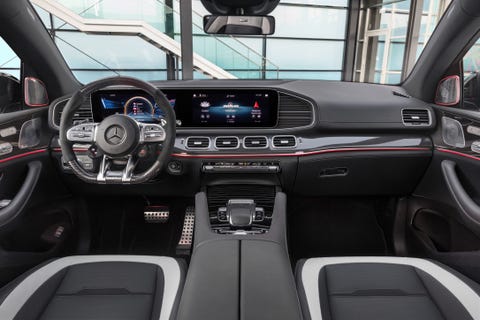 Sufficiently comfortable and tech-forward. Mercedes-AMG knows it's not just a performance brand, but a luxury brand as well. You get the dual glass panel display, the Nappa leather seats that are heated, ventilated, massage you or just move around a little bit to keep your butt from getting numb, and all sorts of other fun goodies.
And it's all very functional and clean, unlike some cars on sale today. Mercedes doesn't make a grand aesthetic statement to mask that there are air vents, or that you're a human who may want to use a button to adjust something.
How much does the Mercedes-AMG GLE 63 S Coupe cost?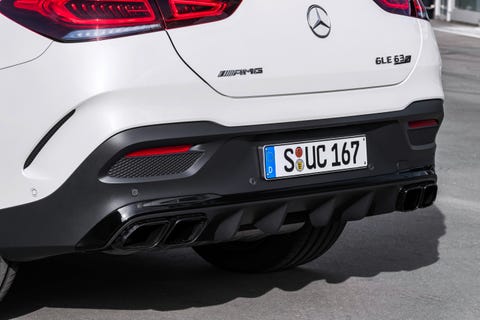 Quite a bit. Starting MSRP for the coupe is $116,000, a little more than $2,000 above the standard SUV. My tester came out to $131,430, and only $1,500 of that jump was due to frivolous AMG styling packages. The rest were features — the head up display ($1,100), premium Burmester sound system ($4,550), Driver Assistance Package Plus ($1,950), Warmth and Comfort Package ($1,050), Energizing Comfort Package ($1,650), Acoustic Comfort Package ($1,100), Soft Close Doors ($550) — that you would really expect would come standard on a top-of-the-line model.
What are some GLE 63 S Coupe alternatives?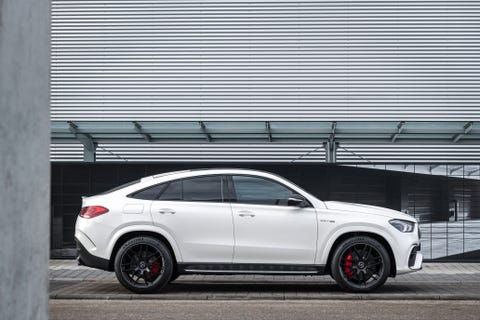 BMW sells the X6 M ($109,400), which delivers comparable power and performance. It still has an SUV-coupe body style, but does a bit better job of looking proportional. The Audi RS Q8 ($119,900) is similar as well. The most similar Porsche performance-wise, with a bit less power, would be the Porsche Cayenne Turbo Coupe ($133,500), which is significantly more expensive.
2021 Mercedes-AMG GLE 63 S Coupe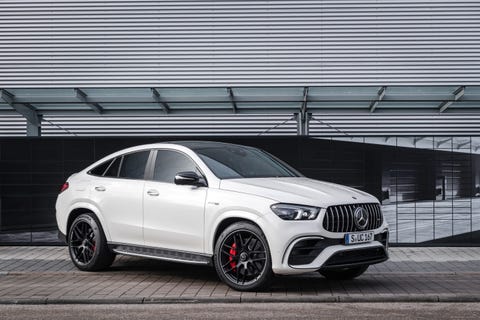 Powertrain: Twin-turbo 4.0-liter V8; nine-speed automatic; all-wheel drive
Horsepower: 603
Torque: 627 lb-ft
EPA Fuel Economy: 15 mpg city, 19 mpg highway
Seats: 5
The Best Winter and Snow Tires You Can Buy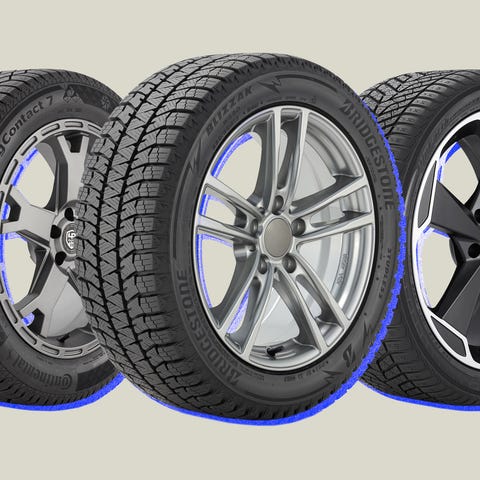 Yup, it's time to start thinking about winter tires. Here are the best ones.
This content is created and maintained by a third party, and imported onto this page to help users provide their email addresses. You may be able to find more information about this and similar content at piano.io