Cadillac's CT4-V and CT5-V Blackwings Are the Ultimate Sleeper Cars
And those in the know aren't sleeping on them.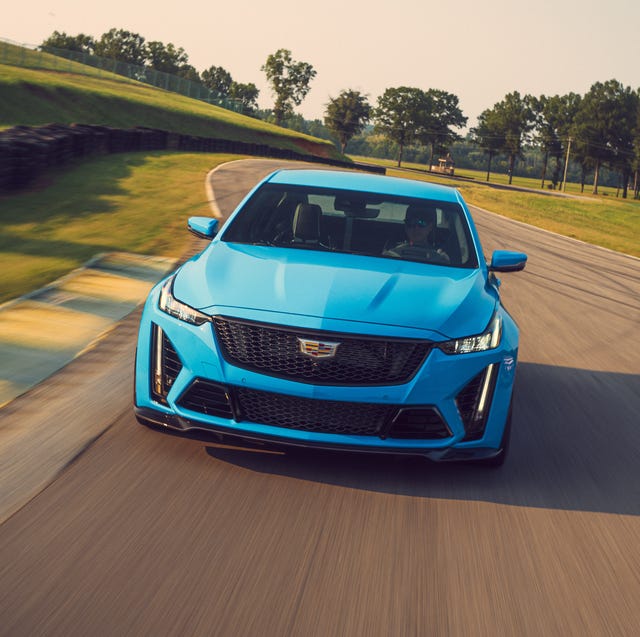 Cadillac has rebranded itself ad nauseam in the 21st century. Model nomenclature has shfited multiple times. There was that brief relocation to New York. There was the subscription app — officially on hiatus. We've had cars. We've had crossovers. We've had SUVs. We've had pickup trucks. We're on the cusp of yet one more transition to building urbane, opulent electric vehicles.
But the only change that has resonated — at least with car people — has been the V-Series, Cadillac's performance sub-brand. The V cars haven't had an imprimatur hewn from decades of racing success, but they have aspired to be the perfect road cars for people who like to race.

For the current generation V cars, Cadillac took the same route Mercedes did with AMG and BMW did with M. They created an accessible middle tier of V cars for those who wanted the badge but not the unadulterated firepower. But it got a bit confusing. Cadillac gave us depowered CT4-V and CT5-V sedans. Then they assured us the proper V cars were coming, but they would be known as the CT4-V and CT5-V Blackwing. To sprinkle in some extra confusion, neither would pack Cadillac's brand new — and almost immediately mothballed — 4.2-liter Blackwing V8.

So, now we have the proper V car successors to the CTS-V and ATS-V. They have an undeniably cool name, and they're aiming to be the apotheosis of Cadillac combustion performance — which is saying something. Also, they arrive at about the weirdest time conceivable; Cadillac is going 100 percent electric, and the current CT4 and CT5 are basically dead on the development vine. By the latter part of this decade, Cadillac may not have a V8 — or even a sedan — in its lineup.

It took a while due to scheduling conflicts, but we finally got behind the wheel of both the CT4-V and CT5-V Blackwings. We had to drive both cars in one morning in Pittsburgh, and most of it was not on public roads. But we still got enough seat time to get a taste of the cars instant historians are placing among the greatest driver's cars of all time. And that contention is not without merit.
The CT4-V Blackwing and CT5-V Blackwing can be the ultimate sleeper cars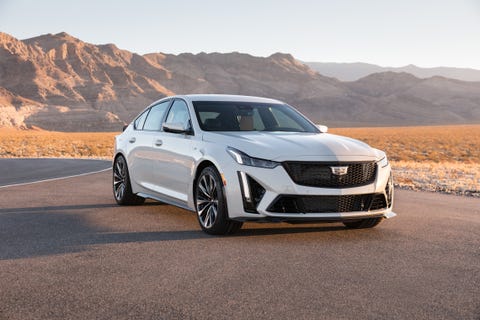 You expect performance cars to distinguish themselves visually. That projection of speed and power is much of what's fun about tooling around in a Corvette or a Lamborghini Huracan. The V Series Blackwing cars don't really provide that. They're tough to tell apart lined up next to each other — especially on an overcast early morning, when the hotel coffee was on the weak side and you stayed out a bit too long having beers with an old college chum the night before. It's not immediately apparent the CT5-V is 3.8 percent longer to the naked eye. Out of the four cars on offer, I chose "the white one," which turned out to be the automatic CT5-V.

The counterpoint for their relative anonymity is the CT4-V and CT5-V Blackwings may be the ultimate sleeper sedans. They have no external Blackwing badging. They aren't dramatically different visually from the CT4-V and CT5-V, which aren't that striking. You can sex things up with Electric Blue or Orange Blaze Metallic paint. But opt for a staid black — like many buyers will — and the car will pretty much blend into the parking lot. Traffic cops won't realize you're wielding an absolute rocket.
The CT4-V Blackwing is a precision instrument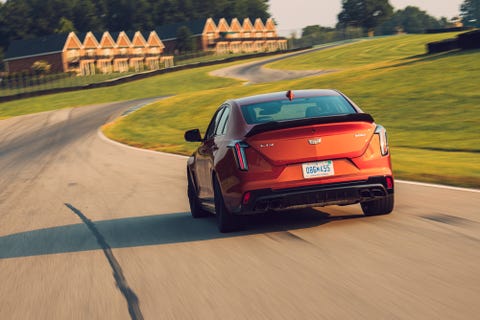 We drove the CT4-V Blackwing on track first, to settle in. It felt familiar. The CT4-V Blackwing packs 472 horsepower from its 3.6-liter V6. It's super-quick, perfectly balanced and moves gracefully and intuitively in and out of corners. You feel one with the car and the road — and I wish I had had more time with it on curvy ones. Call it Cadillac's take on the BMW M3 or the Alfa Romeo Giulia Quadrifoglio. (GM racing driver Johnny O'Connell even said it was set up exactly how he would tune a race car.)

Cadillac engineers described the CT4-V Blackwing as more of an evolutionary improvement from the ATS-V. Mostly because they didn't think they could improve it. The last ATS-V was pretty great. The only quibble that anyone will find with the CT4-V Blackwing is that it doesn't have a V8 — something GM does quite well.
Fortunately, it's not the only Blackwing on offer.

The CT5-V Blackwing is a precision sledge hammer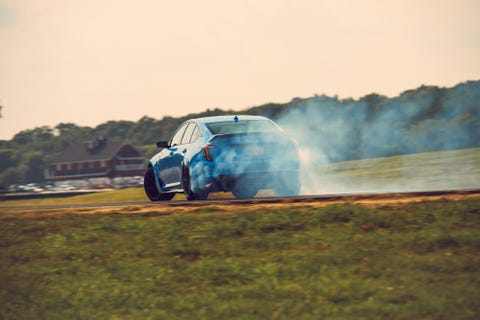 Cadillac gave the CT5-V Blackwing more of an overhaul from the CTS-V. They wanted the halo car to beat its little brother around the track. This time, it does. Cadillac said the CT5-V Blackwing lapped Pitt Race in 1:54, about two seconds faster than its rival.

The CT5-V Blackwing puts out 668 horsepower from its supercharged 6.2-liter V8. For perspective, you're getting more horsepower on tap than Cadillac's DPi-V.R race car — with traction control that would be illegal in any racing series. O'Connell — not being uncomplimentary — described the CT5-V Blackwing as "like giving an AK-47 to a psych ward."
Cadillac made sure we were warmed up before taking the CT5-V Blackwing out on track. And they did so with good reason. It's lethal. Letting it rip elicited a first "holy [expletive]" from me. I dropped a second "holy [expletive]" when I realized my foot was nowhere near the floor. There was a third when the CT5-V Blackwing slowed down for a corner with remarkable poise. I repeated that a few times. Then dropped another "holy [expletive]" for good measure to the first PR person who asked me about it.
I then rode shotgun with O'Connell in both cars to get a feel for them on the limit. ( A light oatmeal breakfast that morning proved a wise choice.) The CT4-V Blackwing in his hands was a smooth, stone-cold apex hitter; the CT5-V Blackwing was faster in the straights and just as proficient, though it took far more wrestling to stay in line. Both Blackwings are great. Choosing the right one will be a matter of personal taste.
The CT4-V Blackwing and CT5-V Blackwing are loaded up with track tech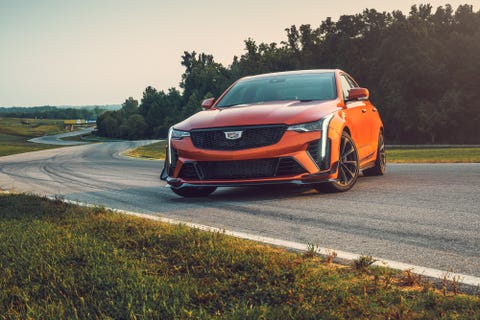 We spent the bulk of the time driving the CT4-V Blackwing and CT5-V Blackwing on track because, well, that's where they belong. Both cars are too powerful to stretch out on real roads — beyond doing the impressive and effortless highway pass in sixth gear. And both cars settle down into compliant daily drivers almost unnervingly well. The ride quality was outstanding with GM's Magnetic Ride Control 4.0 dampers. Weaving through Pittsburgh traffic, I forgot I was driving performance cars.
You buy Blackwings because you want to take them to the track, obsess over tire heat and fiddle with drive modes to find that perfect lap time. These cars have your standard four drive modes familiar from most Cadillacs — Snow/Ice, Tour, Sport and Track. There is the customizable My Mode and the V Mode accessible with a steering wheel button. Then Cadillac's Performance Traction Management system offers five different track settings — PTM Wet, PTM Dry, PTM Sport, PTM Race 1 and PTM Race 2. And the modes are so good Cadillac's drivers — purportedly — use them rather than disengaging the system completely to go max attack for lap times.
Should you get your Blackwing with an automatic or a manual?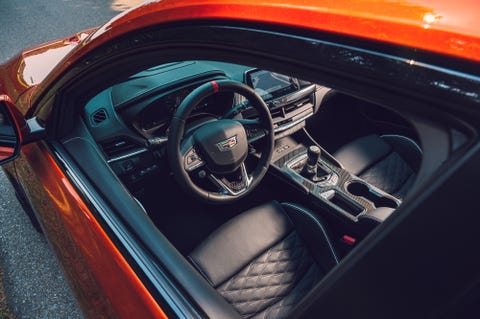 It's not as obvious of a choice as you would think. Part of the reason the CT4-V and CT5-V Blackwings are special is that they can be fitted with a manual. And the six-speed Tremec transmission is excellent and includes features like active rev-matching and no-lift shifting. But you can make a case for the 10-speed automatic as well.

Cadillac claims its version of the 10-speed automatic shifts more quickly than Porsche's famed dual-clutch PDK. Going auto will let you milk more performance out of the car on track, where it shines. And, yeah, there's something to be said for rowing through gears on the paddles like you're driving a modern F1 car.
3D Printing saved the manual option for the Blackwings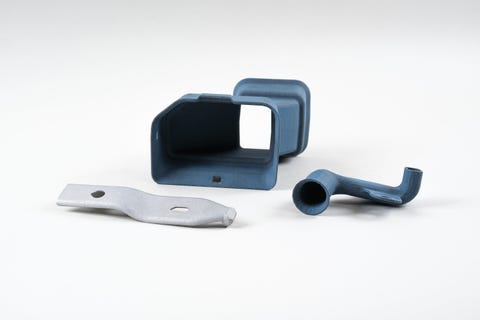 As part of the event, Cadillac gave us a presentation about additive manufacturing. Yeah, I didn't know what that phrasing meant beforehand either. But basically, it's finding ways to use 3D printing in the production process. For now, 3D printing mostly facilitates matters in the development phase — you can build several variations of a part to test without it being a laborious, months-long process. But 3D printing can make things that would normally be too expensive under normal production — like, say, adding a manual transmission option to a limited run sedan — possible.
The stick shifts for the V-Series Blackwings required creating a custom HVAC duct. 3D printing batches of them proved more economical than building out special tooling. The V-Series Blackwings have a 3D-printed harness bracket, too. And the 3D-printed shift knob medallion has a slick design and added cooling channels to ensure it doesn't singe your hand on a hot day. We're still a long way from 3D-printing entire Corvettes, but the technology is cool.
The V-Series Blackings are more affordable than rivals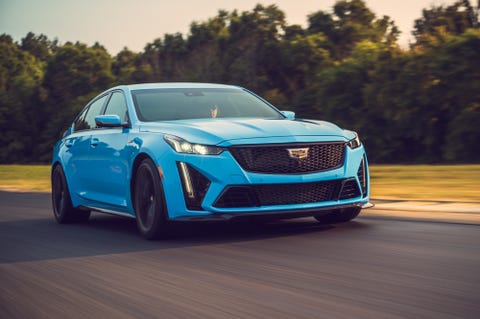 When you consider performance versus price, the CT4-V Blackwing and CT5-V Blackwing offer incredible value. The CT4-V Blackwing starts at $59,990 with destination included, which is about $10,000 less than the BMW M3. It comes out to $84,875 fully loaded. The CT5-V Blackwing — again, with 668 horsepower — begins at $84,990 with destination, nearly $20,000 less than a BMW M5. It tops out at $125,980.
But you make some tradeoffs with the Blackwings to get that affordable price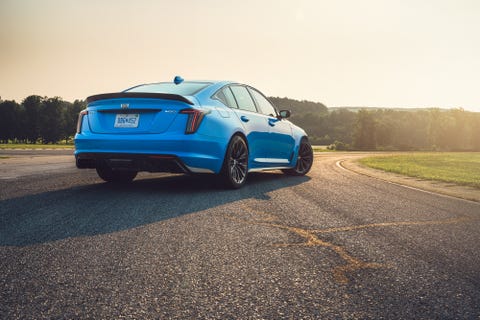 Neither the CT4-V Blackwing or CT5-V Blackwing has the Cadillac of interiors, which were fine, but felt like a bit of an afterthought. Their material quality won't blow you away. The touchscreen is functional, but more base car than halo model. The first thing I did entering the CT4-V manual during the road drive was put my coffee in the cupholder — then have to move it because I couldn't shift with it there. You pay a premium for a BMW M5 or a Mercedes-AMG E63, but those cars do much better at making you feel like you bought the premium model.

The other issue with these cars — particularly with the CT5-V Blackwing — is that they aren't that big. The CT5-V Blackwing is about three to four inches shorter than the last-gen CTS-V. Forget the M5; the CT5-V Blackwing has less space in the boot than the BMW M3. The roof is low. and the rear seat is hard to access. Either V-Series Blackwing car will have a harder time than others doing family duty — though for many, that will be worth the sacrifice.
2022 Cadillac CT4-V Blackwing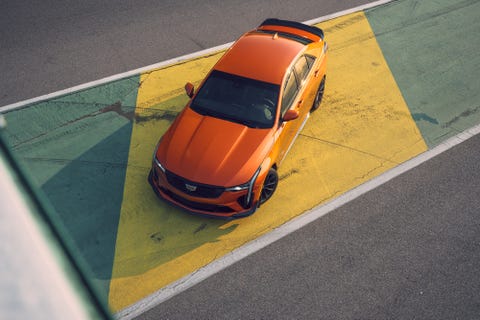 Powertrain: twin-turbocharged 3.6-liter V6; 10-speed automatic (6-speed manual); rear-wheel drive
Horsepower: 472
Torque: 445 lb-ft
EPA Fuel Economy: 16 mpg city, 24 mpg

Seats: 5
2022 Cadillac CT5-V Blackwing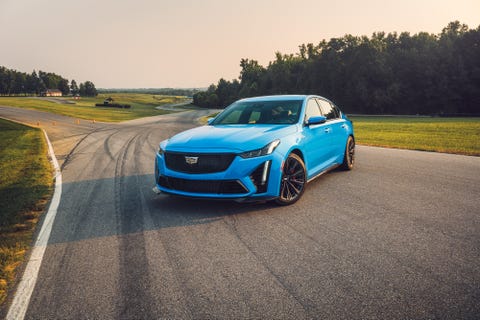 Powertrain: supercharged 6.2-liter V8; 10-speed automatic (6-speed manual); rear-wheel drive
Horsepower: 668
Torque: 659 lb-ft
EPA Fuel Economy: 13 mpg city, 22 mpg highway
Seats: 5
The Mercedes-AMG E63 S Wagon Is Just About the Perfect Car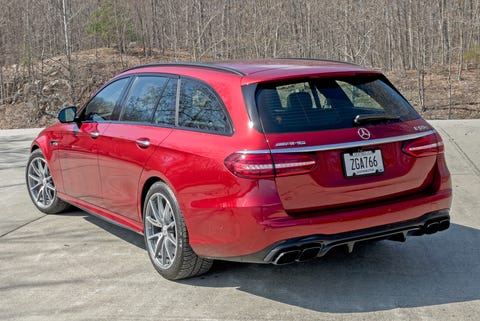 The classic merger of power and practicality keeps on improving.