Every product is carefully selected by our editors. If you buy from a link, we may earn a commission.
The Best Camper Van Awnings You Can Buy in 2022
Expand your living space into the great outdoors (for relatively little money).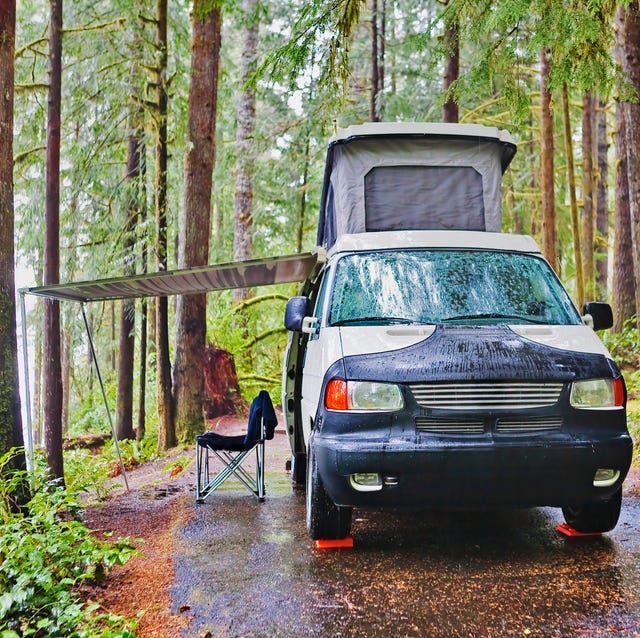 Camper vans may be the ultimate outdoor exploration vehicle, offering the amenities one finds in larger motorhomes or camping trailers but with maneuverability closer to that of a passenger car. One drawback is they can get a little tight on the interior. Buying a camper van awning can be a great way to expand your living space without spending much money (at least in camper van terms). And you can find one at virtually every price point, from a simple sun shade to a full-on mobile habitat.
What to Look For When Buying a Camper Van Awning
Size: Manufacturers offer camper van awnings in different sizes. You want to make sure it's compatible with your vehicle and extends out long enough to provide enough space for what you want to do outdoors. Camper vans can be tall. So adjustable, telescoping poles are an excellent feature to have.
Mounting Difficulty: How you plan to mount the tent is critical. Some awnings are fixed to the roof rack. Some are portable. You may be mounted to a different type of roof rack or the load bars on the vehicle and require a special adapter. Some awnings are designed to offer easy compatibility. Some even have tool-less setups. Others may require you to purchase an adapter.
Setup Difficulty: Like with a tent, you want to set up your awning with as little effort and time and as few people involved as possible. Ideally, you'd have an awning that can be set up within a few minutes and be most accomplished by one person.
Weather Protection: The more expensive awnings offer better quality material and waterproofing. If you are camping somewhere placid, a simple sun shade may do. But if you're camping in areas with more wind and precipitation, you may want a more heavy-duty construction to withstand the elements.
Accessories: Some camper van awnings offer a range of accessories to customize your experience with features like opaque walls, wind and water protection or mosquito nets.
The Best Camper Van Awnings You Can Buy in 2022