2022 Maserati Quattroporte Trofeo Review: an Unexpectedly Delightful Sedan
A Maserati may not be the rational choice, but hey — being rational all the time is so boring.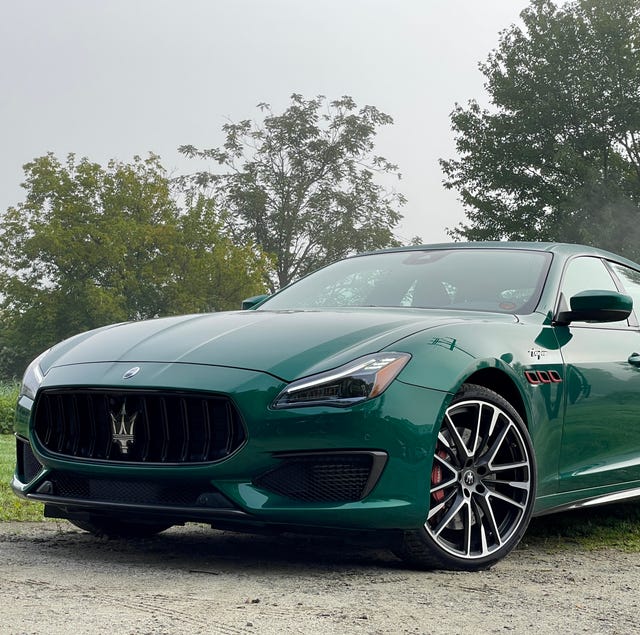 Most of the time, we make decisions rationally. Or at least, we think we do. Whether we realize it or not, our feelings — conscious, subconscious, unconscious — constantly play a role in the choices we make, whether we're deciding between candy bars at the 7-11 or homes to spend the rest of our lives in.
Should you be in the market for a new car, for example — especially a fast, large sedan — you're consciously thinking about reliability, space, usability, comfort, and performance, all in varying degrees. Approaching it from that manner, you're probably not thinking about the Maserati Quattroporte. It is, after all, on the older side for a car — it debuted in early 2013 — and there's a litany of stories about the brand's reliability and quality, some of which are valid. But — at least in new-ish top-shelf Trofeo form — it's an emotional choice that just might find its way into your heart if you give it a chance.
The Maserati Quattroporte Trofeo feels delightfully old-school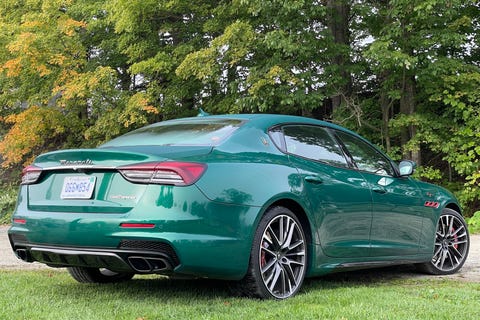 In a world where it can feel like more and more sedans are either becoming aerodynamically optimized bars of soap or exaggerated alien-hog battleships, the Quattroporte is practically a nostalgic choice. While its design (penned by a Pininfarina alum, and bearing of the sultry Italian looks we've come to expect from the firm) may resemble the smaller Ghibli, the length of the Quattroporte gives it gravitas to match its angry beast face. There'll be no mistaking it for any other car on the road, bar another Maserati.
Fire it up, and you'll find it feels unlike most other cars of its ilk, too. The steering is light, fingertip delicate compared to German sport sedans and quick, like the Ferraris it's related to. The brake pedal is a bit spongy at the top of its travel; it's disorienting at first, but once you recalibrate to where the pedal bites, it almost becomes reassuring, notifying you that the anchor is about to drop before it does.
Pitch it into a corner, and it leans more than you'd expect — it's no '80s Cadillac, but it doesn't stay flat as a pancake the way its German competitors seem to do. Yet that sensation becomes endearing, involving you in the drive more than you might feel in those Teutonic uber-sleds that can rip through turns at half the speed of sound without you ever realizing it. The Quattroporte Trofeo is a playful car — and that's not the sort of quality you usually associate with luxury sedans of this size.
The Maser's old-school vibes extend inside, too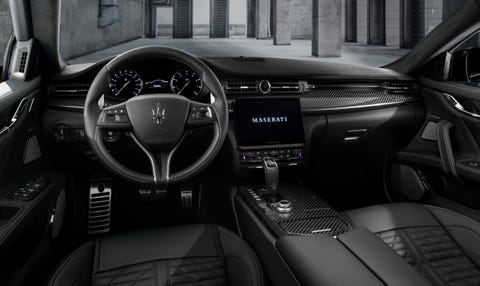 Most six-figure luxury sedans these days look like an Apple Store inside, packing acres of super-slick screens in shiny enclosures and metal or wood rendered in clean lines and simple shapes. The Quattroporte, however, still bears the sort of interior you'd expect of a car designed a decade ago, all the way down to the old-fashioned twin-barrel analog gauges in the instrument panel.
At first, the interior feel not just dated, but, well, a bit cheap. The infotainment system is a reskinned version of the Uconnect setup found in many Stellantis products; the start button, light controls and wiper stalk are all the same ones found in a Dodge Challenger; the wedding cake dials for volume and radio tuning are awkwardly placed; the buttons that control the drive modes and similar functions are very small, easy to mix up, and sometimes confusing. (The I.C.E. button doesn't refer to internal combustion engine, as it would anywhere else, but rather, improved control and efficiency — the equivalent of Eco mode in other cars. Why it gets its own button while Sport and Corsa modes share one is a mystery.)
Spend a few days with the Quattroporte, though, and you start to appreciate the simplicity of those old-school (or at least older-school) controls. The infotainment panel may lack the flash of the latest iDrive or MBUX, but its large buttons and clear fonts make it quick and easy to find what you're looking for on the move. The hard buttons on the wheel and for the climate control may be plastic-y, but they work, and you can find them easily with sense memory — which, as always, is quite handy when you'd rather pay attention to the road than what you're pressing with your finger.
Ferrari-derived power plus rear-wheel-drive equals fun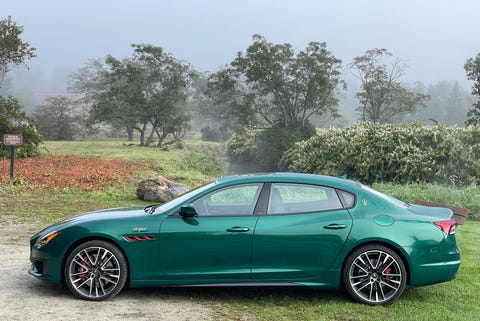 Ferrari may be moving away from V8s to hybrid V6s as part of the tragic, inevitable turn towards electric mobility, but they haven't given up on the eight-pots yet — and that's paying dividends for their corporate cousins at Maserati. The 3.8-liter motor that's at the heart of making a Maserati a Trofeo is closely related to the engine found in the likes of the Roma, Portofino M and F8 Tributo / Spider twins.
As in those cars, in spite of its twin turbos, power spools up gradually, rather than explosively; in many ways, it feels more like a naturally aspirated engine than a traditional turbo motor. The resulting acceleration, though, still qualifies as explosive. Hammer the gas and spur the eight-speed automatic to kick down, and the Trofeo hits like an aircraft carrier catapult.
And that's even though the Trofeo — unlike most super-powerful sedans these days — sends all its power to the rear wheels alone. (Lesser Quattroportes offer an optional all-wheel-drive system, but not the V8 version.) If you so desire, you can switch off the safety nets and barbecue the tires the same way you can in a Charger 392. Useful? Hell no. Wicked fun? Hell yes.
Oh, and while most of the world's super-sedans run into artificial walls at 155 or 186 miles per hour — because those speeds are safe? — Maserati has no such squeamish compunctions. Find a long enough road, and the Quattroporte Trofeo will crack the big double-ton, topping out at 203 miles per hour. Again, useful? No way. Fun? Absolutely — even if you never actually hit Vmax.
As luck should have it, I had the Quattroporte immediately before I drove the Audi S8, and the two proved to be extremely close competitors. Their V8s are just 197 cubic centimeters and nine horses apart; their bodies are less than two inches different in length. If you want to be rational, go for the Audi; I probably would, in all honesty. But I won't lie: every time I hit a winding two-lane road, I'd have a pang of regret that I didn't choose the Maserati.
2022 Maserati Quattroporte Trofeo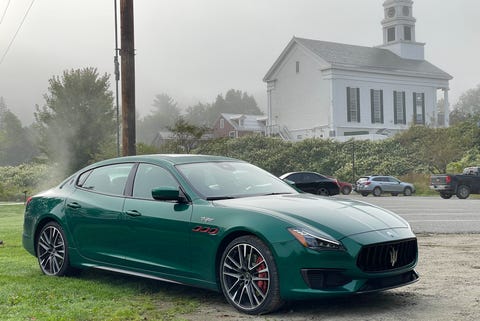 Base Price: $157,000
Powertrain: 3.8-liter twin-turbo V8; eight-speed automatic; rear-wheel-drive
Horsepower: 572
Torque: 524 lb-ft
EPA Fuel Economy: 13 mpg city, 20 mpg highway
Seats: Five
2023 Ferrari 296 GTS Review: An Open-Top Supercar Stunner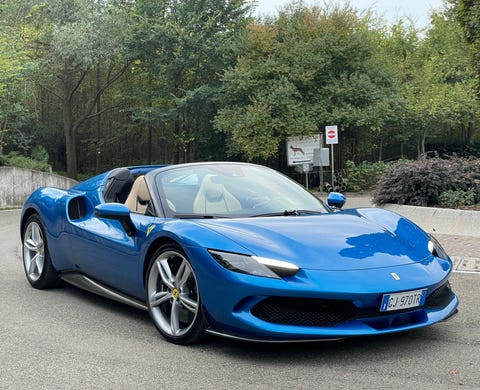 Don't fear the hybrid V6. Maranello's latest speed machine is every bit what a Ferrari should be.