Every product is carefully selected by our editors. If you buy from a link, we may earn a commission.
The 7 Types of Cocktail Glasses Every Home Should Have
For your martinis and your Manhattans — and everything in between.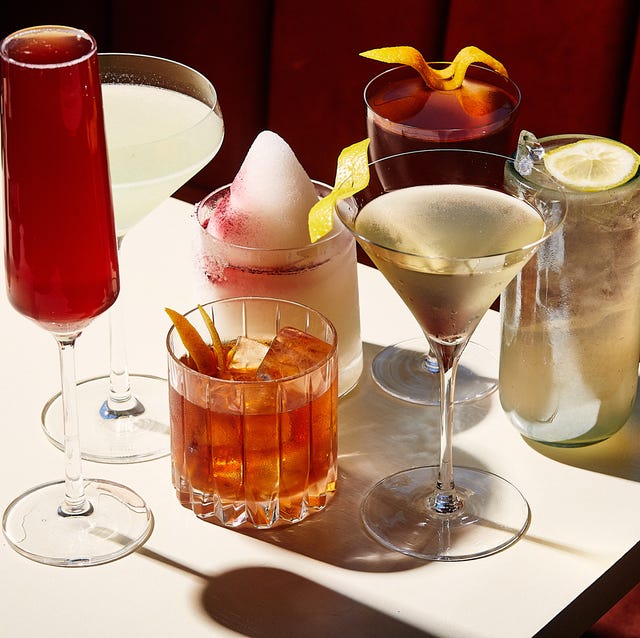 Going out for a cocktail is one of life's greatest little pleasures. You have someone making you a drink, and it comes in one of those fancy-looking glasses. Sure, you can make a cocktail yourself at home, but it just doesn't hit the same — especially when you don't have the right glassware. I mean, martini in a rocks glass? How profane!
Shopping for cocktail glasses can be overwhelming considering just how many styles there are — not to mention how expensive they can get. But the type of glassware you drink out of can truly tie the whole experience together, and it's an important aspect that mixologists consider when constructing a drink.
"Cocktail making, for me, is an art," Chetan Gangan, mixologist at the Indian gastrobar Baar Baar in New York City, says. "Much [research and development] goes into designing a cocktail menu, as each cocktail has different textures, flavors and aromas. It starts with the glass and ends with the garnish — nothing in between should be overlooked."
Of course not every home has enough space for a bunch of cocktail glasses, so whittling down your selection is a must. Think about what cocktails you drink most often, and which glasses have as many uses as possible.
"I think the number one most important thing when choosing glassware for your home is your affinity towards it," Linds Moore, a master mixologist and co-author of Viva Mezcal, says. "You should only own and drink from things you love and find beautiful — or at least love and find hilarious or tolerable, honestly."
Moore further explains that there are a lot of rules out there about what drinks to serve in what cocktail glass. But the most important thing to remember, they say is: "If you enjoy what you're drinking, you'll enjoy it from any glass. If you love the glass, you'll love it even more."
We asked Gangan and Moore to break down seven types of cocktail glasses and what each is good for — plus, we found a few pieces to get your collection started.

The 7 Types of Cocktail Glasses You Should Know