Every product is carefully selected by our editors. If you buy from a link, we may earn a commission.
Thanksgiving Is Almost Here. It's Time to Buy a Roasting Pan
Hands down, a roasting pan will take your Thanksgiving turkey to sweet, tender victory.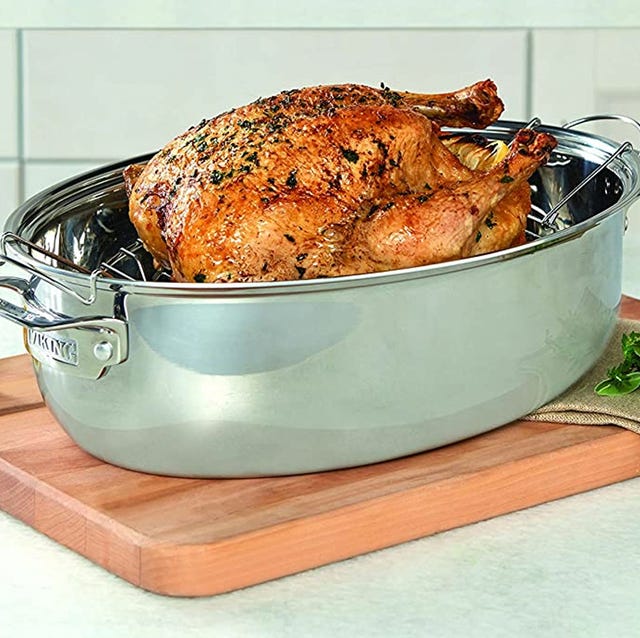 Once the calendar changes over to November, the countdown begins for the fourth Thursday of the month: Thanksgiving. The biggest cooking day of the year requires a lot of preparation and the right tools for your meal, and if you're going the traditional route, that means you're going to have to cook a turkey. And although recent years have seen an increase in alternative forms of turkey cooking, like the notorious deep-frying method or the moist-making sous vide, it's still tough to beat a classic roast turkey. And if you're going to roast a turkey, you're going to need the right cookware to do it. Namely, you'll need a turkey roasting pan with a rack.
Why Do You Need a Roasting Pan?
As mentioned in the intro, there's more than one way to cook a turkey. But by far, the most popular method is to roast the bird in your oven. However, just tossing your turkey on a sheet pan isn't going to work very well at all. Turkeys are massive birds, and they take a long time to cook — typically 13-15 minutes per pound. In order for a turkey to cook evenly, the hot air of your oven needs to circulate all around the bird, including beneath it. A roasting pan is large enough and deep enough to accommodate your turkey, collecting all of the juices that it sheds during cooking. Using a rack with your roasting pan is essential, as it's needed to elevate the bird, allowing hot air to reach below it and keeping the turkey from sitting in its own juices. You can use other large oven-safe dishes to cook your turkey, even making a makeshift rack out of aluminum foil when needed to give it some height, but a roasting pan with a custom-fit rack is tailor-made for the task of roasting poultry and will make your life a whole lot easier — and your Thanksgiving dinner a whole lot tastier.
The Best Turkey Roasting Pans for Thanksgiving 2022