Every product is carefully selected by our editors. If you buy from a link, we may earn a commission.
The 6 Best Nonstick Pans for Stick-Free Cooking
Every kitchen should have a nonstick pan, and these are six to consider for yourself.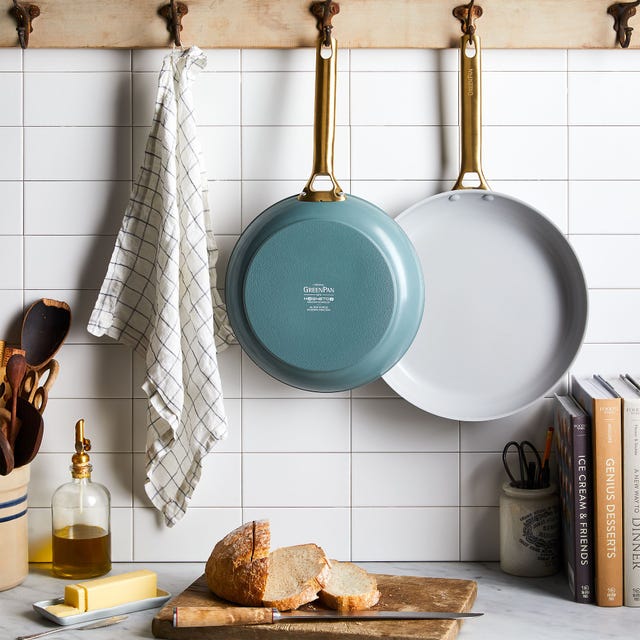 Nonstick pans get a lot of flak, but they're also one of the most useful pans a cook can own. They don't require as much oil when you're cooking, they ensure food doesn't stick (hence the name) and, generally, they're fairly cheap and disposable. As long as you aren't doing anything reckless to your pan, they'll last you quite a while, churning out as many omelettes and pancakes as you'd like. We got our hands on a wide range of nonstick pans and found six of the best ones to buy.

What's the Difference Between Teflon and Ceramic?
Nonstick pans have a coating on their surface to prevent food from adhering to the pan. That coating can either be made of polytetrafluoroethylene, or PTFE, or ceramic, which is free of polytetrafluoroethylene. You might hear someone say nonstick pans are made of Teflon, but Teflon is just one brand of PTFE. PTFE is safe for cooking, but at certain temperatures it can release dangerous fumes. Ceramic won't emit those fumes at any temperature, but it is more brittle than PTFE. Either way, both coatings will degrade over time.
Then there are nonstick pans that are hard-anodized aluminum. These types of pans are made of aluminum and have a tough, nonstick top layer that doesn't require a coating. While this type of nonstick pan is more durable than one that requires a coating, they're generally heavier, more expensive and not compatible with induction cooktops.
Are Nonstick Pans Oven Safe?
Some nonstick pans are safe to put in an oven. If it is oven safe, the manufacturer will tell you just how hot that oven can be, especially since PTFE can start to degrade at certain temperatures. Never put a nonstick pan into a hot oven without checking with the manufacturer's recommendations first.
Can You Put a Nonstick Pan in the Dishwasher?
Some brands will advertise their nonstick pans as being dishwasher safe, and while we'll take them at their word, we highly recommend hand-washing your nonstick pans. In general, we don't like putting any cookware in the dishwasher because the temperature fluctuations can warp their shape, and nonstick pans are generally more delicate than other types of pans. Washing a non-stick pan by hand shouldn't be hard, luckily, since food residue should wipe right out.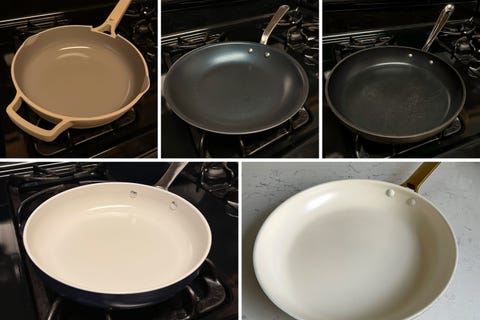 We tested a number of pans, some for many years. We evaluated each pan's nonstick abilities, as well as how well they heat up and stay hot. One of the most important factors for testing was making sure the pan wouldn't let common food items stick. Another important characteristic of a good nonstick pan is its durability — how long can this pan last, and how much abuse can it take? While we didn't go ahead and purposely apply metal utensils to the surfaces, we did make sure we didn't have to be too delicate around them. Nonstick pans don't have long shelf lives, but these pans should last you a decent amount of time, and they're worth the money.
10 Mistakes You Might Be Making With Your Nonstick Pan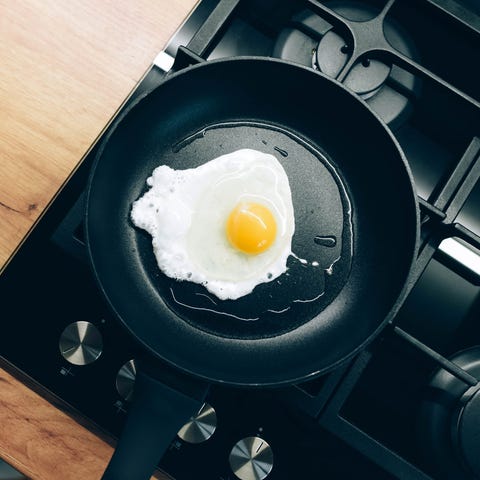 Maryna Terletska
Getty Images
Treat your nonstick pan with respect and it'll continue to work wonders in the kitchen.