Every product is carefully selected by our editors. If you buy from a link, we may earn a commission.
The 6 Best Instant-Read Thermometers for Precision Cooking
If you own a pot or a pan, you should definitely have an instant-read thermometer.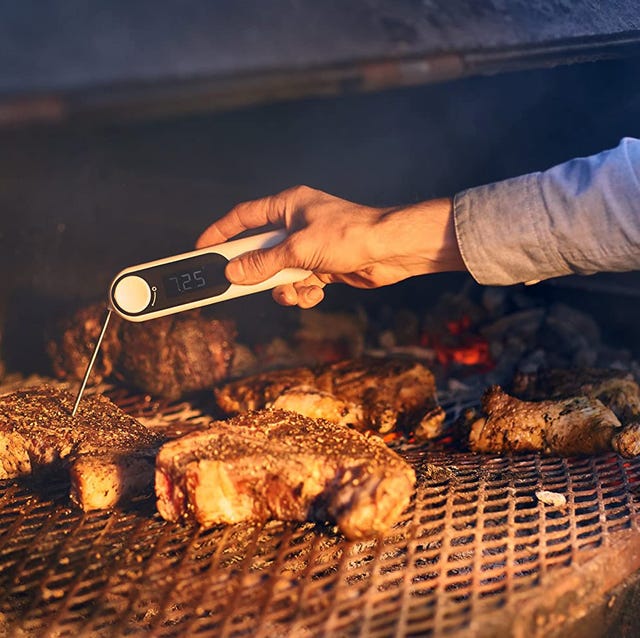 Everyone who cooks needs an instant-read thermometer, full stop. These handy little gadgets aren't just about making sure your steak is cooked to your liking; they ensure that your steak — or whatever you're cooking — isn't raw and poses a threat to your wellbeing. In the past, you might've used a manual, dial-faced thermometer to check your food's doneness. Helpful as they were, they took a long time to get a reading, and you never really knew when the temperature had stabilities. Um, is this turkey really at 170 degrees? Instant-read thermometers do all of that in an instant, hence the name. (Though an "instant" can mean a lot depending on the brand.) So instead of cooking your chicken until it's bone-dry to make sure the salmonella is out, get one of these instant-read thermometers to get perfectly cooked food every time.
What to Look For in an Instant-Read Thermometer
Slow and steady does not apply
You want your instant-read thermometer to get you a reading in a literal instant. We only found one thermometer that can do that — giving a read-out in one second — but anything faster than three to five seconds is ideal. Why? For one, you don't want to expose your hand to high heats for a long time, and those couple seconds can save you from some singed arm hairs. And if you're checking something that's in the oven, keeping your oven door open for just a second or two can significantly drop the oven temperature.
It's OK to be a little off
Every brand will tout its instant-read thermometer as being super accurate. They'll even offer up a margin of error so you know what to expect. In reality, most instant-read thermometers, even the dirt-cheap ones, will be very good at getting a good reading. Most thermometers have a margin of error less than two degrees, plus or minus, while more expensive ones will have a margin of error in the decimal place. Those tiny margins of error will have little to no impact on your food, so there's no need to get too obsessive over brands' estimations for margins of error.
Going for a splash or a full-on dip?
Not all instant-read thermometers are waterproof, with some being splash-proof. (And when it comes to water- or splash-proof ratings, they're going to apply strictly to the thermometer's handle.) If you want to make sure you can fully submerge your thermometer in water, say for cleaning, make sure to look for a waterproof rating. Otherwise, a splash-proof option can take on an excessive beating from water, steam or other liquids.