Every product is carefully selected by our editors. If you buy from a link, we may earn a commission.
The 8 Best Bottles of BBQ Sauce at Your Grocery Store
The best bottled barbecue sauces offer what homemade versions offer — smokiness, sweetness, spiciness and tanginess, all balanced against each other.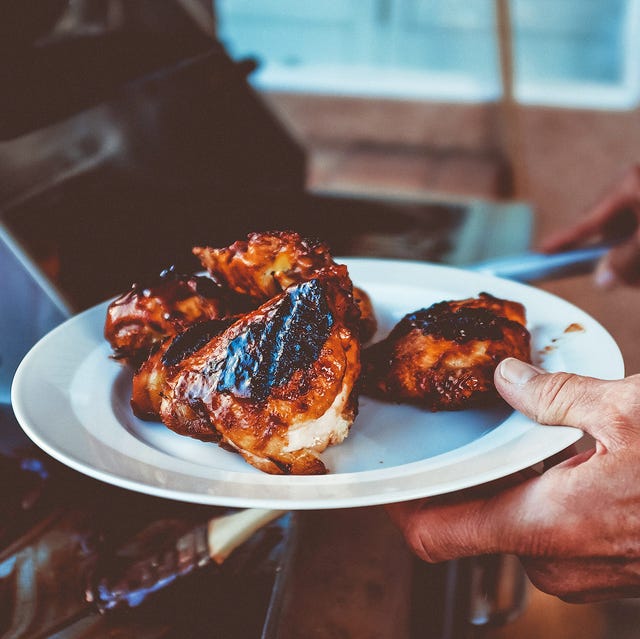 Though purists will no doubt scoff, bottled barbecue sauce is not some great sin unto the world. Many of the best options are simplified versions of sauces made by pitmasters you or I could never hope to match.
But like most goods previously made in the home, store-bought sauce can also suck. Sometimes terribly so. The trap many fall into is excess in one of the four pillars of barbecue-sauce flavor — heat, smokiness, tanginess and, the most commonly abused, sweetness. We scoured the web, grocery stores and barbecue forums to find out which retail-available, bottled barbecue sauces are actually worth putting on the meat you've spend all day smoking.
Types of Barbecue Sauce
Kansas City Style
The most widely available style of barbecue sauce at grocery stores is at its best a balanced mix of tomato (ketchup, most of the time), sweetness, tang and smoke. This is the gloopy reddish-brown sauce you slather all over ribs — it's great for its strong hold to meats and overall body as well.
Texas Style
Sometimes called "mop sauce" or "mop style," these are sauces with a tomato and vinegar base. They're typically much lighter in body than KC-style sauces, but not as light as a Carolinian vinegar sauce. They're also applied with a lighter hand than most sauces, and feature lots of garlic, black pepper and Worcestershire sauce.
Memphis Style
Memphis barbecue tends to be served sans sauce, but there has been an uptick in Memphis-style barbeque sauces. The sauce is similar to a Kansas City-style barbeque sauce, but with a richer sweetness thanks to molasses and a tad more brightness from a generous addition of vinegar.
Lexington Style (North Carolina)
Though some of North Carolina's population may protest, this is essentially an earlier version of the uber-popular Kansas City sauce, sans-spiciness and with a lot more tomato product. If you don't like the spiciness and bite that comes with a lot of KC sauces, this style is for you.
East North Carolina Vinegar-Based
It's vinegar, pepper, salt and pepper flakes. The most fluid sauce there is gets most of its flavor from the tart vinegar and various pepper flakes and pepper powders added (cayenne being the most common). It may not be all that useful in caramelizing the outside of a pig, but it's still delicious.
The Best Barbecue Sauces