Every product is carefully selected by our editors. If you buy from a link, we may earn a commission.
The 14 Best Cigars to Smoke in 2022
From your everyday, affordable stogies to the brands you'll save for your big brother's bachelor's party, here's everything you need to know to get the right sticks.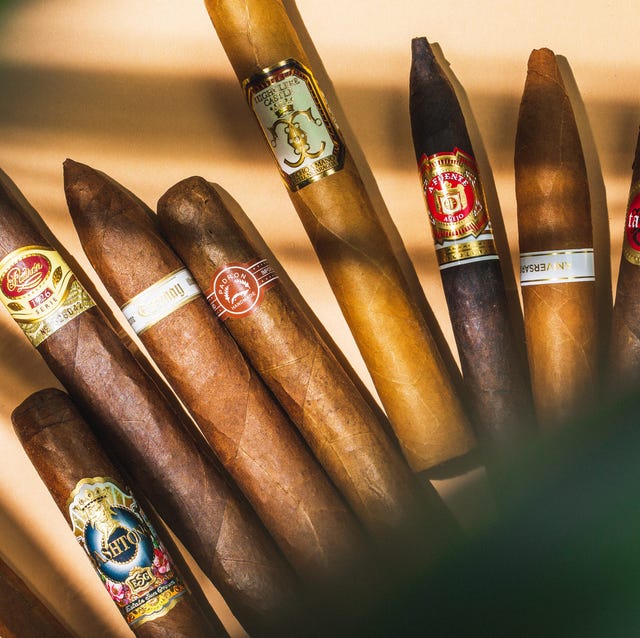 For a novice, smoking a cigar — hell, just venturing into a local cigar store to buy one — can feel more daunting than fun. The mechanics of properly smoking one (how to draw without inhaling?) don't come naturally. Faux pas (when to ash the thing?) abound. Then there's the impossible question of which cigar, in a room stuffed with boxes of them, to buy.
You're not imagining it: cigar smoking is full of tradition, ritual and enigma. The good news, says Pierre Rogers, is that cigar smokers form a natural, welcoming community — acolytes not just to the rolled leaf, but to lighting them up together.
Community is Rogers' purview. He's the founder of PuroTrader, an online trading service that includes community-created cigar ratings, forums, and blog posts. Rogers set up the site as a searchable e-humidor for collectors after discovering someone had stolen a single cigar out of a prized box he'd been saving for over a decade, which made that box pretty much worthless. An event that would devastate most collectors, but not Pierre. "Initially, we set out to create a way for every collector- for free- to build an online humidor. It's a way to catalog their own collection, take notes on each cigar, and then make it searchable. You could log on and look at anyone's humidor, anywhere in the world. The inevitable conclusion to that was, 'You got something I want — how do we make that happen?'" he says.
Since founding PuroTrader, Rogers has made cigars a more accessible hobby through the new Unicorn Hunters Club, PuroTrader's monthly subscription box and a must-have for new smokers looking to start a great collection. Rogers' expansive knowledge of cigars makes him an excellent resource for defining what makes an excellent smoke. So from the best everyday cigar to one you'll save for the most special occasions, these are the best cigars of 2022.
How to Smoke a Cigar
Step 1: Choose the Right Stick
It turns out, like many things in our lives- size matters! But not in the ways you think. "Men and women tend to do the exact wrong thing when they choose a cigar." Says Rogers. "So, women tend to go, 'ok, I want a smaller cigar, a petite cigar.' Because they think it is going to be more mild. And men say, 'I want a strong cigar! Give me the biggest cigar you have.' So they tend to grab the bigger ring gauge and larger cigars. That's actually backward." The strength of the smoke is all about the ratio between air, heat, and proximity. The shorter the stick and more concentrated the air and heat coming through the lit end into your mouth- the more robust the smoke. So fellas, no need to overcompensate so much. Try the shorty. You might like it.
Step 2: Cut the cigar.
Once you've picked your stogie, it's time to lite that baby up, right? Slow down! "Before you light it, you've got to cut it," Rogers says. "The trick with a cut is when you look at any cigar, any shape, you can see where the roller has rolled an extra cap line between the wrapper and head of the cigar. When you cut, you want to cut just above that line. You're only removing the cap. You're not cutting into the wrapper. If you cut into the wrapper, i.e. you cut a little too much off of the top, it will start to unravel and fall apart in your mouth. There are several different kinds of cuts: A straight cut is the classic way to do it."
Step 3. Toast the foot.
Now here's the fun part. "[Use] a match or a butane lighter," Rogers says. "You want to use the heat, not the flame. You want the cigar to be a quarter-inch to an inch above the flame, and you want to toast the foot of that cigar. Rotate the cigar and toast. You should be literally toasting it. Browning just the edges, just barely. Don't get any char or flame on the wrapper."
Step 4: Draw and rotate.
"Once it's evenly toasted, still using just the heat, draw and rotate, " Rogers says. "That should only take a moment to light it if you've properly toasted it, since the cigar is primed to make that happen. The different types of tobacco in there are meant to be smoked in a linear fashion; you don't want a third of the bottom to be lit, because then you're only tasting that one piece, and destroying the profile. Another obvious but overlooked tip: when using a match to light, let the head burn off, and only use the stick of wood to light the cigar. Allow the sulfur head to dissipate, because you don't want to pull any of that into the cigar."
Step 5: Keep the cherry cool.
"One of my tips about maximizing the enjoyment of any cigar, cheap or expensive, new or old, is to keep the cherry cooler," Rogers says. "You do that by taking long, slow, easy draws on the cigar. Don't take short pulls where you heat up that cherry. That's a way to create acidity, acridness and a burnt carbon taste."
Step 6: Taste the cigar.
"Allow the smoke to come into your palate from the tip of your tongue, front to back and side to side," Rogers says. "You don't want to push all that smoke out too rapidly. Just gently exhale the smoke. Obviously, with cigars, you're not inhaling. It's just for the flavor. So think about how that flavor hits your tongue. Start with the basic ones. Is it salty? Sweet? Bitter? Sour? Those are basics. We tend to all agree on those things."
Step 7: Ash the Cigar
"The best way to do it is a light touch on the ashtray, and roll the cigar to let the ash fall off," Rogers says. "The real reason you do it is to control the temperature of the cherry, the lit part. You want to keep it well lit but cool. There's a perfect ratio. If you don't smoke your cigar fast enough, because there are no additives in a cigar, it'll go out. The cherry gets too cool. However, if you start puffing away on it, and the cherry becomes really bright, it becomes bitter and acrid, and you don't want that. So there's this balance that you're always trying to strike between keeping your cherry fully lit but as cool as possible."
Cigar Terms to Know
Wrapper: The single leaf that literally wraps the outside of the cigar. It imparts around 60 percent of the cigar's final flavors. Its flavors have to do with its country of origin, the way it's grown (in the sun or shaded) and the type of tobacco plant. Different examples include Connecticut, maduro, claro and oscuro.
Filler: The innermost leaves rolled within a cigar, almost always a blend of different types of leaves.
Binder: The tobacco that helps hold a cigar together. It must be the strongest leaf in a cigar, but also imparts flavor.
Ring Gauge: The diameter of a cigar, measured by sixty-fourths of an inch. The bigger the ring gauge, the bigger the diameter.
Head/Cap: The end of a cigar that is cut and put in your mouth. Make sure not to cut off the entire cap, which will unravel the wrapper.
Foot: The end of a cigar that is lit. Smell this end before lighting to get a whiff of all the tobacco inside.
Strength and Body: Are not the same. The strength of a cigar has to do with how powerfully its nicotine affects the smoker; the body has to do with the impact of the cigar's flavors in the mouth, its mouthfeel, and its overall richness.
How We Tested
On two separate occasions, we sat down with PuroTrader founder Pierre Rogers to smoke and talk cigars. Pierre understands and appreciates cigars in a way that very few, besides the most dedicated craftspeople and sommeliers, can replicate. We asked Rogers to give us a rundown of cigar etiquette and basic knowledge, along with the cigars he loves most, across a range of prices and through the common categories of mild-, medium-, and full-bodied. Consider them a good starting place to figure out what you like and don't like.
Editor's Note: The price for each cigar represents the cost for a single cigar. In some instances, purchasing a single cigar online is not an option but the price per cigar you can expect to pay is the most useful.
The Best Cigars of 2022
Best Overall Cigar
Davidoff Aniversario Series
The blenders at Davidoff combine their legendary knowledge of the plant to cultivate some of the highest quality tobacco on the market. Then they pulled all the stops and released the flawlessly constructed Aniversario Series in honor of Grand Papi Davidoff's birthday in 1986. Thirty years later, the line continues to supply cigar lovers with one of the most enjoyable, velvety smokes you can get.
Tasting Notes: Mild-bodied, with a rich and complex taste. It starts with notes of hay and buttery smoke, transitioning into earthiness and even a touch of pepper spice in its final third.
Filler: Dominican Republic
Binder: Dominican Republic
Wrapper: Ecuadorian-grown Connecticut
Best Upgrade Cigar
Padron Anniversary Series 1964
"Anything in the Aniversario line… [is an] unbelievably delicious cigar. Most of the guys in this club smoke them. It's kind of the go-to around here," says Rogers as he gestures to the men and women hanging with us in The Cubano Room. A dark chocolate maduro wrapper, box-pressed, and firmly constructed cigar. This smoke will make you feel like an absolute boss.
Tasting Notes: Cedar with a deep earthy aroma. Floral and fruity as you begin the cigar, but with the smooth bitterness of chocolate or espresso by the time it gets rolling.
Binder: Nicaragua
Filler: Nicaragua
Wrapper: Nicaragua
Best Budget Cigar
Ferio Tego Timeless Panamericana
When the Master Blender of the now-defunct Nat Sherman cigar legacy managed to retain many, if not all, of the rights to his former employer's recipes, it shocked the industry and gave collectors an underdog story to root for. It is an approachable, balanced and affordable cigar with fantastic construction.
Tasting Notes: The same great creamy and buttery flavor you've come to recognize and crave from the old Nat Sherman lines, with notes of cocoa, wood and toasted bread. This cigar, in particular, is the perfect pairing with a cup of coffee.
Filler: Costa Rica and Nicaragua
Binder: Nicaragua
Wrapper: Ecuadorian Sumatran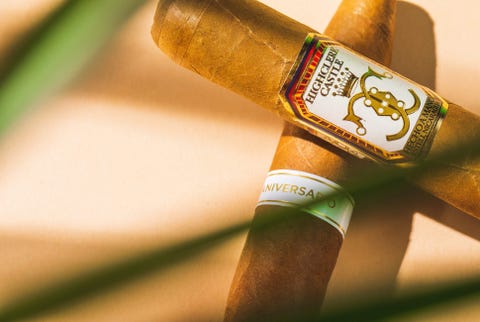 "A mild cigar is similar to a great cup of coffee with a touch of half and half in it," Rogers says. "It's warm and rich, but it's also soft and very approachable." According to him, the best examples come from the Dominican Republic; they also tend to have a Connecticut wrapper, which is golden and light in color. "The flavor tends to be very subtle and soft," Rogers says. "No sharp edges, no bitterness. Something that on a fresh palate with nothing in your stomach you can really enjoy, and it won't disrupt your day. That's what a great mild cigar is to me." So the next time you skip lunch, think about lighting up one of these tasty treats.
Best Short Smoke
Davidoff Aniversario Short Perfecto
"Davidoff is the Mercedes-Benz of cigars," Rogers says. That means high quality — at a high price. Like the rest of the Aniversario line, only the highest quality leaf makes it into the Short Perfecto. But this smaller cigar won't break the bank, and it is an excellent example of a mild-bodied cigar that's still rich and complex. Coming in at just under five inches with a 52-millimeter ring gauge, this cigar is perfect for a short drive or a stroll around the block.
Tasting Notes: It starts with hay and buttery smoke, transitioning into earthiness and even a touch of pepper spice in its final third.
Filler: Dominican Republic
Binder: Dominican Republic
Wrapper: Ecuadorian-grown Connecticut
Best Mild Yet Complex Blend
Foundation Highclere Castle Churchill
Nicholas Melillo, the founder of Foundation Cigar Company, hails from Connecticut. That means he has a great appreciation for the light-colored wrapper that bears the Connecticut name, and the creamy smoke it produces. The Highclere Castle uses Nicaraguan filler and Brazilian binder to add complexity to the mild flavors.
Tasting Notes: Creamy, with pepper, citrus and leather.
Filler: Nicaragua
Binder: Brazil
Wrapper: Ecuadorian-grown Connecticut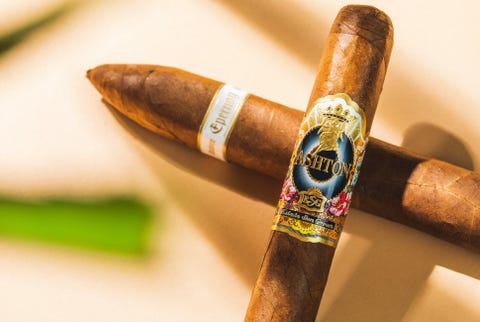 An increase in the body of the cigar has a lot to do with how its smoke feels in your mouth. "Is there an oiliness there? A richness?" Rogers asks. "Wine people call it mouthfeel, and it's no different with cigars." Medium cigars are what most people end up smoking — they're a great middle ground. "It provides enough strength that can be paired nicely with everything from a coffee to a bourbon. Flavors tend to be richer, the mouthfeel warmer and oilier. The smoke tends to be denser and richer," Rogers says.
Best Spicy Cigar
Tatuaje Tattoo Series
Founder Pete Johnson and master blender Don "Pepin'"Garcia are well respected for making cigars that consistently receive high scores from reviewers. The secret may be "Cuban-esque" flavors stemming from Cuban-seed Nicaraguan-grown tobacco. "This is the most Cuban of a cigar that you can get here in the US," Rogers says.
Tasting Notes: More of a white or black pepper spice than the cayenne of other medium-bodied cigars, though it also features cocoa, sweet cream and cedar notes.
Binder: Nicaragua
Filler: Nicaragua
Wrapper: Habano, Ecuador
Best Big Stick
The Texas Lancero by Alec Bradley
If you want to make a power move with your smoke, this is the cigar you are looking for. With a 7-inch length and a 70-millimeter ring gauge, this is undoubtedly a Big Kahuna of a stick. And the best part: the taste lives up to the stature. You can find this cigar in most local shops, coast to coast.
Tasting Notes: With such an enormous ring gauge, you will get an enormous flavor. Spicy and complex with blends of citrus, leather and nuts.
Filler: Nicaragua, Honduras, Costa Rica
Binder: Nicaragua
Wrapper: Nicaraguan Habano
Most Balanced Smoke
7-20-4 The Hustler
The catchy wrapper might look like overcompensation for lack of taste, or worse — it's one of those joke smokes that explode in your face! Au contraire, my friend. This snazzy stogie will taste DYNO-MITE! (and boom goes the pun) while you pull it and look good enough in your hand to finally pull off tweed. Regardless, the diverse blend of tobacco in this Honduras-built, American-owned cigar certainly explains the perfect balance of flavors you get with the Hustler Series. Rolling fine tobaccos from around Central America together in a well-crafted stick to pour a warm and full-bodied smoke into your mouth.
Tasting Notes: Fresh cedar and nearly burnt, sweet toast. Complemented with a crisp hit of fresh Mexican coffee (bitter and spice).
Binder: Costa Rican
Filler: Nicaragua, Honduras
Wrapper: Ecuador, Connecticut and Brazilian
Best Mellow Smoke
Ferio Tego Timeless Sterling
The repeat miracle victories and back-from-the-dead releases of long-dead cigars lines coming from Ferio Tego simply cannot be ignored. The Timeless Sterling, with its 10-year aged tobacco filler, provides an accessible, smooth, but still elegant taste of smoke that delights cigar tourists and aficionados alike.
Tasting Notes: A strong, herbal aroma softened by a creamy, sweet and nutty smoke. Citrus and mineral salt tang in the wrapper.
Binder: Dominican
Filler: Dominican
Wrapper: Connecticut shade-grown Ecuadorian
Best Special Occassion Cigar
Ashton Estate Sun Grown
While Ashton is generally an entry-level cigar, the ESG (Estate Sun Grown) jacks up the price tag. "Because of that high cost, it doesn't get fair press," Rogers says. The lack of press creates an exclusivity that makes it popular with avid collectors, who swipe up as many as they can get their hands on only to hide them away, to age for years and years like a fine wine — colloquially known as a "keeper." Unlike the more common shade-grown, its sun-grown wrapper creates a more oily, pungent leaf. This is a cigar smoker's cigar, professionals only.
Tasting Notes: Oily nuts, leather, earth and cedar, with a light, creamy smoke.
Binder: Dominican Republic
Filler: Dominican Republic
Wrapper: Sun-grown, Dominican Republic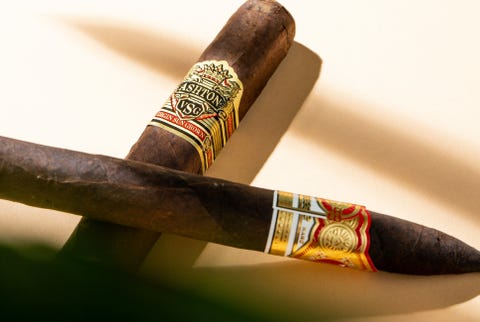 Full-bodied cigars can go in a few different directions, particularly, becoming spicy. "You can have a few different kinds of spice," Rogers says. "A white pepper, black pepper, or even a cayenne pepper." Those larger flavors can hold their own against a steak dinner or a peaty Scotch. "But the key here remains balance. Strength is not flavor. When you smoke that cigar, you want the palate to be full of flavor. Rich, complex. That's what makes a great full cigar — not the strength," Rogers says.
Best Cognac Barrel-Aged Cigar
Arturo Fuente Anejo
In 1998, the OpusX's downfall was to cigar smokers' benefit: After Hurricane Georges created a shortage of wrapper tobacco, the brand switched to Connecticut broadleaf maduro wrapper aged in Cognac barrels, and the Anejo was born. The OpusX returned, of course, but the Anejo stuck around, treasured for the sweetness that wrapper layered atop the spicy, robust binder and filler.
The Anejos are extremely rare and released in incredibly limited qualities, though they tend to be restocked around Father's Day and Christmas. Definitely sign up to be notified when these come back in stock at retailers so you can score some highly covetable smokes.
Tasting Notes: Cognac, oily sweetness, butter and nuts.
Binder: Dominican Republic
Filler: Dominican Republic
Wrapper: Connecticut Broadleaf aged in Cognac barrels, America
Best Maduro Cigar
Oliva Master Blends 3
Collectors dedicated to the hunt will tell you rounds one and two of the Oliva Master Blend line are nearly impossible to find, and the third will be no different. But in cigars, that kind of scarcity is fueled by one reason only: quality. The cigars from Oliva come from a company with a history in tobacco lasting nearly 200 years. And that legacy comes through in every creamy, bitter coffee pull of deep, flavorful smoke, which is then accented perfectly by the crisp, light, almost fruity taste of the sun-kissed wrapper.
Tasting Notes: Very complex taste, layers of deep-roots earth and chocolate, full and lush-bodied smoke.
Binder: Nicaraguan Habano-seed
Filler: Nicaraguan ligero
Wrapper: US Sun grown Nicaraguan
Best Affordable Full-Bodied Cigar
Padilla 88 Aniversario
"What can I say about Padilla? Greg [the Master Blender] is just an amazing person. And he makes cigars because he is passionate about it. Not to make money… He does! He sells a lot of cigars — don't get me wrong. But his passion comes through." Pierre says. With construction and quality that is hard to match, it blows your mind all that comes in a package that won't break the bank. This is Rogers's pick for an affordable, full-bodied cigar with plenty of flavor at an entry-level price.
Tasting Notes: Cedar, espresso and dark chocolate.
Binder: Nicaragua (Criollo and Corojo)
Filler: Nicaragua (Corojo, Criollo and Pelo de Oro)
Wrapper: Ecuador (Habano)
Best Collector's Cigar
Fuente, Fuente Opus X The Lost City
When released in 1995, the OpusX proved that Dominican-grown, Cuban-seed tobacco could be the best in the industry. Since its release, it's been considered one of the best full-bodied cigars on the market and is a collector's favorite. Unfortunately, according to Rogers, they are by far one of the most challenging boxes to get your hands on. So if you find one in your possession, you should thank your lucky stars.
Tasting Notes: Cayenne pepper and leather.
Binder: Dominican Republic
Filler: Dominican Republic
Wrapper: Dominican Republic
The 10 Best Cigar Lighters for Your Stoagies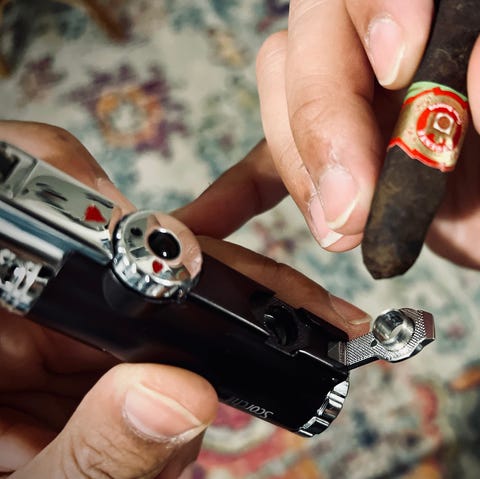 Get some sweet, tasty smoke with this selection of cigar lighters for any situation.
This content is created and maintained by a third party, and imported onto this page to help users provide their email addresses. You may be able to find more information about this and similar content at piano.io