Every product is carefully selected by our editors. If you buy from a link, we may earn a commission.
The 10 Best Weed Grinders to Crush the Daily Grind
Weeding out the competition to find the grinders actually worth your bud.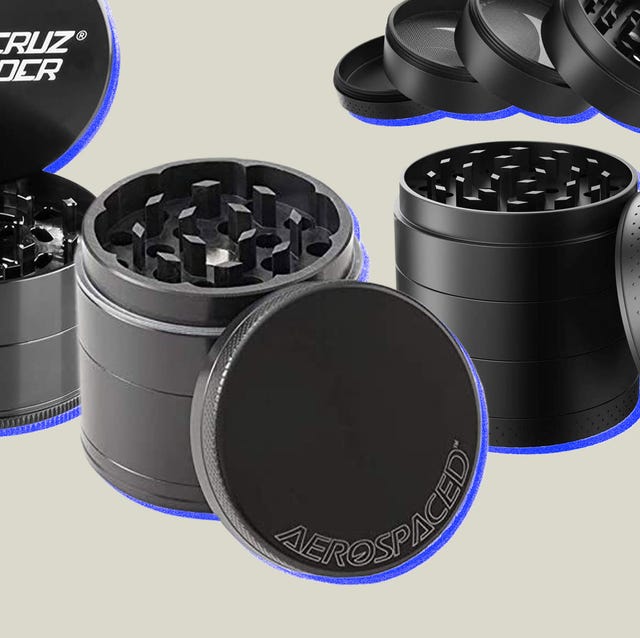 This definitive guide of the best weed grinders for 2022 explores everything you need to know before buying one, and what you should consider before picking one for yourself. Looking for more vetted cannabis recommendations? Check out our guides to the best rolling papers, bongs and vaporizers.
The grinder is every stoner's trusted sidekick: if you meet someone who smokes weed, they most definitely have a grinder. Yes, breaking up bud with fingers is an option, but there's something special about the ritual of loading a grinder with a fat nug and twisting the top to reveal a lush pile of green goodness. Not all grinders are made alike, however, just like how some sidekicks can be disappointing and worthless (see: Snapper Carr, whose schtick was being a powerless, hip teen and ended up getting kicked out of the Justice League for revealing the location of their secret hideout to The Joker) or extraordinarily badass (see: Robin. He's Robin! Look at the spinoffs!). Below, we've done the work of separating the Snappers from the Robins. These are the best weed grinders you can buy.
What to Look for in a Weed Grinder
Tip #1: More Chambers, More Options
A standard two-chamber grinder will get the job done, but your options become endless once you upgrade to one that has a kief catcher and additional chambers. A friend described adding "middle weed" — weed that's not kief but more fine than what typically get used — to a Volcano to get a more flavorful high. Mess around with different combinations of consistencies to get different highs.
Tip #2: Look for the Teeth
The teeth shape, and the number of teeth, affect how the weed is broken up. However, more teeth doesn't necessarily mean better (you don't want weed that's too fine right off the bat), and not enough teeth equals chunky weed and more time grinding.
Tip #3: Material Matters
There are three kinds of metals typically used to make grinders: zinc, aluminum and stainless steel. There are plastic grinders on the market, but you might encounter a broken tooth if you're grinding tough weed. Additionally, cheaper grinders might be coated with paint or a finish, which could chip off and get into your weed. You definitely don't want to inhale that!
Tip #4 Grip Is Important
The better grip a grinder has, the easier it's going to be to use. And, an easier grip means you have to use less torque (the measure of force that causes an object to rotate around an axis) to grind the weed. That's important if you're a user who experiences a lot of hand pain.
Tip #5 Don't be Afraid to Splurge
Grinders get a lot of use. A cheaper grinder might not last you as long as something made of high-quality metal. Paying more gives you the peace of mind that a tooth won't break, the product won't flake, and that nothing funky from the grinder is getting into your weed.
The Best Weed Grinders of 2022
This content is created and maintained by a third party, and imported onto this page to help users provide their email addresses. You may be able to find more information about this and similar content at piano.io