Every product is carefully selected by our editors. If you buy from a link, we may earn a commission.
The Best Lawn Dethatchers You Can Buy
Your neighbor's grass will be greenish-brown with envy.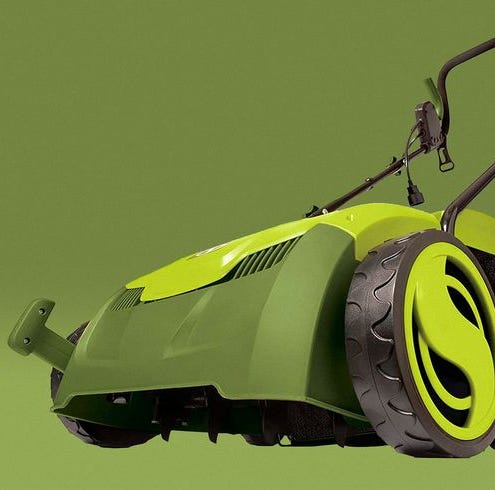 Warm weather brings out the green thumbs, and while nurturing a houseplant jungle and starting a garden are worthy endeavors, a lush lawn is what dreams are made of. One problem: lawn care isn't easy and is riddled with jargon and tools like the dethatcher, which happens to be one of the most effective grass management tools in the game. Here's what you need to know.
What Is Thatch?
Thatch is dead organic matter. Thatch is not inherently a problem, but when it builds up more quickly than it's being broken down, it can pile up and choke out your grass, resulting in discoloring and dead patches. If you run your hands through your grass and there's a thick later of dead grass and other non-grass material, you should act on it.
What Is a Dethatcher?
A dethatcher removes thatch using a series of tines (or springs) that dip into the grass bed and pull thatch to the surface, where it can be collected and disposed of. Dethatchers come in a number of forms, but their base function is the same: free the grass in your yard from dead matter.
How Do You Dethatch a Lawn?
Before dethatching, check your grass height. If it's more than a couple of inches tall, consider a quick and shallow mow before dethatching. Depending on the level of thatch buildup in your lawn, you can run the dethatcher over individual strips of the lawn once or twice. Pass over one time, check the dethatched area and assess whether it could use another run. Once the lawn is dethatched, all the dead matter that was lifted from the lawn bed will sit on top of the grass for you to collect (a quick rake job should suffice).
When Should You Dethatch a Lawn?
There are two factors to consider the "when" of dethatching a lawn. Generally speaking, dethatching is suggested if there is 1 to 2 inches of thatch buildup in your lawn. If less, it may not be necessary. If more (or if it's particularly dense thatch), consider a power rake, which is essentially a more powerful dethatcher. The second factor is growth timing: only dethatch a yard during a growth period for your grass type.
The Best Lawn Dethatchers