Every product is carefully selected by our editors. If you buy from a link, we may earn a commission.
10 Things That'll Make Spring the Best Season to Ski
Skiing is about fun, and no season brings that vibe out like springtime.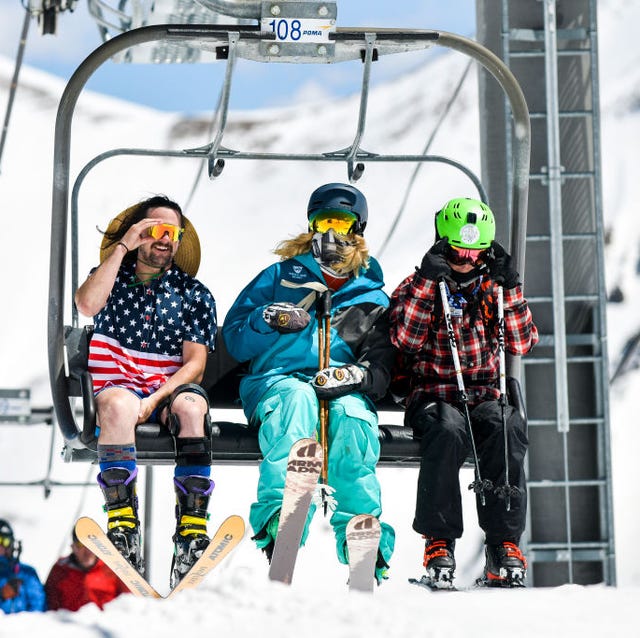 Michael Ciaglo
Getty Images
Spring skiers are happy denialists. Nevermind that it's 65 degrees at the base lodge, that even the open runs are patchy with grass or that the snow is a sticky, mashed-potato-like slop. You see a sad, half-melted mountain and an excuse to break the bike out of storage; they see the glorious resolve of one season against another and the year's first opportunity to wear a Hawaiian shirt.
The joy of spring skiing is in its contradiction —doing a cold-weather sport in warm weather is just inherently fun, no matter what the conditions are like. You don't need a garage full of specific gear to do it, but it does present an opportunity to kit up in things you wouldn't have worn back in January.
Ombraz Classic Armless Sunglasses
These polarized shades are armless, which means they'll fit nicely in your pocket and won't break should you take a digger while they're there. They'll stay on your face at high speed, too.
Vermont Glove The Uphill Skier
Made in Vermont, these 100 percent goat leather gloves have a cinchable cuff that keeps out snow and a merino wool liner you can remove when they get too toasty.
California Cowboy The High Water
We weren't joking about the Hawaiian shirt thing. California Cowboy's is lined with terry cloth for a bit of extra warmth and comes loaded with features like a waterproof pocket and a loop for sunglasses.
Thinksport Sunscreen SPF 50+
The only people who think sunburns are a badge of coolness or commitment are people trying to explain why they're sunburned.
Stay hydrated on the slopes with a collapsible bottle that'll fit comfortably in your pocket.
We're not saying you shouldn't wear a helmet, but if you don't, this surf hat will at least provide sun protection — and it'll stay stuck to your head in a full tuck.
Cotopaxi Teca Light Half-Zip Jacket
The best spring outerwear doesn't need three-layer waterproofing, but it should be windproof (and, preferably, Day-Glo bright).
Spring is the best season for après tailgating, but your trunk won't turn into a freezer while you're on the hill. Never fear; even Yeti's smallest hard-sided cooler is spacious enough to provide for the whole crew.
If you can't wait until the lifts stop spinning at the end of the day, well, these poles will help you from having to. Each one has enough space for eight ounces of your choice beverage.
Black Crows Corvus Freebird Skis
Black Crows' new 107-millimeter-waisted Corvus Freebird provides a wide enough platform to push the snow around when it gets heavy in the afternoon sun. They're built for ski touring, too, so you can use them to get to the last remaining snow patches when the chairlifts close for good.
This content is created and maintained by a third party, and imported onto this page to help users provide their email addresses. You may be able to find more information about this and similar content at piano.io