Every product is carefully selected by our editors. If you buy from a link, we may earn a commission.
The Best Satellite Messengers for When You're Off the Grid
Call it a satellite communicator or satellite messenger — either way, it pays to have one with you just in case of emergency.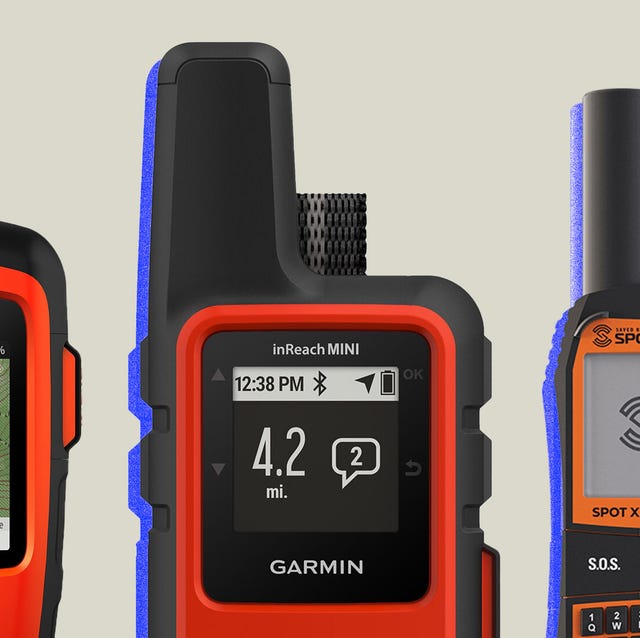 It seems like another satellite or off-network communicator debuts on Indiegogo or Kickstarter every month but trusts us: if you break an ankle in the woods, you'll want to get help ASAP, and you probably don't want to rely on a startup's potentially iffy tech. We didn't break any limbs while testing the following devices, but we did go off the grid with a backpack full of electronics to see what works, how complicated these brightly colored beacons are — this would matter if you couldn't walk — and which is best for different uses.
Spoiler alert: no dinky startup gizmos made the cut. But, a few companies that were formerly in start-up mode have broken through with great products, and you will find those devices, from the likes of Beartooth and GoTenna as well as Somewear and Bivystick, in our reviews below.
Of course what you care about is which widget might save your carcass in the wild or which is just a handy tool for communication sans cell reception. To answer that, we have to kick a question back to you: what do you want this thing for? Do you need one at all?
Should You Buy a Satellite Messenger Device?
To help you boil down your answer, consider how far from civilization you're planning to trek and for how long. And, directly linked to that question: how much money do you want to spend? If you're going climbing in a faraway place like the Himalayas, the answer is simple: spend more to have a device that'll reliably fire out an SOS, no matter what. Then again, if you're dirtbagging your way to Kathmandu and never intend to stray too far from humankind, then all you need is a tool to help you scrimp on cell charges — maybe a foreign SIM is all you need. Then again, that math changes, too, depending on if your goal is to stay in digital touch with a friend who's also traveling with you or someone (or multiple someones) back home.
Types of Off-Grid Communication
Think of the devices in this buying guide as falling into four distinct camps.
Satellite Messengers: The first camp is the extreme one, satellite communicators that don't need a smartphone to work. The big names here are Spot and Garmin. With both Spot and Garmin you can send and receive messages, but they do require subscription services that can get expensive. All three that we tested don't need to tether to a cell phone to send messages, and that can be important if keeping a cell phone charged is yet another hassle you don't want to sweat. We'll dig into the weeds of these individual devices and their pros and cons, but the three we tested are mostly ideal for when you're going somewhere genuinely remote.
Satellite Beacons: The second camp is very much like the first, except cell phones are required. These are satellite beacons from Somewear and Bivystick. Unlike the Spot and Garmin devices, these do require pairing with a phone. They either have exceedingly limited messaging input of their own or none at all, like the wire coming into your house on a landline phone. Input is all on your cell phone — these devices just provide the connection. GoTenna and Beartooth also pair with your phone, but they don't talk to satellites at all. Instead, they have far more in common with old-school walkie-talkies. They're essentially two-way radio signalers that send messages back and forth on their own networks.
Mesh Networks: You know how your home or office Wi-Fi network has a limited range, but you can add a repeater to extend that reach? That's a mesh network. The more repeaters you add, the farther you can extend that network, and it can piggyback on existing cell towers to extend the range further. Imagine that a daisy chain of these repeaters were all dispersed around a mountain, extending cell service from a tower into the backcountry; that's how mesh works.
There are two main satellite networks that North American users should be aware of: Globalstar and Iridium. The latter is the closest network to being truly global. That doesn't mean it will work everywhere, but it's the better bet if you plan on going to the extreme ends of either pole or parts of central Asia and Africa — or northern Alaska, for that matter.
Radio: HAM radios use radio frequencies to relay messages or broadcast emergency calls. They're reliable, durable and have been used for well over a century but have their own limitations alongside their benefits. The technology that powers a HAM radio is simple, but the operation is not. First, if you want access to any of the frequencies that allow for long-range communication, you're going to need your license. You can use lower and weaker frequencies without one, but it severely limits your potential communication and won't serve you well in an emergency situation. Regarding power sources, most HAM radios run off batteries, but some require external power sources for charging, so make sure you can power your radio before heading off-grid.
Terms to Know
Tracking: Most of these devices allow you to send an automated updated GPS waypoint to another device or email address. Whoever is on the receiving end — friend, family, loved one — can know precisely where in the world you are by clicking a link to a map that displays your actual geographical location. That might be important if you're about to enter a crux pitch of a climb, bomb a Class IV rapid, or begin a multi-day fat bike trip in southern Utah. You can send tracking updates at the push of a button or set the device to leave them at pre-specified time intervals like a virtual breadcrumb trail.
Offline Maps: For the most part, these devices offer bread-crumbing of your travel on an offline map you download via an app on your phone. This is handy for not getting lost, though the clarity and granularity of detail are nowhere close to what you'll find from a quality paper 7.5-minute topographic map, some standalone GPS units, or apps like Viewranger. Unless you're navigating through a featureless desertscape, the offline maps do provide enough major geographic features to aid basic navigation but don't expect to figure out precisely which sport route is the 5.10 by them.
Who's Texting Me?: This isn't a term, but it's important to know that every one of these devices, even the ones that do pair to your phone, sends out messages from another ten-digit phone number rather than using the number of your own cell phone. The person you want to send help — or just say hi to — has to know that number! It's pretty basic, but you're going to want to establish an address book for the device before you depart.
Service Contract: You know this one. Yep, these devices frequently have activation fees, service contracts and the rest, just like major telcos. We'll explain for each device how much you want to pay — how about nothing?! — may dictate which device you feel you truly need.
SOS Button: Some of these devices have a dedicated button for sending an SOS to authorities with your coordinates. It's a life-or-death tool — devices that lack that output simply aren't emergency beacons because they cannot alert people or authorities that you're in trouble without being tethered. Again, consider why you are making this purchase — if it's for just-in-case-it-all-goes-pear-shaped emergencies, you want that SOS button, full stop.