Every product is carefully selected by our editors. If you buy from a link, we may earn a commission.
Best Portable Power Stations
Power your devices anywhere, anytime with these top-tier portable power stations.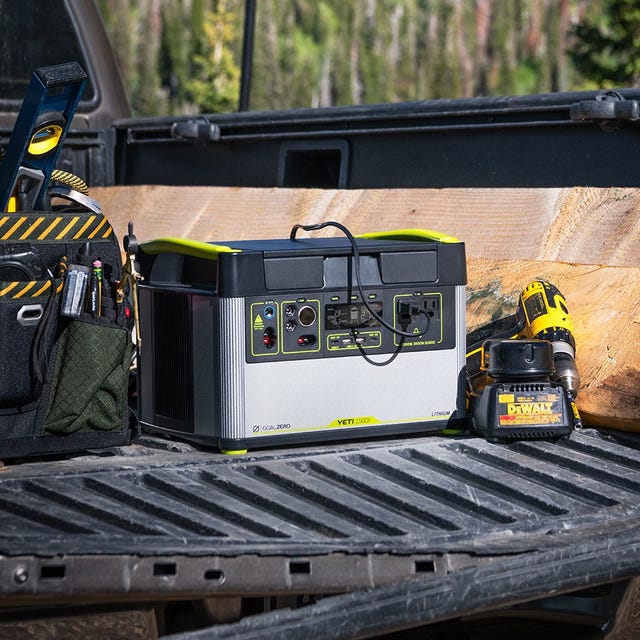 In our continuously connected world, portable power is appealing for a number of reasons: With your own power station, you can stay independent from the grid and its intermittent blackouts, power your ever-expanding cadre of electronic accessories on the go and integrate clean energy into your routine.
However, not all portable power stations are created equal. Gone are the days of your dad's loud, toxin-spewing gas generator — today's portable power stations are sleek, small and quiet, and offer an array of ports that will power just about anything you can think of.
What to Look For in a Portable Power Station
As you're shopping for the portable power station that's right for you, consider a few factors: capacity, number and variety of ports and size. There are plenty of other factors that go into these highly engineered machines, but covering the basics will ensure you get maximum enjoyment out of your power station.
Capacity
When it comes to modern power stations, most are equipped with lithium ion batteries, whose capacity is measured in watt hours (Wh). This measurement is calculated by multiplying the number of Amps with the battery voltage, with one watt hour being equivalent to one hour of average power flow. Goal Zero gives this example: a 100 Watt light bulb on a 400 Watt Hour battery (like the Yeti 400) would last, on paper, 4 hours.
Ports
Power stations come with two main types of ports: AC and DC. AC refers to alternating current, while DC refers to direct current (two different types of power). Direct current power is always constant, with energy flowing in one direction. By contrast, alternating currents periodically change from positive to negative and from negative to positive, and the direction of the current also periodically changes accordingly. When it comes to ports, most power stations will have a variety of both, but before buying, check out which most of your devices use, and shop based on need.
Size
Size and weight are fairly straightforward: what are you willing to carry (or cart) around, what makes sense for your living situation, and how does size compare with capacity? If you prioritize a smaller footprint, you're going to be left with a smaller battery, and therefore lower capacity. If size or weight aren't an issue, you can shop for power stations that have larger batteries and therefore, far more capacity.