Every product is carefully selected by our editors. If you buy from a link, we may earn a commission.
The Coolest Statement Sunglasses Available Now
Interesting shapes and cool colors, tinted lenses and the ilk.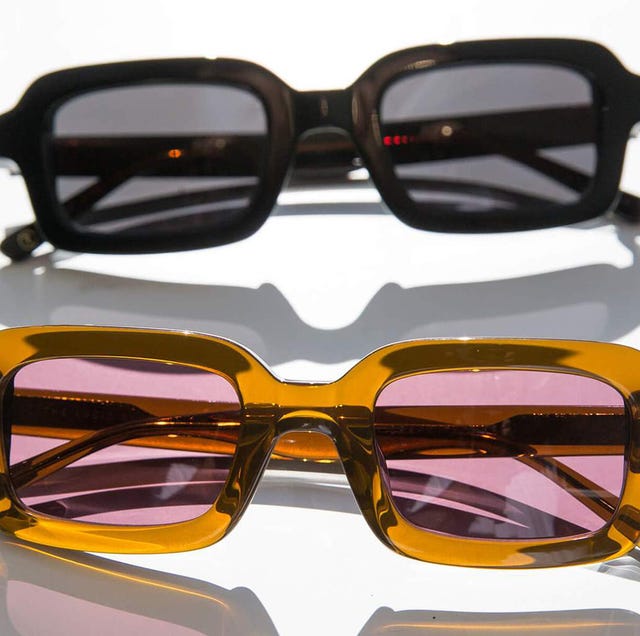 It's important to remember that first and foremost sunglasses serve as a protective filter from UV rays capable of causing both immediate and long-term damage to your eyes. Issues like dryness, splotchy vision, photokeratitis (sunburn but on your eyes), premature macular degradation (a contributor to age-related blindness), and, with excessive, repetitive exposure, cataracts can be avoided altogether simply by wearing shades. But, be sure yours block 99- or 100-percent of UV rays and are big enough to cover both your eyelids and eyeballs.
Not only are the elements of your actual eye — the retina and its macula — dangerously delicate but the skin around them is more sensitive there than other places on your body. (The Aesthetic Surgery Journal confirmed human skin is thickest on the hands and feet but thinnest around the eye.) Further, there is a window — typically between 10 AM and 4 PM — when UV rays are strongest and even situations where their impact is roughly doubled; think: when you're by water (on the beach or on a boat) or in a car. Simply put, whenever both direct light and reflected light reach you.
To be fair, these warnings are not my way of saying you should walk around wearing UV-blocking goggles at all hours of the day. Don't. Do your best to pick out a pair that not only protect you but complement your personal style, too. I'd argue you're more likely to remember to put them on — as if the glaring sun isn't reminder enough — if you like how you look in them. So, splurge a little (or a lot). Spend more on sunglasses that make a statement, whether through shape or size, color or kind of lens. These are cool sunglasses — works of accessorial art, I'd argue — with fuller acetate frames your eyes are surely safe behind.