Every product is carefully selected by our editors. If you buy from a link, we may earn a commission.
The Best Camp Collar Shirts for Every Occasion
Camp, Cuban, revere, lounge and spread — they're all similar.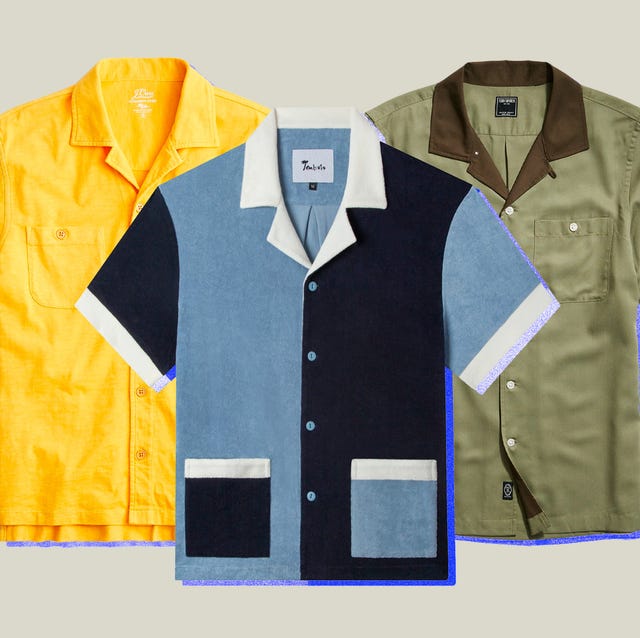 By now you've probably seen one of these shirts on someone else — stylish gents of yesteryear, celebrities walking red carpets and actors in TV series or movies. What we call them remains unclear, though.
What Is a Camp Collar Shirt?
Whether Cuban, camp, revere, lounge or spread, all of these mean the same thing: a short-sleeve button-up shirt with a collar that lays flat against your chest, creating an open "V" and mini lapels. They're a breezy, summer essential; perfect for trips to sunnier spots around the world. But they work well in other settings, too. In fact, from the time warm weather arrives until it fades into fall, there may not be a more versatile top. Available in a variety of materials, crops, and colors, and with or without graphics or patterning, there's surely one that catches your eye. And don't avoid them because you're shy about showing off your chest. These look vastly different than V-neck T-shirts do.
Camp vs. Cuban vs. Revere vs. Lounge
The style doesn't derive from V-neck T-shirts either. We lead with Cuban (instead of camp, revere, lounge or spread) as an homage to the style's origins — at least here in the US. Originally known as a Guayabera — there's one on this list, by the way — the shirt shifted names as Cuban immigrants moved stateside from the mid-1950s on. (James Bond donned a pink one in the 1965's Thunderball.) There's evidence of spread collar rayon shirts as early as the 1930s, but those were wider, most commonly long-sleeved and, at the time, deemed sportswear — a descriptor for most things men weren't supposed to wear to work.
Modern renditions, I'd argue, don't reference the spearpoint collar styles of the 1930's or 1940's but rather the short, more compact collars seen on Guayaberas. Some iterations have even smaller collars, a drastic departure from US-born "sport shirts."
How to Wear a Camp Collar Shirt
As far as fit goes, I'd lobby for buying true to your usual size. If Hedi Slimane — the enigmatic designer behind collections by Dior Homme, YSL, and Celine — were styling you, he'd probably size the shirt up and pair it with skinnier pants. Whether you trust me or him doesn't matter. How you wear it is truly up to you. The oversized look works — back then neither Guayaberas nor "sport shirts" were made-to-measure — and leaves a bit more room for air. But most are breathable as is, especially if they're constructed from linen, cotton or rayon.
My final word of advice? Don't go running for a shirt adorned with a loud Hawaiian print. Let retirees revel in their bliss, college students in their inexperience, and get an option from this list instead. Anywhere you'd wear your Hawaiian shirt, you can wear one of these.

---