Every product is carefully selected by our editors. If you buy from a link, we may earn a commission.
You Care About Your Clothes, Right? Reconsider Where You Store Them
Running out of room for your clothes? Daydream about design-forward ways to make more.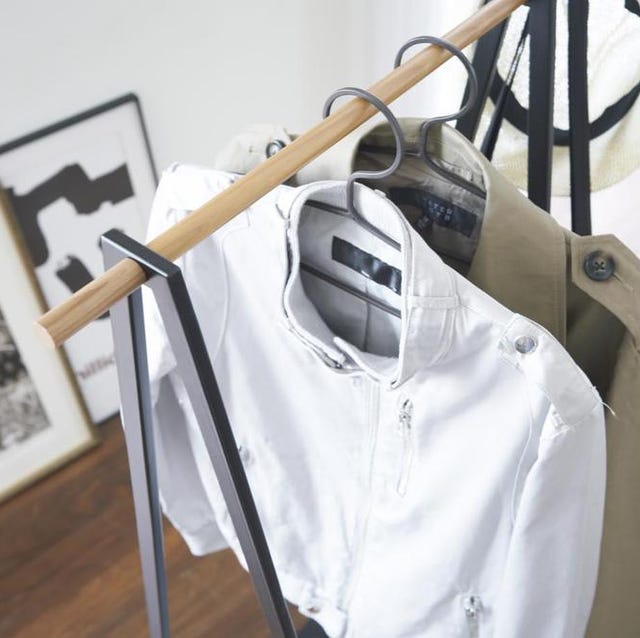 I'm not ignorant to the fact that it's a privilege to own "too many" clothes. I could get by with a few T-shirts, a pair of jeans, maybe two different options for my feet, and the jackets necessary to survive a winter in western Pennsylvania, where I live. But, I have six of the same shirt, each of which I rarely wear, far too many hoodies, a hell of a lot of pants, and enough shoes to outfit every pair of feet on a football team. (There are ~53 people on a football team.)
I try my best to donate what I really don't wear, sell the stuff I'd rather not take a loss on, hand-me-down things I grow out of. We've got a handy guide for both donating and selling, if you're interested. If not, and you'd rather hold onto every single article of clothing you've ever bought, it's about time you invested in better places to store your collection.
Daydream with me. Look at all of the design-forward ways of hiding folded T-shirts, hanging ironed slacks, and organizing pairs of shoes. Some of these things come with a hefty price tag, but it's worth splurging for a for the tidiness alone.

No, these don't offer the privacy of an armoire, but they organize things just the same.

Dressers play an irreplaceable role in the bedroom. They created the sock drawer and all of its cultural reference points, and it gives you room for everything you fold.

In the bedroom furniture universe, wardrobes are the big guns. You know the saying, "Bringing out the big guns?" Yeah, these are those.