Every product is carefully selected by our editors. If you buy from a link, we may earn a commission.
You Care About Your Clothes, Right? Reconsider Where You Store Them
Running out of room for your clothes? Daydream about design-forward ways to make more.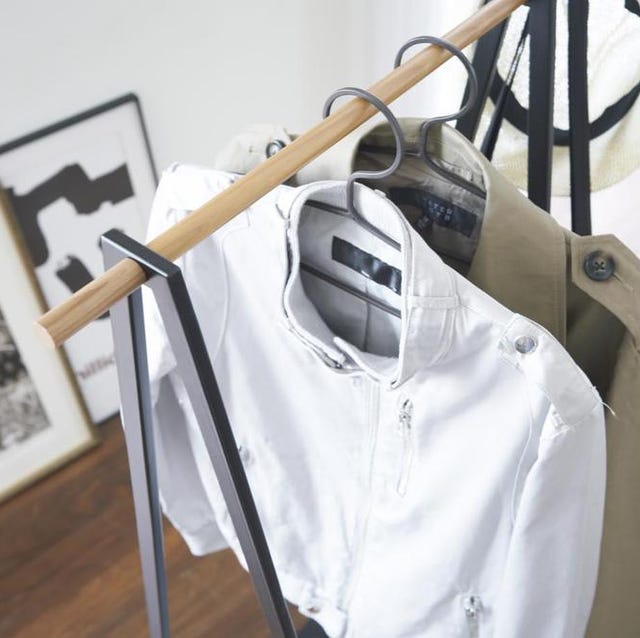 I'm not ignorant to the fact that it's a privilege to own "too many" clothes. I could get by with a few T-shirts, a pair of jeans, maybe two different options for my feet, and the jackets necessary to survive a winter in western Pennsylvania, where I live. But, I have six of the same shirt, each of which I rarely wear, far too many hoodies, a hell of a lot of pants, and enough shoes to outfit every pair of feet on a football team. (There are ~53 people on a football team.)
I try my best to donate what I really don't wear, sell the stuff I'd rather not take a loss on, hand-me-down things I grow out of. We've got a handy guide for both donating and selling, if you're interested. If not, and you'd rather hold onto every single article of clothing you've ever bought, it's about time you invested in better places to store your collection.
Daydream with me. Look at all of the design-forward ways of hiding folded T-shirts, hanging ironed slacks, and organizing pairs of shoes. Some of these things come with a hefty price tag, but it's worth splurging for a for the tidiness alone.

No, these don't offer the privacy of an armoire, but they organize things just the same.
Two shelves and a top bar make room for clothes on hangers, folded pants and T-shirts, and shoes on UO's Levy Clothing Rack.
Looking for one people won't really notice? Pottery Barn's is black, sleek, and not too big. You can't really overcrowd this one.

Dressers play an irreplaceable role in the bedroom. They created the sock drawer and all of its cultural reference points, and it gives you room for everything you fold.
Mid-Century 6-Drawer Dresser
Mid-century? Mmmhmmmm. Six drawers give you enough space for underwear and socks and at least your T-shirt collection. Maybe some shorts and sweatpants, too.
The Hunter Dresser is significantly nicer than anything you can haul home from IKEA. It has three big drawers with invisible handles.
Raleigh Six Drawer Dresser
The Raleigh Dresser from Design Within Reach, designed by Jeffrey Bernett and Nicholas Dodziuk, is an understated anchor for all of your essentials.

In the bedroom furniture universe, wardrobes are the big guns. You know the saying, "Bringing out the big guns?" Yeah, these are those.
Out of all of the "big guns," this is the biggest. Made's Damien Wardrobe is technically wardrobes in one. Being a "triple," there's enough room for the over-the-top collections.
Annie Charcoal Storage Cabinet
Why go with a traditional rectangular wardrobe when there are rounded ones out there? This one comes by way of Crate and Barrel's collaborative line with Leanne Ford, and it boasts four shelves for shoes, folded clothes, or even accessories like hats and watches (if they're in their own box).
Pottery Barn's Cayman Armoire evokes calm, coastal living. Go ahead, purchase one. Conjure your own peace and quiet.

Made's Jenson Cabinet might look just like other cabinets, but this one has slots and shelves designed specifically for shoes. They go in an accordion-like contraption that stores them vertically.
If you're the type who keeps shoes in their original boxes, one big trunk might work for your collection. The Duncan from Burke Decor doesn't get in the away with internal shelves or drawers, letting you decide how and where things are stored inside.
This one leaves 'em exposed to the audience, but at least they'll be organized.
This content is created and maintained by a third party, and imported onto this page to help users provide their email addresses. You may be able to find more information about this and similar content at piano.io