Every product is carefully selected by our editors. If you buy from a link, we may earn a commission.
The Complete Buying Guide to Levi's Jeans: All Fits, Explained
School yourself on the history, study the terminology, shop the jeans.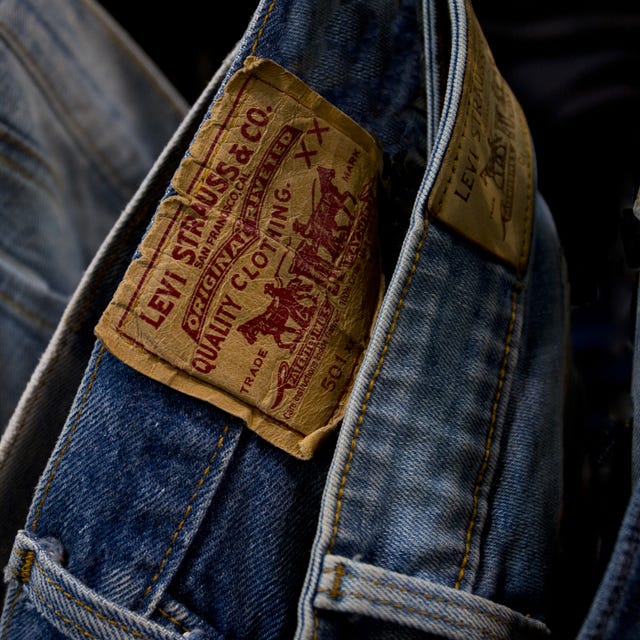 Welcome to Brand Breakdown, a series of comprehensive yet easy-to-digest guides to your favorite companies, with insights and information you won't find on the average About page.
In the beginning, there was one: the 501. In 1873, Levi Strauss and Co. received a patent for blue jeans reinforced with rivets and began producing stronger pants for working men. Over the past century, the brand's jeans became a favorite of miners, laborers, rock stars and city-dwellers — a quintessential American garment that transcended all social classes. And since the advent of the 501, Levi's has created dozens of fits for its ever-growing clientele.
All Levi's jeans follow a similar naming sequence, beginning with the 501. But, the reason for the 501 designation is a bit of mystery. "Around 1890 is when we started calling our copper-riveted waist overalls the 501," says Jonathan Cheung, the Senior Vice President of Design Innovation at Levi's. The mystery surrounding the number is largely due to the San Francisco earthquake of 1906 that destroyed many of the company's files. "The 501 was a product identification number, but we don't know the reason why it was a three digit number beginning with five," said Cheung. So now, as an homage to the company's legacy, all Levi's fits are denoted by a number: 501, 505 and 511, among others. Each number denotes a cut designed for a specific style and body type.
Throughout the 20th century, Levi's also made jeans outside of the 500 series. The 200s in the 1920s and 600s in the 1960s were both designed to be more affordable. But for ease of use, this guide will only describe the fits that are made by Levi's today. Levi's Vintage Clothing and Levi's Made and Crafted are not included in this guide.
This content is created and maintained by a third party, and imported onto this page to help users provide their email addresses. You may be able to find more information about this and similar content at piano.io