Every product is carefully selected by our editors. If you buy from a link, we may earn a commission.
Graduation Day: Trade Your Sweatpants for Joggers
Wait. Aren't joggers just sweatpants? Sort of, but no.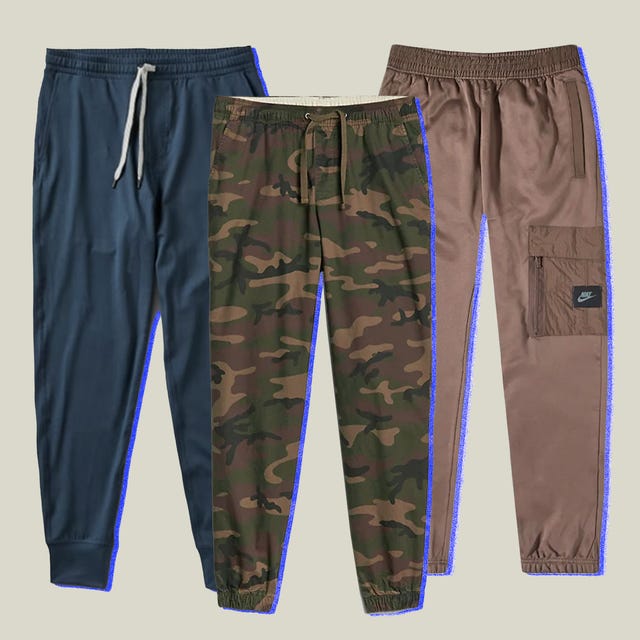 What are joggers, huh? Well, they're kind of like sweatpants. (Key words: kind of.) Their shapes are similar — an elasticated waist, a comfortable fit through the leg, and cinched hems — but joggers are typically made of alternative materials, or at least made to look more elevated than normal sweats.
What Are Joggers?
So they're simply nicer sweats? Not necessarily. Initially, the style as we know it was to be made from fleece, by California brand Publish. Its designers sent technical packs — think of these as instructions for the manufacturer — to their factory and received a total error in return. Instead of soft fleece, they were made with durable twill. The accident stuck, though, and marked the arrival of the jogger stateside. (European streetwear fans were wearing drop-crotch pants for half a decade now, but they didn't catch on in the US until someone slimmed the seat.)
In fact, Publish trademarked the name "Jogger Pant" in 2014 — three years after they first used it — but abandoned the holding a year later, when the craze really kicked into high gear. The rise of athleisure compounded with the widespread acceptance of the practicality of sneakers over stiffer shoes contributed to the pants' popularity, too.
When Did They Become Popular?
To put the recency of the style into perspective, a jogger was streetwear-store-turned-retail-giant Kith's first successful clothing launch. Owner and designer Ronnie Fieg refurbished some old camo pants and added cinched hems. He called them the Mercer pants. They've been updated since, but you can still find a few originals on resale sites. (Not saying you should wear them, but history, you know.)
Today, joggers are as utilitarian as they are technical. There's usually some stretch, which helps with comfortability and mobility, a handful of pockets, and a more polished fit than found in the sweatpant style. You'll find versions made from ripstop nylon, spandex, cotton twill, canvas, and even cordura. Shop a few of our favorites below.
The Best Joggers for Men
This content is created and maintained by a third party, and imported onto this page to help users provide their email addresses. You may be able to find more information about this and similar content at piano.io