Every product is carefully selected by our editors. If you buy from a link, we may earn a commission.
Vintage Military Garments From Nigel Cabourn's Personal Collection Inspired This Collab
Sneakers, socks, sweaters, fleece jackets, a chore coat, and so much more.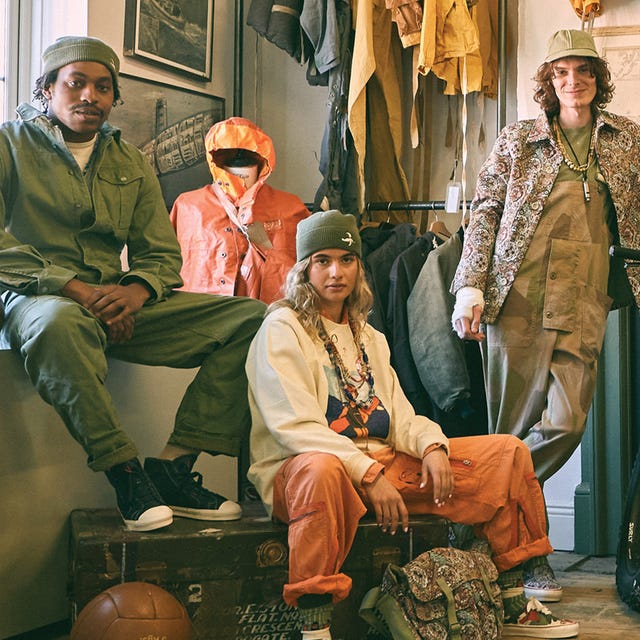 Nigel Cabourn is a collector. Of what, you ask? Military bags and clothing made in the '40s through '70s. Specific, right? Not so much. Menswear as we know it inherited many of its most popular silhouettes from military issue items: khakis, flight jackets, bomber jackets, cargo jackets, field jackets, fatigue pants, T-shirts, parkas, and plenty of types of boots. Army garb is the foundation of men's fashion.
So it makes sense that Cabourn, a designer as well, looks for inspiration in found items. He's been running his own eponymous label since 1970, using tattering on old tarps, the fit of a vintage pair of fatigue pants, or the fade on a certain field jacket as reference points for his own designs, which were for men exclusively until 2013 (when he launched womenswear). With his own brand, Cabourn strives to bring the same original, one-in-a-million traits to new clothing through color, distressing, DIY finishing touches (like embroidery), and texture.
Custom textiles give the collection a vintage tinge.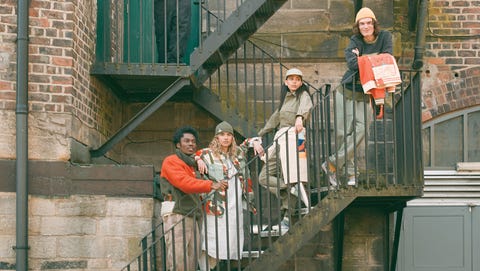 His newest collection, an even mix of clothing and shoes made in collaboration with Vans Vault (Vans' design-forward lab division) and Nigel Cabourn Womenswear Head Designer, Emilie Casiez, is "filled with fun designs inspired by my recent trips to California and Japan," Cabourn, who'd circumnavigate the globe for the right coat, explains. "Combining surf style with classic Cabourn military, a strong color story and graphical influences, I really think we have come together to achieve a great, relaxed, après surf-inspired collection."
Featuring Vans classics reimagined (like the OG Authentic LX with a frayed tongue and a stamped vamp), all-new workwear-inspired apparel (the Chore Coat reminiscent of vintage rugs), and art-covered outerwear (a fleece jacket featuring Cabourn's original artwork), the collection succeeds at making the brand new feel like something you found in a bin (sans the inevitable scent those types of treasures carry with them).
This content is created and maintained by a third party, and imported onto this page to help users provide their email addresses. You may be able to find more information about this and similar content at piano.io