Every product is carefully selected by our editors. If you buy from a link, we may earn a commission.
Trying to Be Seen (or Not Seen) This Year? Wear These Camo Pants
Camo is no longer just for the battlefield and the hunting grounds — it is equally at home in the streets.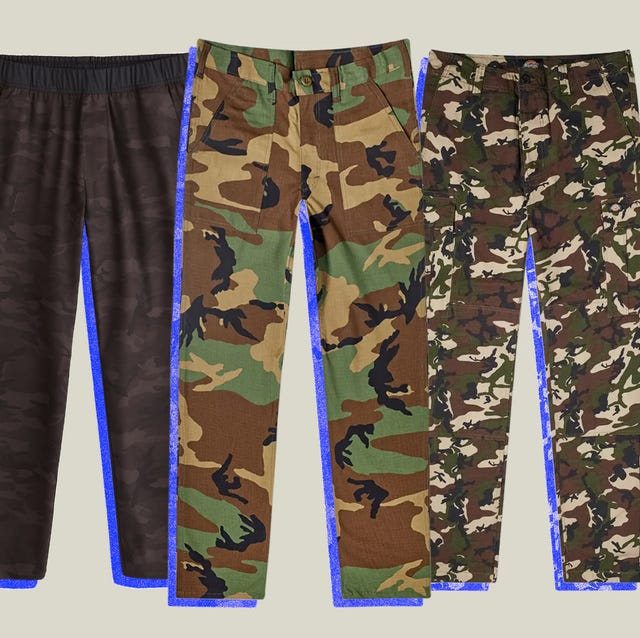 If you're looking to make a statement with your style this year, the go-to pick has to be a pair of camo pants. Sure, camo was made to blend in, but these days you can use it to stand out. Camo has gone in and out of fashion and in the past year it is common to see camo adorning the more sartorially-minded men and women who live in big cities. Fatigues and vintage army gear are commonplace and (generally) very easy to find in vintage stores from San Francisco to Brooklyn, as are well-worn Mossy Oak and Real Tree tees and pants. Vintage isn't the only way to go, though. Heritage American brands like Filson and L.L. Bean still make a lot of hunting gear that easily crosses over with the current fashion zeitgeist. Americana labels like Todd Snyder and Ralph Lauren have always borrowed from military and workwear silhouettes. Even streetwear brands like Southern California's Stüssy are collaborating with Mossy Oak.
Camouflage has, ostensibly, been used for thousands of years — think hunters hiding themselves with paint and mud. The camo we're talking about, though, came much later. It was first introduced to soldiers for the purposes of large-scale war by the French in World War I. With close combat, single-shot muskets and sword fighting phased out of battle, the need to blend into one's surroundings was now at the forefront of the soldier's mind. They started by camouflaging large weapons but quickly moved on to uniforms as well. In 1929, the Italians introduced the first mass-produced camo with the chocolate-brown and grey-green shades of the M1929 telo mimetico pattern. Americans introduced the iconic frogskin pattern in the 40s and the rest is history. While camo has evolved a lot throughout the years, it's likely that you now see some form of camo clothing each and every day, which makes it easy to see why brands have been incorporating all kinds of camo designs into lines. If you're looking to add some camo pants to your wardrobe this year — but don't want to go for the Cabela's or Bass Pro Shops route — here are 14 Gear Patrol-approved options to get you started.
This content is created and maintained by a third party, and imported onto this page to help users provide their email addresses. You may be able to find more information about this and similar content at piano.io