Every product is carefully selected by our editors. If you buy from a link, we may earn a commission.
Family of Frequent Flyers? Try One of These Matching Luggage Sets
Whether you're traveling in a pack or you packed a lot, these luggage sets will help your belongings stand out in a sea of other suitcases.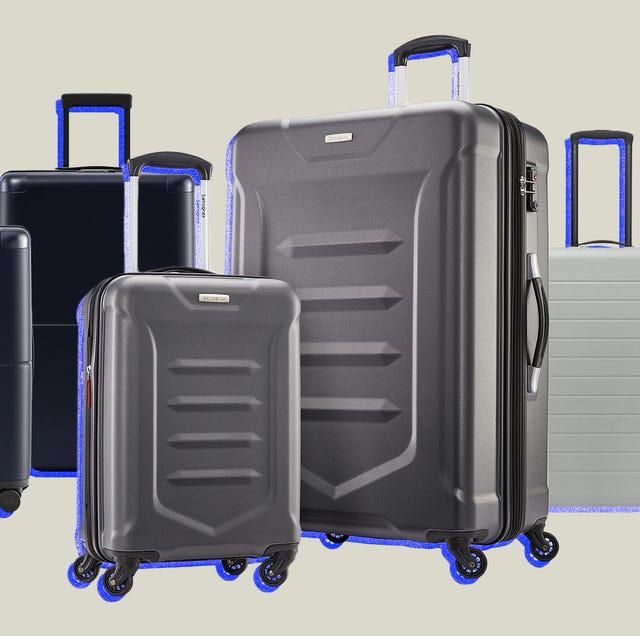 Traveling alone is easy. You bring one bag, ideally, a carry-on, take it with you on the plane, de-plane with it and depart the airport for your final destination. But if you're traveling in a group or hauling a whole hell of a lot on your own, you're probably responsible for several bags — maybe even for folks who can't (or don't care to) carry their own weight (kids). In this case, you need a set, a coordinated cache that will put your anxiety at peace, even in the airport.
Singles vs. a Set
Sure, anybody can make a set by buying two, three or four of the same suitcase in the same color, slapping a few identical stickers on each and calling it a day. While that would technically be a matching set, most brands sell sets at a discount, a thank you for buying more than one. If you need more than one, for whatever reason, always check to see if your chosen brand sells sets, instead of pulling the trigger on their full-price suitcases.
A set is also a great way to get you and someone else a suitcase. By buying them at a discount, you get yours at a discount, too. And rarely do suitcases come packaged together. They'll be easy to split apart, without the other person knowing, of course.
How Many Suitcases Do You Need?
It all depends on where you're going and for how long. In the summertime, you can pack more while taking up minimal space. If you're headed somewhere cold, two parkas will put you at max capacity on their own. So, it's really more of a guessing game — but one you can have a game plan for, says Tony Standing, menswear stylist at Thread.
Standing says that you should be able to pack clothing and toiletries for a week-long trip to somewhere warm in a standard carry-on. The same can't be said for a ski trip, so upgrade to a checked bag here. But wintertime (especially around the holidays) is when air travel peaks, so be mindful of the lines to greet ticketing agents. While a carry-on can come with you through the security gates, checked bags obviously cannot.
Chronic over-packer? Learn how to pack lighter in our dedicated guide to packing a suitcase.
How Many Suitcases Can You Travel with?
Worried you won't make it through with three suitcases? Accidentally check all three on your ticket, not your travel partners? Almost every airline allows one carry-on bag and accommodates up to 10 checked bags. You shouldn't worry about whether they'll take your extra cargo, just how much they'll charge for doing so. On Delta, for example, your first two checked bags fly free (if you're a member), but bag three will cost $150 and bags 4-10 will cost $200 each.
Feel stressed just looking at those fees? Forget a set; just get yourself a nice little carry-on. Find yours in our guide to carry-on suitcases.
The Best Matching Luggage Sets