Every product is carefully selected by our editors. If you buy from a link, we may earn a commission.
The Best Lip Balms for Men
Natural ingredients and essential oils can help calm chapped, crusted and cracked lips.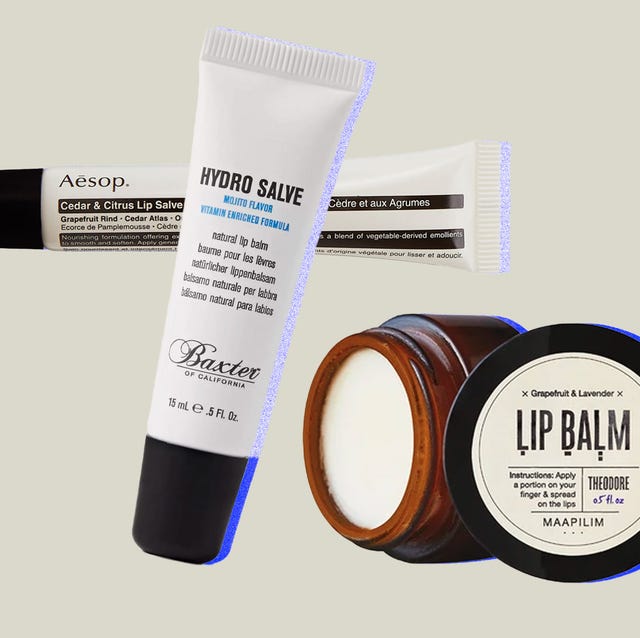 Often, the care our lips receive can have an inverse relationship to how important they are in our everyday lives. They make essential tasks like talking and eating possible — but without proper treatment and protection, they can become dry, chapped and sore.
Our lips deserve better, though it's understandable why we don't treat lip balm as a grooming essential. It's a pretty recent invention. In the early 1880s, a doctor from Lynchburg, Virginia, devised what's credited as the world's first lip balm, a slow seller that caught wind only when the recipe was sold to another Lynchburg resident in 1912. The buyer, John Morton, owned Morton Manufacturing Company, responsible for the rise of the Chapstick brand.
Since then, lip balm formulas have become more complex and many don't serve their original purpose of moistening and repairing lips. Chapstick and other mass-market lip balms contain ingredients that can dry out lips and become addictive. They also don't protect your lips against the elements, especially the sun and cold. "A lot of mass-market lip balms don't have SPF," said Madeline Korosec, Men's Grooming Merchant at Birchbox. Considering your skin needs protection year-round (the sun's rays are just as damaging in winter as they are in summer) and that SPF balms slow aging, that's enough to ponder the benefits of your regular drugstore lip balm.
That doesn't mean you need a fancy balm, though people with dry lips, peeling lips, scent sensitivities or other conditions may benefit from these. Most people can get away using unspecialized sticks, and knowing your ingredients is key to finding the right balm. "Some good ingredients to look for in lip balm are beeswax, cocoa butter, shea butter and a variety of natural oils," Korosec said. "These are considered less harmful and less irritating." We saved you the searching and label-reading, and found these balms that will moisturize, repair and protect your lips without requiring constant application.